The close of the American election season is a good time to reassess where we are and who we are as citizens. Political pundits might prefer to categorize Christians into Republicans, Democrats, Independents, and the like. I suggest a broader view, reconnecting with the primary gospel truth regarding true Christian citizenship.
For Catholics, November is the month of saints and souls. And it is a happy coincidence that it falls within the election cycle in the United States. This brief season in the Church's liturgical calendar makes the case for our true citizenship: We, the baptized, are citizens of heaven.
All Saints Day, celebrated November 1st, reminds us of saints through history, both renown and unknown, who occupy the sacred realms of heaven together with the Blessed Trinity. This communion of saints is known as the Church Triumphant. We must never forget they exist. They are the holy ones who are now waiting for us to join their company. But who, in the meantime, pray for us, and cheer us on toward heaven!
While the saints remind us of all we could be, more importantly, they should remind us of all we are.
November 2nd brings All Souls Day. Though we may grieve departed loved ones on this day, we also celebrate the truth of the Christian's death: it is the threshold to eternal life. We, who are made in the image of God, have God as both our origin and our end. We are destined for union with God one happy day. This is the holy dignity that we have as believers. And it should bring us a certitude and joy that gives hope to all of our days.
By virtue of our Christian baptism, we are born into the family of God. It is an indelible reality that cannot be washed off our soul. It's like spiritual DNA… we are born with it and it cannot change. We may indeed reject our birthright, but it remains fixed on our souls. (Cf. Catechism of the Catholic Church paragraphs 1213; 1272-1274.)
These truths remind us that today, we are already classified as citizens of heaven, thanks to our identity as Children of God. What is wrought by baptism is a continual attachment to the Body of Christ—Himself—and the Church.
St. Paul writes:
But our citizenship is in heaven, and from it we also await a savior, the Lord Jesus Christ. He will change our lowly body to conform with his glorified body by the power that enables him also to bring all things into subjection to himself. Therefore… stand firm in the Lord, beloved. (Philippians 3:20-21 – 4:1.)
Note the present tense of Paul's words. Our citizenship IS in heaven. This is not just a bold hypothesis on the part of Paul. He is following his Master, taking his lead from Jesus: Be imitators of me, as I am of Christ. (1 Corinthians 11:1.)
Predating Paul, Jesus prayed for his disciples (and future followers) before he died, coaching them in this holy citizenship:
[Father, ] I pray for them. I do not pray for the world but for the ones you have given me, because they are yours…
I do not ask that you take them out of the world but that you keep them from the evil one. They do not belong to the world any more than I belong to the world. Consecrate them in the truth. Your word is truth. As you sent me into the world, so I sent them into the world. And I consecrate myself for them, so that they also may be consecrated in truth. I pray not only for them, but also for those who will believe in me through their word, so that they may all be one, as you, Father, are in me and I in you, that they also may be in us, that the world may believe that you sent me. (John 17:9, 15-18.)
Our country of origin may be the USA or elsewhere, but it is not one's sole identity as a Christian. We are citizens of heaven and that carries a dignity and a responsibility beyond our allegiance to the country listed on our passport. Whatever our political persuasions, let us first be grounded in our dignity as a Christians, and let that move us to action in this world as citizens of heaven.
May we imitate Jesus, as St. Paul did… standing firm in the Lord.
©2008 Patricia W. Gohn
About the Author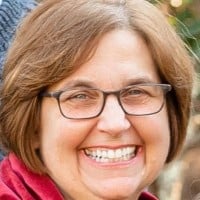 Pat Gohn is a married empty-nester with three adult children and four grandchildren. An author, catechist, speaker, and host of the Among Women podcast since 2009, her books include the award-winning Blessed, Beautiful, and Bodacious: Celebrating the Gift of Catholic Womanhood, and All In: Why Belonging to the Catholic Church Matters. She works in Catholic publishing as an editor. Visit PatGohn.net