Reflection on the Daily Readings for 3/13/09 by Fr. Bertrand Buby, SM
Scripture: Fri. second week of Lent. Genesis 37:3-4.12-13.17-28. Psalm
105:16-17. 18-19. 20-21. Matthew 21:43-45.45-46. Lectionary #235:
Joseph! What a marvelous person. His story covers the last third of
Genesis from chapters 37-50. He is mentioned in five psalms and his name
is carried on by the foster-father of Jesus in the pages of the New
Testament. He is mentioned in most of the books of the Hebrew Scriptures
and is a great person to imitate in his devotedness to his brothers and
father Jacob. The month of March is dedicated to St. Joseph who is named
after the patriarch. Both are saints, Joseph the patriarch and Joseph, the
husband of Mary of Nazareth. They are excellent examples for us today in
moral courage and heroicity.
Joseph's brothers are so jealous of him that they plot to kill him,
but instead, through Reuben's intervention they throw him in a pit and
Midianites find him and sell him to the Egyptians. Eventually he comes out
of prison and becomes a viceroy to Pharao. His resourcefulness and vision
change the feudal system to a better system that is rewarding for both the
Egyptians and the Hebrews. He saves his people from famine and eventually
brings the bones of his father Jacob back to Israel. God's loving
protection is certainly seen in the saga of Joseph and also in the story of
Joseph in the New Testament. Both are good and faithful servants of the
Lord.
Our Psalm is one of five that mention his name and his example. Thus
the name Joseph is entered into the prayer life of all who read and pray
these beautiful emotional prayers. His story becomes ours through the
inspired narratives and prayers of the Bible. He is mentioned in almost
every book of the Hebrew Scriptures. Long may his memory live among us!
Jesus takes up the flow of salvation history that Joseph was so much
a part of . Jesus' parable is a dramatic way of summing up salvation
history and it shows us the love and care God has for those who do listen
to the prophets and to God's chosen ones. The parable leads us to think
and reflect upon the one who like Joseph becomes the savior of the whole
world--especially helping us to see the ancestors of the patriarchs, the
Jews, the Christians, the Muslims. God's love is for all of us who are
God's offspring through creation and redemption. We are all favorites in
God's sight. We are fortunate to learn from Joseph and Jesus today how to
appreciate God's loving providence. Amen.
About the Author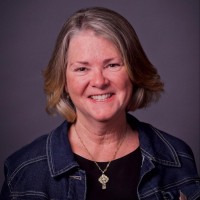 Lisa M. Hendey is the founder of CatholicMom.com, a bestselling author and an international speaker. A frequent radio and television guest, Hendey travels internationally giving workshops on faith, family, and communications. Visit Lisa at LisaHendey.com or on social media @LisaHendey for information on her speaking schedule or to invite her to visit your group, parish, school or organization. Visit Lisa's author page on Amazon.com.