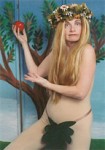 We're pleased to present the premier episode of a brand new podcast featuring women characters from throughout the Bible. Simply click on the player below to enjoy this week's episode and join us each week for a different woman's story!
This week's episode:

Eve (Genesis 2-3)
Mrs. Adam, formed from Adam's rib, was tempted by the serpent. She didn't follow God's dietary restrictions and blew it for us all . . . and then got evicted from the Garden of Eden.
Music:
"Garden of Zoe", Ish Wsh, www.magnatunes.com
Opening and closing theme: "Women of Faith," Lynn Cooper, www.lynncoopermusic.com


"Women of the Bible: The Good Girls and the Bad Girls" premieres on the web as a weekly podcast
The internet premiere of the award-winning play "Women of the Bible: The Good Girls and the Bad Girls: The Old Testament/Hebrew Scriptures" is now available at www.theatrerising.com. The series will feature a different Bible character each week from Eve through Esther in the Old Testament, and will continue into the New Testament presentation "Women of the Gospel." (27 different characters in all!)
Linda Gray Kelley stars in this one-woman show, which currently tours internationally as a full-stage production. This audio version is produced by Susan Bailey, editor of GrapeVine (the website devoted to the promotion of Catholic artists); she decided to offer these stories after enjoying the stage plays herself. Ms. Bailey hosts and produces 2 other podcasts, the GrapeVine News Minute and the Marian Cenacle Rosary Podcast.
The weekly segments, which include music and commentary, run from 3-10 minutes, and the entire series will be available on the website archives. An easy-to-use player will make it possible for anyone to listen; episodes will also be available for download to iPods and other mp3 players.
Ms. Kelley wrote the contemporary piece with the goal of reaching the internet generation with the stories of how these Bible women lived their lives. " Even the good girls were flawed, which means there is hope for us all!"
Her theatre audiences are primarily adults who enjoy the edgy though accurate biblical re-enactments. The series has been praised by bishops, nuns, rabbis, ministers, and religious conferences nationwide. Ms. Kelley's greatest joy is performing for women in prison, her special ministry.
Characters include: Eve, Noah's Wife, Sarah, Rebekah, Leah/Rachel, Potiphar's Wife, Pharaoh's Daughter, Delilah, Naomi/Ruth, Witch of Endor, Hannah, Bathsheba, Esther in the Old Testament. The Gospel women include: Young Mary/Elizabeth, Bride at Cana, Adulterous Woman, Herodias, Samaritan Woman, Woman with Hemorrhage, Martha, Mary of Bethany, Pilate's Wife, The Passion According to Mary, and Mary of Magdala.
Ms. Kelley resides in Charlton, MA with her husband Bill. She has two grown children and has just became a grandmother. Her production company Theatre Rising Unlimited specializes is inspirational, award-winning plays in the areas of medicine, literature, and religion. She is currently touring with the Smithsonian exhibit "Changing the Face of Medicine: Celebrating America's Women Physicians" to medical libraries nationwide. Her bonus in doing this travel is that it allows her to share the Bible plays with women in prison nationwide…"Two birds with one stone!"
Visit her website at www.theatrerising.com for more information.
About the Author