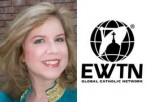 This week, we feature an interview with Dr. Jacqueline Leary-Warsaw, the producer, writer and on-air host of EWTN's series "In Concert". We discuss her background in academia and music, her wonderful program, and her ability to manage a busy career and family life.
[podcast]http://media.libsyn.com/media/catholicmoments/cm099.mp3[/podcast]
Deacon Tom Fox shares a reflection entitled "A Teenager's Prayer". Visit Deacon Tom at his website to request your copy of this lovely prayer.
Please consider SQPN during this year's Giving Campaign and help us share the faith with new media. Also, don't forget to register for SQPN's upcoming Catholic New Media Celebration. Deacon Tom and I will be there and would love to meet you! Share your feedback at 206-339-9272, comment here on the blog or email lisa@catholicmom.com.
Links for this Episode:
About the Author