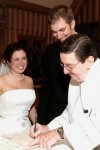 Are you a genius? Well if you can successfully… smilingly… seriously… and sometimes serenely be a wife and mother and perhaps hold down a job outside of the home… then I'd say you are probably endowed with qualities of being a genius. Is Catholic faith practice an area where you exhibit genius? Like parenthood, becoming endowed with the genius of good Catholic faith practice takes exploration time and effort.
Every time we are involved with one of our daughters and our grandchildren – I am reminded of what it takes to make family 'work' in modernity. Smilingly, my wife and I tell each other how well we sleep when we've gotten our 'grands' tucked in bed and out for the night. And truthfully, we wonder how we did it many years ago – or were things that different back then?


Speaking of back then – I am reminded that a while back, one of the movements that started to 'endow' women with freedoms and expectations was the radical secular feminist movement. It suggested that women ought to be completely happy and fulfilled – taking care of themselves before all else. Throw off the lace 'doily' head covering when going into church. And speaking of church, don't waste time going to a Church run by old men who suggest that you shouldn't use contraceptives. Forget a church that doesn't endorse a women enjoying a multi-faceted sex life, and seeking abortions if necessary for mental health. It isn't surprising to me to see a recent video depiction of this form of feminism on the HBO series Sex and the City. It is found in much of nighttime TV as well.
I don't expect that serious devotees of Sex and the City or heavy-duty feminist philosophies would ever be readers of my words – and so you may question why I'm talking about this topic in this Catholic Mom venue.
There is an organization called ENDOW and I wonder if you've read of or know about it? ENDOW stands for Educating on the Nature and Dignity of Women. ENDOW springs from the thinking of some highly respected women out of the Denver area. Among them are Marilyn Coors (yes, of beer fame) and Betsy Considine and Terry Polakovic. It started as a small group of women looking to deepen their Catholic Faith and it has grown into a national organization.
ENDOW has been described as a Catholic answer to Feminine Genius. One lady said that she "fell in love with ENDOW – with what it means to be a Catholic woman… Endow has really become a passion of mine and has changed my life." (Quoting Joanie Todd from Legatus.org magazine, January 2009). As a sidebar, Legatus is a Catholic lay organization made up of highly successful business executives. Legatus was started by Tom Monahan of Domino Pizza fame.
There are ENDOW chapters springing up all over. One article claimed this program is active in 54 dioceses around the country. The typical meeting format is a small group of women who meet with a trained facilitator. As a deacon, I am aware of a parish where women meet to read and discuss books or documents or portions of them. An example might be John Paul II's 1988 apostolic letter Mulieris Dignitatem – on the dignity and role of women in life and in the Catholic Church.
According to (my former boss) Archbishop Charles Chaput – ENDOW is one of the best success stories of lay Catholic action. It draws women of all ages – but it has special appeal to younger women who want to develop talents and leadership skills in ways that serve the Gospel.
Even in this day and age, I see some women who carry some of the 'older' feminist thinking into the Catholic Church. Again, as a deacon, I see that some women seem uncomfortable or even angry about their perceived lack of power in the Catholic Church. Archbishop Chaput strongly supports the ENDOW model which provides resources to make women aware that they are loved and welcome in the Catholic Church. What springs from participation in ENDOW is an exciting, biblically authentic approach to new feminism, views of involvement and leadership in the Church and an important focus on youth. ENDOW has developed outreach to young women and girls by offering classes for middle and high school girls. You can imagine how countercultural this is – but that is what is making ENDOW youth so attractive. All of this returns us to genius and dignity.
I am so pleased to read of the success of ENDOW. Although many would claim otherwise, the Church has long emphasized the value (read: dignity) of women in the life of faith and the life of our country. I would strongly recommend you spend some summer research time investigating ENDOW – and then talk it over with some Catholic women and seek the support and guidance of your pastor. It would be wonderful if you communicated your feelings about this with me (or with dear friend Lisa Hendey).
Speaking of Lisa and other women active in faith leadership and evangelization in the New Media, your presence on the Catholic Mom site suggests that you are looking for ways to endow yourself with the education and community found in columns and podcasts and blogs. Two new podcasts loaded with feminine genius and faithful practice of Catholicism are:
-Among Women Podcast by Pat Gohn out of the Boston area.
(and) -Faith And Family Livecast with the women of the Faith and Family Live Blog.
In a recent column, I wrote about the role of women in family faith leadership and example. There is so much more than just being responsible for seeing that the kids get to Church. Endow would be one of the ways to help open a new vision of the dignity and genius that you Catholic moms own… gifts that you may not have fully opened yet. Would you be willing to take the first steps to join some 4,000 other women who are exploring the ENDOW movement?
Blessings.
Deacon Tom
Copyright 2009 Deacon Tom Fox
About the Author

Deacon Tom Fox and his wife Dee are co-hosts of the CATHOLIC VITAMINS Podcast for over 6 1/2 years. Tom has also been a member of the Catholic Mom columnists team for eight years, and was a regular contributor to the Catholic Moments Podcast for three years. Most recently, Deacon Tom has been leading a project to bring Catholic radio to the north central Arizona community where he and Dee reside. Blessings!