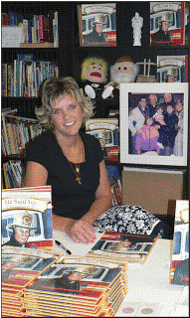 I'm so pleased to share the following information from our good friend, Kelly Ann Lynch -- author of He Said Yes: The Story of Father Mychal Judge

-- on her new apostolate. Here's the information from Kelly's press release. It sounds like a wonderful program to welcome to any Catholic school or religious education program!
Local Children's Author Announces Availability of Marian Program for Catholic Schools

Unique, interactive program designed to teach children about Our Blessed Mother

Lancaster, Pa. – June 23, 2009 – Lancaster resident and award-winning author, Kelly Ann Lynch, recently announced the availability of a new program for Catholic Schools, "Sandal Steps of Mary." Lynch is now booking dates for the 2009-2010 school year for both the Marian program and her foundation program, "Sandal Steps."

"I was inspired to add a Marian program this year because of my devotion to Mary," explains Lynch. "When I read in the Catholic Witness that the Bishop declared a Marian year beginning in October 2009, I knew the Holy Spirit had guided me."

The Marian program offers students an opportunity to learn about Our Blessed Mother, her apparitions, and her important role in the church today. It also explains the power of the rosary in language children can understand. A typical school visit for both the Marian and core program includes up to three age-appropriate presentations: one for grade school students, one for middle school students, and a shorter program for kindergarteners. All programs engage students through puppets, story-telling and song, and encourage children to find their own path to God, either as an active part of the laity or through a vocation.

Lynch says she has already booked presentations for Catholic Schools Week (January 31 - February 6, 2010), but additional dates that week and throughout the coming school year are still available, and she is looking forward to visiting as many schools as possible. "It's an extraordinary blessing to be able to share my stories and faith with these children, encourage them to listen for God's voice in their everyday lives and watch them get excited about knowing God is always near, always there for them," says Lynch.

In the 2008-2009 school year, Lynch visited 15 schools throughout the Diocese of Harrisburg, and elsewhere in Pennsylvania, New York, New Jersey and Ohio. Her visits were exceptionally well received and won praise from students, teachers, administrators and librarians. "The students were not only captivated by her book about Father Mychal Judge," says Librarian Ellen Tucker of St. Leo the Great School in Lancaster, "but also were inspired by her trust in God. She reminded us all that 'God is as close as a whispered prayer.'"

To book a visit or for more information, contact Lynch at 717 538 6061 or go to www.kellyannlynch.com.

About Kelly Ann Lynch

Kelly Ann Lynch is a stay-at-home mother, best-selling and award-winning author, co-founder of Mychal's Message (www.mychalsmessage.org), and the founder of Sandal Steps Presentations. Born and raised Catholic, she is currently in formation to become a Secular Franciscan. She is a member of St. Leo the Great Church in Lancaster, Pa. where she has been leading a children's rosary group since 1999. Kelly has spoken to thousands of children, teens and adults across New York, New Jersey, Pennsylvania and Ohio who have been captivated by her stories of great faith in transforming sadness into joy and darkness into light. Kelly Ann Lynch is pleased to offer interactive, biblically-based and spirit-driven presentations to children and teens in Catholic/Christian schools and churches, as well as workshops and retreats for Confirmation students, teachers and adults. Her message is simple: Be aware. Listen and learn. Love and serve.
About the Author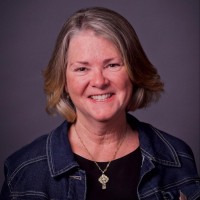 Lisa M. Hendey is the founder of CatholicMom.com, a bestselling author and an international speaker. A frequent radio and television guest, Hendey travels internationally giving workshops on faith, family, and communications. Visit Lisa at LisaHendey.com or on social media @LisaHendey for information on her speaking schedule or to invite her to visit your group, parish, school or organization. Visit Lisa's author page on Amazon.com.