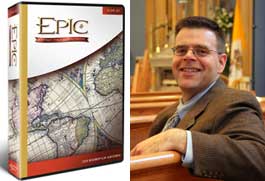 Our guest this week is Steve Weidenkopf, noted speaker and author of the amazing resource Epic: A Journey Through Church History

. Epic is a twenty part study on the two thousand year history of the Catholic Church. Steve and his co-author, Dr. Alan Schreck, identfy the main events in history, culture and politics, as well as identifying the popes, martyrs, saints and Doctors of the Church.
[podcast]http://media.libsyn.com/media/catholicmoments/cm111.mp3[/podcast]
This week, Deacon Tom shares a reflection "Do Not Lose Heart -- There is Good News!" Tom's sharing is based on thoughts from a Staff Worker at Madonna House in Canada.
Sarah Reinhard reflects on a passage from Mother Teresa: In the Shadow of Our Lady, by Joseph Langford, encouraging us to seek Christ's peace in the midst of suffering.
Share your feedback at 206-339-9272, comment here on the blog or email lisa@catholicmom.com.
Links for this Episode:
About the Author