This post recently appeared on Donna-Marie's wonderful blog View from the Domestic Church, and is reprinted with her permission.
I was just chatting with Teresa Tomeo on our "Mom's Corner" segment which was about traveling light this summer. We reminisced about our very simple summers of our childhood.
A recent Gospel reading (Mark 6:8) struck me which speaks to us about traveling light:
"He ordered them to take nothing for their journey except a staff; no bread; no bag; no money in their belts..." This reminds me so much of Mother Teresa and her full surrender to God's providence.
I've been thinking about the family and summer and about how we should try to keep things simple, but pleasant and fun. Sometimes, I think we may have grandiose ideas about what we will accomplish and what lavish vacations we may take. I feel that we can set ourselves up for disappointment.
Some of us will not be traveling this summer due to economic hardships - some are out of jobs and are worried about how they will keep their houses, never mind going on vacation.
I gave an example on the show about how a simple scenario - a park setting and a sunny day, a blanket and two sandwiches opened up a wonderful time for an older daughter and me which we enjoyed just recently. The simple pleasures, right?
What are some things we can do?
~Take day trips
~Go to the park
~Visit the library
~Enjoy fun times in your own back yard
~Plan a pilgrimage to a shrine or basilica, talk about the faith en route, pray a decade of the rosary, visit the church or shrine and explain Jesus in the Blessed Sacrament to the kids. Talk about the saint whose shrine you may visit. Do some research when you get home or prior to your trip.
~Visit the Blessed Sacrament often throughout the summer and bring the kids - Jesus told us, "Bring the children to me..." Work on ways to keep the kids praying and connected to God this summer.
~Spend TIME with one another. This is the best gift and never ceases to become the best experiences.
I'll be posting recipes for food and fun times throughout this week. Stop back each day. I will have guest bloggers too. AND, watch for my book contest!
Teresa and I also spoke about my new book to be relased in September - "Mother Teresa and Me: Ten Years of Friendship." You can pre-order from my website: Donna Cooper O'Boyle.Com
What are ways that you keep your summers, safe, fun, and simple? Please do share!
God bless your day!
Click here to listen to Donna-Marie's recent conversation with Teresa Tomeo
Copyright 2009 Donna-Marie Cooper O'Boyle
About the Author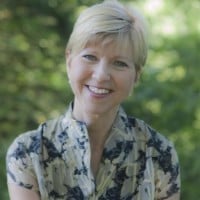 Donna-Marie Cooper O'Boyle is a Catholic wife, mother, grandmother, international speaker, pilgrimage leader, award-winning journalist, and author of over 30 books. She knew Mother Teresa, participated in a Vatican congress, and St. John Paul II blessed her work on Mother Teresa. She writes for L'Osservatore Romano, National Catholic Register, Magnificat magazine, Our Sunday Visitor Newsweekly, Catholic World Report, and more. Visit DonnaCooperOBoyle.com.