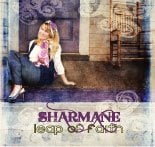 Leap of Faith is a big 'leap' forward for Sharmane. Emerging as a premier artist in Catholic music, Sharmane's third project to date demonstrates the artistic growth and commitment to excellence that easily makes her able to compete with anyone in Contemporary Christian Music.
Sharmane is known for her energetic performances and the songs showcased on Leap of Faith bear that out. I can just imagine audiences standing and dancing to "Life is More" and "Stand Up." Voices from the crowd would sing along with the on the infectious "No Matter What," a hit single if I ever heard one.


Sharmane throws in a couple of older top ten cover tunes and puts a fresh new perspective on them, most especially Johnny Nash's "I Can See Clearly Now."
Production values are top notch as are Sharmane's vocals. She shows a new confidence in her singing that really sets this project apart from her other CDs.
While the majority of songs are of the nature of "Life is More" and "Stand Up," Sharmane also included a lovely and thoughtful song about grandmothers, mothers and daughters in "Generations." This is a song she co-wrote with Alyson Bleistine. Out of the ten songs on the CD, she co-wrote six.
Anyone who still maintains that the quality of Catholic music cannot compete with CCM or the secular market needs to hear Leap of Faith. It and many of the releases from 2009 clearly demonstrate that Catholic artists are catching up and keeping pace.
You can purchase Leap of Faith from Sharmane's website, www.sharmane.com.
Copyright 2009 Susan Bailey
About the Author