I am a morphed mom. I am free!
I will be the first to admit I never expected to feel this way. Not me, the mother of four who bemoaned the start of every school year because I loved being with them all summer long. The mom constantly at the beck and call of her children, regardless of the hour. I will admit I cried every time I had to move a newly graduated high school senior into a college dorm. I would even spend hours wondering, and worrying, if a completely silent home would drive me insane.
Originally, when my last child graduated from high school, I felt as if I had been fired from a job I loved; most mothers in fact will experience this same feeling. When the last child receives his or her High School diploma, we really do receive our pink slips. That feeling of loss is real: short-lived, but real.
Now, upon deep reflection, it's not so much about being let go from your job; it is more like being granted probation, without the probation officer. No strings attached. I can go wherever I want, whenever I want, for however long I want. Let freedom ring!
Getting from the "I-feel-so-displaced" phase to my current mind set was relatively easy too. Oh, I missed my college children. Every time I wandered into unfamiliar territory, such as their now-clean rooms, I thought of them. Deciding which side of my daughters' room was better suited for the eternally standing ironing board was tough. Should it be over on the side where she used to sit on the floor and put on makeup, as evidenced by the multi-colored eye shadow stains scattered within a 3-foot radius? Or maybe it should go by the now-I'm-able-to-open-them closet-doors. Tough decisions, but I made them. And before I knew it, September was gone and October had arrived.
When my children were young I was a Halloween maniac. I loved October. I would decorate with ghosts and cobwebs, witches and demons. We'd blow up white balloons, paint on scary skull faces, and strategically place them bobbing in our front yard pond - our very own floating ghoulish graveyard. I'd bake Halloweenies, special hotdogs coated with crushed chips, and spider stew. For 21 years we had so much fun!
This year my husband dared to suggest the possibility of forgoing Halloween. Why buy and carve a pumpkin? Why bake a pumpkin pie? Why not spend money earmarked for the yearly begging ritual and put it towards a quiet dinner and movie? Heresy! Lunacy! "Be those people," I quickly retorted. "The ones with the dark windows and empty candy bowls?" Was he crazy? What would the neighbors say?
As it turned out, our neighbors were jealous of our new status and applauded our decision to depart from tradition. I also discovered, in case you are wondering, I am one of those people who can easily turn out the lights, forgo the candy bowl, and leave. My steak, salad, and two-olive martini were delicious!
And if Halloween was the beginning of my change, Christmas vacation brought my morphing to completion. Once again, with them home, I was just Mom. Not the Mom who decorated seventeen types of Christmas cookies with her children while singing Christmas carols. Nor was I the Mom of Christmas past, gently hanging precious ornaments on the family tree, conversing quietly with my family.
Instead, I was the mom of the "Once Clean, but now Littered" family car. The "Can-You-Get-This-Out" stain-removing Mom. The "Can-I-Borrow" ATM Machine Mom, and the "Do-You-Know-Where-My….." Mom.
I was forced to use arm muscles dormant for three months to carry in endless grocery bags. I discovered I had forgotten how to do the two-step-hopscotch-jump over shoes haphazardly placed in front of the backdoor. I needed to relearn how to body-bump open bedroom doors jammed shut with discarded clothes and how to use my right hip to close closet doors while juggling half-filled water glasses and damp towels.
On the bright side, my neighbors did not need to fear the dark, since my returning loved ones sincerely believe Edison intended his light bulbs to be used 24/7. And, because in my children's eyes electric dog fences are inhumane, these same neighbors were reacquainted with our fearless protecting dog, Lilly. Our home may not have been electronically protected, since the house alarm was never turned on, but Lilly was able to visit every yard in the neighborhood during Christmas break.
I found myself humming Ford Company's theme song…"this is Ford country" as I tried to maintain order, but I was mentally thinking, "this used to be my country." Experienced counterparts who have traversed this way before already gave k me advanced warning. Christmas vacation is only a trial period for newly morphed moms. The winter semester, although longer, will feel so much shorter than the fall semester and then they will return – with everything! TVs, couches, lamps, computers, and their full contingent of clothing; these long-forgotten occupants of a previous existence will once again make themselves at home.
When I first said goodbye to my youngest at college I left in tears. Holding my hand during that drive my husband quietly asked, "Are you crying because they are all gone, or are you crying because you're stuck with me?" Holding my hand while waving goodbye to them after Christmas break, he quietly asked how I was doing this time. In reply I said, "When we can't see their taillights, let's lock the door and turn on the fireplace. I'll grab the crackers and cheese. You get the glasses and open the wine. And, honey, don't forget to turn on our alarm."
Copyright 2009 Carol S. Bannon
About the Author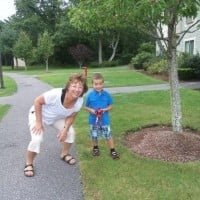 Carol Sbordon Bannon is a full-time writer with a degree in elementary education from Worcester State University. She is a substitute teacher and has been a catechist for over thirty years. In addition to A Handshake From Heaven, she is also the coauthor of Our Family's Christmas Elf. She is happily married and currently resides in Concord Township, Ohio. Visit Carol at CSBannon.Wordpress.com.