The month of October may draw our attention to our Blessed Mother since the Church has designated October for the prayer of the Rosary. It's also Pro-life month.
Mary's "Yes" to God's pro-life plan for her and our world dramatically changed history forever. Mary's words, "Be it done unto me according to thy word" was absolute – it wasn't hesitant or mediocre in any way. Mary didn't even stop to consider what others might think of her. She was unwed when the Arch Angel Gabriel announced the news to her, after all. Yet, that faithful Jewish young lady put her faith fully in God's plan for her life and was obedient to every detail that unfolded since that momentous occasion.
It was at the foot of her Son's Cross that Mary became Mother of the Church and really our mother too. "Here is your Mother," Jesus said from the Cross (Jn 19:26-27). He entrusted Mary to John and John to Mary. The disciple John actually represented the whole Christian community, so Mary became the Mother of the whole Church at her Son's request. She became the new Eve (Jn 19:26).
We can learn so much from our Blessed Mother during our mothering. Mary may seem to be very far away and even unapproachable. But this couldn't be further from the truth. We can call on her through simple or formal prayers to her and she will mother us and lead us to her Son, Jesus. We can pray to imitate her virtues.
As mothers busy about many things, we can pause, even momentarily throughout our days to lift our hearts in prayer. The beautiful prayer of the Rosary keeps us connected with the Blessed Mother and her Son, Jesus as we contemplate the Gospels while the beads meditatively slip through our fingers and we pray for the graces we need to continue our mothering.
In Bits and Pieces
Many times our hands are occupied with the care of the children and our household so we are unable to hold our beads to pray. At times like these, our beads may be in our pocket and we pray the Rosary in bits and pieces, one decade at a time, sometimes counting the Hail Mary's on our fingertips. Other times we count our baby's toes as we nurse him or her in the night. The acts of service to our families, driven by the love we have for them is the holy glue connecting our decades together to form at least one complete Rosary that we can offer to Mary and Jesus before the day is done. We can all attest, I'm sure, that sometimes it's not until we are on our weary knees before we climb into bed that we can finally pray our closing Rosary prayer. We need to remember that God knows our lives. He made us the busy Moms! So, let's not worry about what may appear as lost time in prayer. We can pray through our service to our family as long as we offer all of it to God.
In my book, Catholic Prayer Book for Mothers

(Our Sunday Visitor, 2005), I wrote a little prayer to Jesus and the Blessed Mother about a mother's prayer of the Rosary. It's called, The Rosary, One Decade at a Time:
"Because caring for my family
Demands my full attention, Please, Lord, accept my Rosary
One decade at a time.
When the children are fed and dishes washed
And baby is asleep
I can borrow some time now to kneel down
And pray a decade of the Rosary.
And later, as I sit and rock and nurse my baby,
My heart goes out to You, my Lord,
As I recite the second decade.
When my baby cries and I attempt to calm her,
My fingers will be a substitute
For the next ten beads of the next decade.
After dinner, I can gather my flock
To kneel together for family prayer.
We will recite a decade along with our evening prayers.
Finally, when the day is finished,
And all are in bed,
With a quiet sigh,
I settle down and complete my Rosary to You."
Amazing Opportunities for Grace
Our first responsibility, as we know, is to our families in a myriad of ways and we also strive to fit the prayers in wherever we can at every opportunity our Lord allows. But we must also be content knowing that it is through our acts of loving service and sacrifices of our time and energy in the care of our families that we earn the most valuable graces. Everything we do can be offered to God through our loving hearts. We're so fortunate to have been blessed with a vocation in which we have amazing opportunities to earn grace and help to sanctify our families. God is so good to us!
In between our sometimes broken or interrupted Rosaries that we string throughout our days, we can offer short aspirations to our Blessed Mother – "Please dear Mary, help me in my mothering" or "Guide me please, dear Mary, to come closer to your Son, Jesus." Mary is powerful and will protect our families. Since she knows all about motherhood, she will indeed help us in our mothering. We should get in the habit of praying to her often.
Years ago, when I was on complete bed rest due to a hemorrhaged uterus, Blessed Mother Teresa of Calcutta (whom I knew at the time) instructed me to pray a very simple but powerful prayer, "Mary, Mother of Jesus, be a Mother to me now. " Notice the key word, "Now." It's a great prayer to use when calling upon our Blessed Mother when we are in a dire need of her at any moment – and even when things are calm, we welcome her loving presence near.
My doctor initially thought that I was miscarrying because I had three previous miscarriages and the hemorrhaging during this pregnancy did not look good. I prayed the prayer that Blessed Mother Teresa taught me throughout my high-risk pregnancy, wore the Miraculous medal that she gave me, and kept watch over my baby in all of my sonograms (the only time I was allowed a reprieve from bed rest). I watched with great interest the little, vulnerable unborn heart beating away, expressing its precious life to me. My own heart was intensely thankful and rejoiced each time I saw my unborn baby. Blessed Teresa also told me that "The Blessed Mother has helped others, she will also help you." She was right. My tiny unborn baby survived that pregnancy and my daughter, Mary-Catherine is now eighteen-years-old. We're counting our blessings.
We know that we will never accomplish what our Blessed Mother has, or be able to come close to her holiness, yet we are also called to holiness in the sublime role of raising our children. Our Mother Mary gives us so many attributes and virtues to emulate in our vocation as a mother. We can look to Mary and realize that her deep faith was really the foundation of her holiness. We can also remember that Mary was human like us and needed to pray so that she would be unwavering in her faith, just as we mothers are called to do. Mary's faith is the same gift that is available to us. We can ask Our Lord for the gift of an increasing faith and ask Mary to be a mother to us, guiding us closer to her Son Jesus. What better way to get closer to Jesus than through His mother?
As far away or unapproachable as Mother Mary may seem to us at times, she's actually much closer than we think. She's with us and assisting us in our domestic churches. Let's not forget to ask her for help though. Let's be sure to invite her into our homes. If you haven't started to pray the beautiful prayer of the Rosary with your family yet, begin today with just one Hail Mary prayed together after "Grace Before Meals" is said at your dinner table. Then, build upon that, putting your family under the motherly care of Mary.
"Roses For You"
Dear Blessed Mother, please accept my motherly tasks this day
As a little act of love. Let them be as roses to be put at
Your feet, one by one.
I pray that by the end of the day, there will be an
Enormous bouquet to adorn your feet. Amen.
Blessed Mother Mary wants to mother us all. Mary, Mother of Jesus, be a Mother to me now!
This article originally appeared on the TORCH website (www.torchhomeschooling.org). Traditions of Roman Catholic Homes (TORCH) is an association of lay faithful established to promote homeschooling among Catholic families and to support those families who are engaged in providing their children's primary education at home.
Copyright 2009 Donna-Marie Cooper O'Boyle

About the Author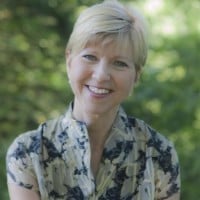 Donna-Marie Cooper O'Boyle is a Catholic wife, mother, grandmother, international speaker, pilgrimage leader, award-winning journalist, and author of over 30 books. She knew Mother Teresa, participated in a Vatican congress, and St. John Paul II blessed her work on Mother Teresa. She writes for L'Osservatore Romano, National Catholic Register, Magnificat magazine, Our Sunday Visitor Newsweekly, Catholic World Report, and more. Visit DonnaCooperOBoyle.com.