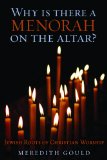 I'm thrilled to share the following Catholic Book Spotlight interview with Meredith Gould, author of Why Is There a Menorah on the Altar?Jewish Roots of Christian Worship

.
Q: Meredith, you and I go "way back" and I've been a fan of your writing for many years. For those who haven't had the pleasure of meeting you, please briefly introduce yourself to our readers.
I'm a sociologist who never anticipated becoming a working writer and author of seven published books. Despite oodles of scholarly training, I make every effort to provide information in accessible and amusing ways.
I actually started out as an line illustrator, stumbled into a decade of college teaching (Sociology), had a career state government, and held a senior management position at an ad agency before being invited (read: yanked) into a tumultuous spiritual journey. Imagine being a Jewish girl called by Christ Jesus while working at a yoga ashram. Very confusing…in a clarifying kind of way!
Although I'd already been writing about holistic health and the spirituality of everyday life for magazines, I could not have predicted writing entire books about faith and religious practices. Nor did I ever imagine I'd feel called to write about Catholic cultural identity (e.g., The Catholic Home: Celebrations and Traditions; Faith & Family columns) and then, the Jewish roots of Christian worship (e.g., Come to the Table: A Catholic Passover Seder; Why Is There a Menorah on the Altar?) I consider myself a fine illustration of the adage, "We plan; God laughs."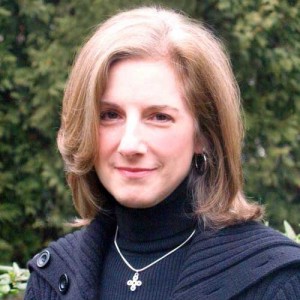 Q: Congratulations on the recent publication of Why Is There a Menorah on the Altar? Can you give us an overview of this special new book?
Why Is There a Menorah on the Altar? introduces readers to the Jewish roots of Christian belief and religious practices in liturgical churches. I explain how biblical and historical Judaism influenced liturgy; the design and décor of church sanctuaries; and zoom in on Baptism, Eucharist, and Confirmation to illustrate what from Judaism has endured as these sacraments have changed over time.
Basically, I invite Christian readers to view worship and the sacraments through the lens of first century Judaism. This, by the way, tends to be my own perspective as someone raised Jewish who sought and received the sacraments of Christian initiation as an adult.
Wanting to make this book something individuals and groups could use, I include questions for reflection and discussion with every chapter, as well as exercises cleverly titled, "Try This." Readers will find a glossary of Hebrew terms and Jewish concepts. I also reprinted key documents about Christian-Jewish relations issued over the past forty years by the Roman Catholic, Lutheran, and Episcopal churches as well as Jewish-Christian study groups. It is my most fervent prayer that readers study these documents with great care and take them to heart.
Q: At what type of audience is this book aimed and how does it differ from your previous work for Catholic audiences?
For reasons far too complex to trot out here, ecumenical reconciliation has become as important to me as interfaith understanding. Roman Catholics, Orthodox Christians, Lutherans, and Anglicans (i.e., Episcopalians in the United States) share core beliefs about being Christian. We also share core religious practices, practices that are rooted in Judaism.
In this new book, I hope to share what I've studied, learned, and lived with other Catholics as well as those in other Christian communions. As always, my primary audience is the general reader, especially those entrusted with the sacred task of raising loving, compassionate, thoughtful, and intelligent people of God.
Q: I happen to have a large group of Jewish friends, and in fact play Mahjong twice a month at our local temple. During our games, I've learned so much about the Jewish roots of our faith from my friends in casual conversation. Why is a book like yours -- and a greater understanding of our roots -- greatly needed by Catholics?
Mahjong?!? If you lived on the east coast, you'd be playing Canasta or Poker!
Unless you're hanging out with rabbis or chazzans, you're probably learning more about Jewish culture and ethos than about the structure of worship and evolution of sacred practices. As a result, you're probably discovering how Catholicism's deep commitment to social justice, respect for life, and belief in the sanctity of family is anchored in Judaism.
My ambitious goal in Why Is There a Menorah on the Altar? is to help readers first recognize and then appreciate Judaism's legacy as it shows up in cultural artifacts (e.g., holiday traditions) as well as worship (e.g., liturgy, blessings, prayers) and the sacraments. My belief that this awareness is greatly needed by Catholics is reinforced by years of visiting parishes to deliver talks based on The Catholic Home. It never quite matters how my parish visits are promoted, those attending always want to know more about their Jewish heritage. I'm happy to tell them!
Q: Are there a few significant suggestions you might give to Catholic families to assist them with greater understanding of Judaism's impact upon Christianity and passing this appreciation along to their children?
With absolutely no modesty whatsoever, I suggest Catholic parents read and use my book to understand scripture and history in a more complete and nuanced way. I think they'll find that the reflections and exercises at the end of each chapter can be easily adjusted for use with children of all ages. And, I'll have the audacity to add that Why Is There a Menorah on the Altar? is an excellent companion to The Catholic Home, the book where I started making these connections for readers – and myself, for that matter.
Here's what parents need to realize from the get-go: Jews and Christians shared a common God, faith, and religious practice for nearly a century after Jesus died. We continue to share more similarities than differences, although neither Christians nor Jews typically view it this way.
We cannot honor Our Lord's invitation to love one another until we understand what we share and then convey that to our children. As a practical matter, I believe simple things like mentioning how the tradition of reciting blessings before and after meals, or praying our thanks to God when we wake and when preparing for sleep come from Judaism are easy ways to illustrate Judaism's enduring legacy.
Q: How did the writing of this book impact upon you as an author and as a Catholic woman?
Why Is There a Menorah on the Altar? had been kicking around in some form or another for nearly seven years before finding a publisher. During that time, at least one secular and a couple of Catholic publishers questioned whether there was a market for such a book. Two years ago, Nancy Fitzgerald, then an editor at Church Publishing, Inc. and now with Skylights, immediately grasped the value of bringing this information to a lay audience.
While this is not a memoir per se, I do write about my experience of being raised Jewish and embracing Catholic Christianity as an adult. In the "Foreword" and "Afterword" I describe what happened to and for me while writing this book. In sum, I was totally unprepared for the primal grief I felt while researching the history of when and why Jews and Christians became not only separated from, but pitted against, one another.
More than once I was challenged by the material to ask myself what others seem compelled to ask, "why Catholic?" I, of course, have a slew of snappy answers which occasionally show up in blog posts at More Meredith Gould (http://meredithgould.blogpost.com).
Q: What types of reactions have you received from those who have read the book?
Well, my mother, who had a career as a Judaica editor, thinks it's an important contribution and, believe me, she's a tough critic. Reactions? I'm delighted by positive reviews, especially when they come from experienced, knowledgeable religious educators.
I especially love when readers tell me how much they've learned and how their worship experience has changed as a result of reading my book. Lots of conversations begin with, "I never realized that our [whatever] came from Judaism." Possibly my favorite comment came from a priest who frankly admitted, "We never learn this stuff in seminary." His kudo is right up there with, "You always make me laugh."
As you might imagine, I'm distressed whenever I receive "traitor to the tribe" comments from other Jews or "why don't you just become Protestant" comments from Catholics who wish I'd ignore less-than-admirable moments in church history.
Q: I know you keep incredibly busy! Do you have any future projects in the works these days?
I'm fond of pointing out that being a mid-list author does not pay the mortgage, so I have an equally focused commitment to writing about health care and wellness, especially patient-centered, participatory medicine. Surprised?
Lately, I've been characterizing myself as a healthcare "infomediary" because of my uncanny ability to translate jargon-heavy medical research and healthcare information into reader-friendly materials for consumers and practitioners. I'm currently keen on infusing more education about ethics and moral theology into the healthcare industry. It's my never-ending attempt to make worlds overlap rather than collide!
Next book? I vowed I would never ever do this again, but that was me being delusional. In reality, I've started a book about the spiritual value of fear. It will be a little book. Who could tolerate a big book about fear?
Q: Are there any closing thoughts or comments you'd like to share with our readers?
Not only do I always have more to say, but I also tend to repeat myself. With no shortage of personal angst I'll note once again that the shattered world of Christian-Jewish relations and ecumenical relations must be repaired. By us. God's beloved children. And I thank God for the gifts and opportunities I've been given to participate in this healing work.
Order Why Is There a Menorah on the Altar?Jewish Roots of Christian Worship

and support CatholicMom.com.
About the Author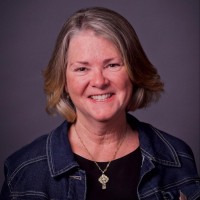 Lisa M. Hendey is the founder of CatholicMom.com, a bestselling author and an international speaker. A frequent radio and television guest, Hendey travels internationally giving workshops on faith, family, and communications. Visit Lisa at LisaHendey.com or on social media @LisaHendey for information on her speaking schedule or to invite her to visit your group, parish, school or organization. Visit Lisa's author page on Amazon.com.