If you're single, or have a family member or friend who may be leading a single lifestyle, please share this article with them and refer them to CatholicMatch.com for additional resources.
It's not a fairy tale, but it's a beautiful story nonetheless--one of Derek and Natasha growing with God and now with each other.
Natasha and I met on Catholic Match right after Easter. She had lived here for a good long time and I was just getting back from a deployment in Afghanistan. It started with an emotigram that led into a message, which sparked a chain of emails about how we arrived to our place in our faith. Mostly, I was happy to just find a girl who lived less than an hour away after being a member on this site for a year and a half. After a few days of chatting with her online I went to meet her at the young adults group she attends at St. Francis in Henderson. The first week I had just missed her when trying to show at the group's meeting and surprise her, but found success just a week later. We went out for lunch and ended up spending the whole day together just talking and getting to know each other.
The next few months were a whirlwind of movement. I was trying to close on a house while travelling between Las Vegas and San Diego for work, which put me in and out of hotels and friends' houses every 2-3 weeks. There was an 8-week period where I was trying to find the right parish when Tash and I didn't go to the same one twice. Even so, we would get together for dinner at either my hotel or her apartment or get breakfast after Mass and talk about the readings and generally spend as much time getting to know each other as we could. We got to spend time with some of her incredibly large extended family at a family reunion where I was first introduced to many of them as her boyfriend. One of her cousins even warned her, "Just you watch. Those military guys move fast. After 6 months you'll have a ring on your finger and it'll just fly from there!" I would drive down to Anthem whenever I could to sit at her Starbucks and spend time with her while she was on break and she would bring out drinks while her coworkers cooed. We kept going to the young adults group and learning about our faith more in depth and rejoiced we were able to share it with each other. We were even bringing each other to confession on a regular basis, when before I met her I would only be going once or twice a year.
My mom was able to meet her on a trip out here in August. She was very happy to see the two of us together and even a little taken aback that I trusted Natasha enough to give her blank, signed checks to take care of some bills while I would be in Wisconsin for two months. Nevertheless, she took care of the place more than I ever could have expected any one to do so.
We both grew closer together even though we were several states apart. We would still call each other every day without fail and say rosaries for our intentions. Natasha started learning to bake cookies and would send me care packages, much to the joy of my office. We were even faced with many lessons of humility and forgiveness when plans we had made fell through and tested our respective characters. I returned feeling like we hadn't missed a step and we carried on like we always had. We made plans to visit my mom in Virginia after Christmas and kept going to see the Trappist at St. Bridget celebrate the Mass in Latin.
Work and school kept the both of us busy through the rest of the fall and in December I finally decided to buy a ring. It was nervewracking standing at the jewelry counter in a place where most of my co-workers would likely see me, and even more so holding on to it for two and a half weeks so I could find the perfect spot. My mom was in on it and was having a hard time holding back her excitement when Natasha and I left for Skyline Drive. I had picked out the perfect spot with waterfalls and greenery I remembered hiking to many years ago. The ranger at the front gate told us there was only a short section open and the trails were likely snowed over so we could hike at our own risk. We came to a field full of deer grazing between the ice and admired it for a while, then started towards the trail I thought would take us to the waterfalls.
When we got there it was indeed snowed over and it turned out we were on the wrong end of the trail. To make things worse, we both had to go to the bathroom and most of them had been locked up for the winter. After finding some pit toilets, we came to a spot with a gorgeous view and several cars pulled up right as I was about to pull out the ring. A sign on the side of the road told me I only had a mile of road left before the park exit and I still hadn't found a decent spot. We came to the second to last overlook. She gave me a weird look when I said I wanted to get out here and take a look around. We climbed down some rocks and around to the other side of the jut where I sat her down. She thought I was just fumbling for my camera until I pulled the ring out and knelt down in the snow and popped the question. Natasha was all excitement and tears after that. Mom was getting the celebration dinner ready when we got home and couldn't hold her happiness back after we shared the news. We even managed to keep it mostly secret until Natasha could get back home and tell her mom in person.
It's been a good story so far. Not a fairytale, mind you, but just two Catholics growing together through God.
If you're single, or have a family member or friend who may be leading a single lifestyle, please share this article with them and refer them to CatholicMatch.com for additional resources.


About the Author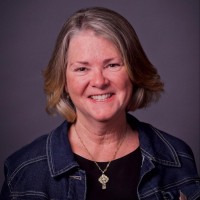 Lisa M. Hendey is the founder of CatholicMom.com, a bestselling author and an international speaker. A frequent radio and television guest, Hendey travels internationally giving workshops on faith, family, and communications. Visit Lisa at LisaHendey.com or on social media @LisaHendey for information on her speaking schedule or to invite her to visit your group, parish, school or organization. Visit Lisa's author page on Amazon.com.