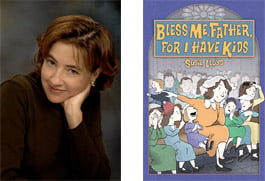 Our guest this week, Susie Lloyd, is a frequent contributor to various Catholic magazines and the winner of three Catholic Press Association awards. The long awaited sequel to her first humor book, Please Don't Drink the Holy Water!

is finally here! It is called Bless Me, Father, For I Have Kids

. Susie is now avidly pursuing speaking opportunities and joins us to discuss her writing, her faith and her family.
[podcast]http://media.libsyn.com/media/catholicmoments/cm139.mp3[/podcast]
In this Year for Priests -- Deacon Tom shares a tribute about one priest, Fr. Cyril Levy. Truth be told, our Catholic Church is filled with such wonderful priests, for which we give thanks.
Avery discusses Lent and gives some ideas for reflecting on the season. Lisa Mladnich shares some amazing ideas for making teaching the faith a fun experience.
Inspired by the mention of St. Gemma Galgani on episode 45 of the Among Women podcast, Sarah Reinhard shares a quote by that saint and a reflection on suffering.
This episode of Catholic Moments is sponsored by CatholicMatch.com, the Leading Catholic Singles Community. Share your feedback at 206-339-9272, comment here on the blog or email lisa@catholicmom.com.
Links for this Episode:
About the Author