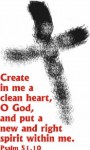 Back after several months away, Susan explains her absence from podcasting and shares her Lenten journey which she describes as a time of purification in the dessert.




She encourages your feedback and invites you to share your Lenten journey with the listeners by writing to her at susan@susanbailey.net or calling the hotline number, 206-309-0027.
Novena to St. Therese
Open with hymn: Chosen Flower, Rose of Love (tune is Ode to Joy)
as heard on the podcast, performed by Susan, lyrics written by Sr. Debra-Therese Carroll
St. Therese the little flower
Chosen by the Lord above
Light the spark of love within us
Chosen flower, rose of love
As we make our prayers and petitions
Bring them to God's holy throne
Let your perfume go before them
Making our requests your own.
Sweet apostle of God's mercy
In whose love you came to share
You surrendered self completely
In your tasks and in your prayer
Lead us to that lowly valley
Where the humble find their God
Light our pathway, cheer our spirits
Walking where the Master trod.
Confidence, abandonment
Simplicity in us instill
That like you we may completely
Follow God's most tender will
In the hours of great darkness
Light the lamp of faith we need
Trusting your eternal promise
That for us you'll intercede
NOVENA PRAYER TO ST. THERESE
O Glorious St. Therese, whom Almighty God has raised up to aid and inspire the human family, I implore your Miraculous Intercession. You are so powerful in obtaining every need of body and spirit from the Heart of God. Holy Mother Church proclaims you "Prodigy of Miracles . the Greatest Saint of Modern Times." Now I fervently beseech you to answer my petition: (mention petition here) and to carry out your promises of spending Heaven doing good upon earth . . . of letting fall from heaven a shower of Roses. Little Flower, give me your childlike faith, to see the Face of God in the people and experiences of my life, and to love God with full confidence. St. Therese, my Carmelite Sister, I will fulfill your plea "to be made known everywhere" and I will continue to lead others to Jesus through you. Amen.
Ending Hymn: Canticle of Love (tune: The Church's One Foundation)
Therese the flame of love bright
Abided in your heart
You listened still like Mary
And chose the better part
You made yourself a dwelling
For Him who reigns above
O sing for us your story
Your canticle of love.
To live of love's your story
A hidden life unknown
Just like the tender Master
Who had no earthly home
But love your sole desire
Transformed all time and space
In every place and moment
You found God's loving grace.
Your melody of love sung
Will find a welcome here
Its descant's high resounding
Will cast out all our fear
The God of love and mercy
With whom you took delight
Will be for us a shelter
By day and in our night. Amen.
from the Community of Teresian Carmelites, Worcester, MA





Copyright 2010 Susan Bailey
About the Author