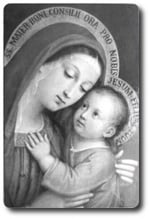 This month's giveaway celebrates the Blessed Mother's month with some of the finest in Marian giveaways. To enter, leave a comment with a valid email address (will not be shared) by May 31. We'll draw winners and contact them at the beginning of June.
Everyone's a winner: Thanks to Jennifer Minson, who has offered half-off shipping for anyone who places a Tupperware order in May and mentions CatholicMom.com. Note: You have to contact Jennifer directly to receive this special shipping offer.
Enter your name in the comments for a chance to win one of the amazing prizes below:

Pink, Green, and White Pocket Rosary, courtesy of On this Day Designs
This single decade rosary is perfect for your pocket, purse, or clipped to your backpack so that you're prepared for that unexpected quiet moment for prayer. Medal is a pewter crucifix; Our Father beads are lime green, pink, and blue flowered glass beads; Hail Mary beads are pink; white and green glass beads alternate between the Hail Mary beads (slight color variation possible).

Hail, Holy Queen, by Scott Hahn
Building on these scriptural and historical foundations, Hahn presents a new look at the Marian doctrines: Her Immaculate Conception, Perpetual Virginity, Assumption, and Coronation. As he guides modern-day readers through passages filled with mysteries and poetry, Hahn helps them rediscover the ancient art and science of reading the Scriptures and gain a more profound understanding of their truthfulness and relevance to faith and the practice of religion in the contemporary world.

Blessed Blue Cord Knotted Rosary, courtesy of Real Life Rosary
Stuff it in your pocket, bury it in your purse, or clasp it in your hand while you jog...this is a rosary that will stand the test of time, make it through the washer, and not choke the little saints you're trying to raise. AND it's lovingly made by the Hahn family, no extra charge.

Multicolored Mount Carmel Bracelet, courtesy of On this Day Designs
These three stretchy strands of multicolored beads are a beautiful mixture of different semi-precious stones. Nestled among these beads is a medal of Our Lady of Mount Carmel, the same image found on the Brown Scapular. Medal is bronze Our Lady of Mount Carmel.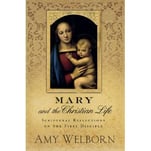 Mary and the Christian Life, by Amy Welborn (3 copies)
In this book by best-selling author Amy Welborn, Mary comes to life for us, both as the mother of Jesus and as his first disciple. Through her expressive and meditative style, Welborn offers fresh insights into Mary's story, with all of its wonder, love, and adversity. Each moment in Mary's life serves as a mirror for us, showing us how we, as Jesus' disciples, can open ourselves in the same way to whatever he wants for us. Each chapter features selections about Mary from saints, popes, and church fathers along with explanations of the history behind popular Marian devotions, hymns, and prayers, from the rosary to the Salve Regina.

Tupperware Canister Set, courtesy of Jennifer Minson
This chic canister set doesn't just sit on the counter looking pretty. The special viewing window in the front reminds you when contents are running low. One Touch® seal comes on and off with the lightest touch, yet seals both air and liquid tight!

Mary and Me: Catholic Women Reflect on the Mother of God, by Ginny Kubitz Moyer, courtesy of the author
How does Mary, the Mother of God, speak to the modern female experience? Does she comfort, challenge or inspire? Ginny Moyer wanted to know how women today would answer those questions, so she invited women of all ages, some cradle Catholics and some converts, some lay and some religious, to share their thoughts on Mary. In the process of collecting women's stories, Moyer learned that the answers to these questions are as diverse as the women themselves.

Marian Tile Necklace, courtesy of Joy Filled Family
Necklace using a lovely Marian tile, handmade by Lena and her daughter, Rose.
Mary, Mother of the Son trilogy, by Mark Shea, courtesy of Aquinas & More
This three-volume set of books by Catholic author Mark P. Shea, takes the reader on a tour de force exploration of the Marian dimension of Catholic thought, life, prayer, and practice. These three volumes will give you what you need to come to more fully appreciate Mary's role in your life and the life of the Church — and to defend and explain her role to your non-Catholic (and even your Catholic) friends.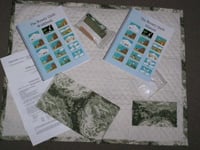 Free download of the Rosary Quilt Set (2), including manual, workbook, virtue chart, and meditation page helps, courtesy Intercessiories Family Ministry
Establish a nightly rosary within your family as you learn and grow in virtue. Contains fun and engaging activities to reinforce the messages behind the mysteries of the rosary and the virtues they present to us. The workbook gives your child over 70 pages of activities to reinforce what he has learned about the rosary and the real life applications of the virtues he is cultivating. Other resources work together to make the rosary a seamless part of your family life.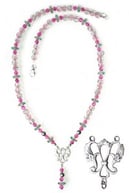 Ave Maria in Pinks and Greens, courtesy of On this Day Designs
This delicate sterling silver Ave Maria medal is enhanced by the pinks and greens of the crackle glass beads and sterling silver accents. Necklace, length 19 inches, sterling silver lobster claw clasp. Medal: sterling silver Ave Maria initials, recast of a vintage European medal from the 1880s, .75 inches.
Rosary Meditations for Real Life, by James Hahn, courtesy of Real Life Rosary
A unique approach to praying the rosary by taking everyday life events and pulling them out of the mysteries of the Rosary. The mysteries are contemplated in light of the common events of our life - Work, Children, Addiction, Mass, Marriage, and Death. Additional meditations look at the mysteries through the eyes of various people like Joseph, Mary, Saint John, Judas, and others. This book will change the way you pray the rosary and help you learn to make the rosary part of everyday life!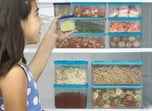 Tupperware Clear Mates set, courtesy of Jennifer Minson
Clear Mates® 12-Pc. Set, a $101 value, for only $25!* Store it all for less. Includes two each of the Mini (3/4 cup/200 mL), Medium 3 (61/2 cup/1.5 L), Large 2 (63/4 cup/1.6 L) and Large 3 (101/2 cup/2.5 L) containers plus four Medium 2 (41/3 cup/1 L) containers.

The Rosary Workout, by Peggy Bowes (2 copies), courtesy of the author
This must-read includes chapters on the history of the Rosary and the Science of Exercise. Each workout offers illustrations on how to incorporate the Rosary, the different meditations, and how to determine and work at the appropriate spiritual and exercise level (Angel, Archangel, Principality, Power, Virtue, Dominion, Throne, Cherubim, Seraphim).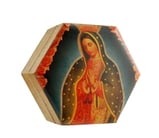 Our Lady of Guadalupe wooden rosary and keepsake box, courtesy of the Catholic Company (also online with a brand-new Spanish site!)
This solid wood box measures 4" across and is 2" high. The hinged box has on its lid the beautiful depiction of Our Lady of Guadalupe. It serves as the perfect place to store your rosary or could be used for jewelry or any other of your religious keepsakes. The outer edges and bottom of the box are painted in an antique gold finish.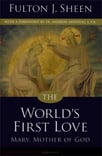 The World's First Love, by Fulton Sheen, courtesy of Aquinas & More
While considering the different phases of Mary's life, Bishop Sheen discusses various problems common to mankind of every age and reveals clearly that every problem can be resolved. He emphasizes the unique dignity, strength and gifts of women and their ability to help heal the world's problems. Sheen stresses mankind's need of the Mother of God and her burning love for all her children. The great resurgence of devotion to Mary is God's way of emphasizing the worth and dignity of every person against the false doctrines that have so confused the modern world.

Immaculate Heart of Mary Earrings, courtesy of On this Day Designs
A great everyday earring that's a wonderful reminder of Mary's Immaculate Heart. Medal is a colored enamel-like image of the Immaculate Heart of Mary, with sterling silver ear wire.
Many thanks to all of our generous donors for the May Marian giveaway! Please consider them as you plan your Mother's Day gift giving and future purchases.
About the Author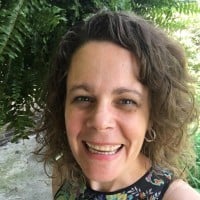 When she's not chasing kids, chugging coffee, or juggling work, Sarah Reinhard's usually trying to stay up read just one…more…chapter. She writes and works in the midst of rural farm life with little ones underfoot. She is part of the team for the award-winning Catholic Mom's Prayer Companion, as well as the author of a number of books. You can join her for a weekday take on Catholic life by subscribing to Three Shots and follow her writing at Snoring Scholar.