[Congratulations to commenter #2, Melissa Bruce, who is the winner of our book giveaway this week!]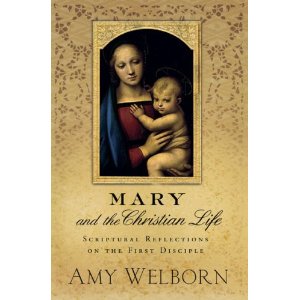 It's not a big book, but that's not why it's one of my favorites, across the board. It's not terribly scholarly or high falutin either, which is probably why I've lent it out so much I'm going to need to buy another copy.
Amy Welborn's now out-of-print Mary and the Christian Life: Scriptural Reflections on the First Disciple (which is still available through her website) is, hands down, one of the best books about Mary that I have ever read. I put her up against the saints and scholars of past ages, because what she accomplished in this thin tome is worthy of that praise.
In less than 150 pages, Welborn shares relevant history, devotions, and thoughts on the Blessed Virgin. Her language is so accessible, so real, that I almost feel like she was sitting across the table from me as I drank coffee and devoured the book.
If you're unsure about devotion to Mary and why it's important, this is a great book to introduce you to it without hitting you over the head with it. If you're grounded in your Marian approach, pick up this book and find yourself reminded of the beauty of the simple, of the richness of the history, and of the thoughts of great minds before us about Mary.
I not only highly recommend it, I'm giving a copy away, courtesy of Amy Welborn. Leave a comment here with your take on Marian devotion (good or bad), and I'll draw names next Friday. Amy will sign it and we'll get it mailed to you.
//
Copyright 2010 Sarah Reinhard