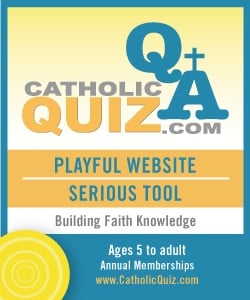 I'm happy today to help spread the word about a wonderful new resource for Catholic families, parishes and classrooms. CatholicQuiz.com, created by husband and wife team Michael and Mary McKay, is a terrific way to learn about and treasure our Catholic faith. Designed with age appropriate resources for ages five and up, CatholicQuiz.com moves beyond rote memorization to make learning the faith fun and exciting.
Having personally reviewed the site and several of its games and interactive features for families and teachers, I found it engaging, challenging and faith-filled. I wish I had enjoyed access to CatholicQuiz.com years ago when my children were younger, but will definitely be employing it along with my high school son Adam as a component of his preparation for Confirmation. I also look forward to challenging my son Eric to duels of Sacred Songs (think "Name that Hymn"), or Prince of Peace and The Saints are Coming, which will show which one of us knows their bible and Church history facts best.
Learning our faith and sharing it with our children is a lifelong challenge for Catholic parents, but it's also one that should be treasured, enjoyed and cherished. Tools like CatholicQuiz.com make the process even more special when we enjoy them with our children and students. I'm happy to highly recommend CatholicQuiz.com to the teachers, religious, priests and families who visit our site.
Founder Mary McKay has shared the following information, which will give you a complete overview of CatholicQuiz.com:
CatholicQuiz.com is a membership website featuring Catholic games and quizzes using thousands of Church-approved questions and answers in English and Spanish.
It's probably one of the best things to happen to religious education for Catholics in years. The Pope has challenged the faithful to employ the latest tools when it comes to communications technology and the opportunities made available through the Internet. Responding to the Holy Father's encouragement, CatholicQuiz.com opens up the breadth and depth of the long history and tradition of the Church – from beliefs, to church to bible and saints; and now makes this more accessible to young people in a medium they understand.
Imagine an educational website that is attractive to explore, easy to use AND able to hold the interest of anyone from about 5 years old (with reading help from a parent) to adulthood. Religious educators and parents alike know the challenges of attracting and developing the interest of youth in religious learning. How many of us have sat around the kitchen table attempting to create a do-it-yourself quiz game because we've learned it is the best way to hold the attention of our faith formation students? This new website seems to create curiosity and excite real learning through ease-of-use and the game-like quality of the online learning experience. The balance, breadth and depth of the 7,000 Q+A that populate 10 major religious knowledge categories alone is impressive to the new or advanced Catholic learner.
The site is loaded with features that keep you coming back. There are a dozen games to choose from (including the demonstration saints game aptly titled, The Saints Are Coming!); a scoring system that allows you to earn CQ-IQ points for every game played and every question answered correctly; opportunities to focus on "fun" by racing the clock or surviving a content area; opportunities to focus on "learning" by clicking through to read the specific Catechism paragraph, Bible chapter and verse or other reference attached to most every question; the option to play alone or in teams; and the list goes on. The Q+A are well written and thoughtful. There are the expected multiple choice, true/false, yes/no, fill-in-the-blank, etc. But, my favorites are found in the game, Sacred Songs. Select this game and each question loads a 30-second clip of liturgical music. See how fast you can name that tune. It's pretty darn fun, especially in a group.
Parents will love the Quizzle Me games. Choose from Quizzle Me too! (Catechism, Bible and saints for beginning learners), Quizzle Me First Holy Communion for anyone preparing to receive first Eucharist and Reconciliation, and Quizzle Me Confirmation for those preparing to face the Bishop each spring! Helping your kids prepare for the sacraments just got a lot easier.
The Q+A go on forever – there are 7,000, most are also available in Spanish and most have already received the Imprimatur (Church approval). You can choose what Knowledge Category interests you and select a Challenge Level that meets your needs. The site is careful to state that the Challenge Levels are better associated with exposure to religious education and liturgy than grade level. In other words, it's OK for everyone to start at Level 1!
Teachers have their own membership type and it's loaded with features developed to WOW at this price point ($49.95/annually). A Teacher Membership on CatholicQuiz.com comes with a Classroom Scorekeeper. This allows up to 35 students in one class to play and learn 24/7 for a full year, which is like 35 memberships rolled into the teacher's account (less that $1.50 per student annually). Other features of this membership include some that you would expect like a Teacher Bulletin Board designed for swapping ideas and best practices; and some that surprise – like a nifty feature called Build-A-Quiz that allows teachers to write their own Q+A to play on the CatholicQuiz.com game platform. I can't imagine a teacher wanting to write additional questions beyond the 7,000 that are already there, but for anyone out there who desires this kind of customization – you're in luck!
Teachers and parents will probably like the fact that the CatholicQuiz.com Knowledge Categories are aligned to the ACRE domains (teacher-speak for curriculum content areas). The Scorekeeping system makes it a snap for teachers and parents to track group progress across Knowledge Categories, Challenge Levels, games played, etc. With the newest Challenge feature, it is easy to imagine friendly competition in a classroom setting or between two or more classrooms or families. For that matter, imagine a serious competition between two dioceses competing for the most CQ-IQ points in a specified time period (the annual Lenten Challenge!). Really, the sky's the limit with this dynamic learning site.
At a Glance – www.CatholicQuiz.com
Annual Membership Types – Individual (scoring for 1 for 19.95), Family (scoring for 8 family members for $39.95) and Teacher (scoring for 35 students for $49.95)
Content – Beliefs, Sacraments, Morality, Prayer, New Testament, Old Testament, Lives of the Saints, Church History, etc.
Challenge Levels – 1 through 4
Games – The Saints Are Coming!, Cardinal Challenge (Catechism game), Quizzle Me First Holy Communion, Quizzle Me Confirmation, Quizzle Me Too!, Jacob's Ladder (Old Testament game), Prince of Peace (New Testament game), Race the Clock, Survival, How Random..., Open Wide the Gates and Sacred Songs
Works on PC, Mac, iPhone, iTouch
For more information contact Mary McKay, Ed.D. 858-229-7363, mary@catholicquiz.com
Subscribe to CatholicQuiz.com and support CatholicMom.com.
About the Author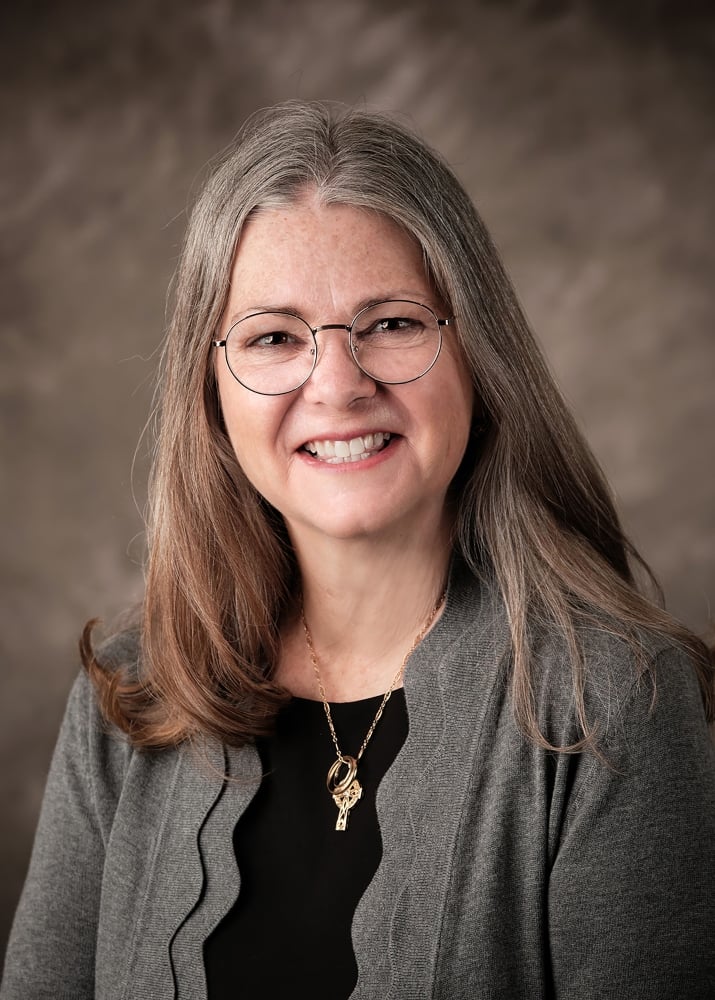 Lisa M. Hendey is the founder of CatholicMom.com, a bestselling author and an international speaker. A frequent radio and television guest, Hendey travels internationally giving workshops on faith, family, and communications. Visit Lisa at LisaHendey.com or on social media @LisaHendey for information on her speaking schedule or to invite her to visit your group, parish, school or organization. Visit Lisa's author page on Amazon.com.