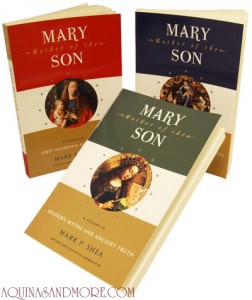 Thousands of great books have been written about the Blessed Mother, and sometimes, when I think of all the other reading I want to do, the thought of catching up on Marian reading just depresses me.
Don't get me wrong: I love reading about Mary. It's just…well, sometimes the books are hard, or thick, or…well, maybe it's just that I'm lazy and busy.
So I dragged my feet before I bought Mark Shea's Mary, Mother of the Son trilogy. It wasn't until a good friend, a friend who gets so many review books that she doesn't often actually part with her money for them, told me she had bought them that I started to reconsider.
After all, I have always enjoyed Shea's writing. It seemed like a formula for success: love author + love subject = love book. Right?
Except…there are three volumes.
I love to read, but my to-read shelf has started to own me lately. In fact, in a fit of decluttering, I got rid of a bunch of (gasp) unread books recently (and it didn't kill me).
I was about two paragraphs into Volume One, Modern Myths and Ancient Truth, when I realized I had hesitated far too long and for no good reason. I was captivated. I was enthralled. I was falling in love with Mary all over again.
Volume Two, First Guardians of the Faith, was no less enchanting, and Volume Three, Miracles, Devotion, and Motherhood, might have been my favorite.
The kicker, for me, is that Shea does not consider himself a Marian devotee. He writes about this from a very facts and figures standpoint, and yet there are moments, as in Volume Three when he shares reflections on each mystery of the rosary, when his faith shines through and becomes synonymous with Mary.
That's the point, isn't it? Mary doesn't ever take us away from our faith. She leads us to it and helps us deepen it.
This trilogy is a must-read for every Catholic – and many non-Catholics – I know. It's approachable while intelligent, and it explains all those objections in such black-and-white terms that I think I'll be dog-earing new pages as I go back and reference, reread, and quote from them.
And now, I'm going to give you the chance to WIN this indispensable Marian trilogy. Leave a comment here and next Friday, May 21, I'll use the random number generator to select a winner who will win a copy of the trilogy. Many thanks to Mark Shea and Catholic Answers!


Copyright 2010 Sarah Reinhard
About the Author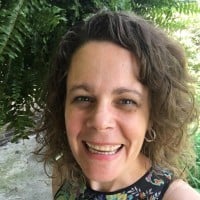 When she's not chasing kids, chugging coffee, or juggling work, Sarah Reinhard's usually trying to stay up read just one…more…chapter. She writes and works in the midst of rural farm life with little ones underfoot. She is part of the team for the award-winning Catholic Mom's Prayer Companion, as well as the author of a number of books. You can join her for a weekday take on Catholic life by subscribing to Three Shots and follow her writing at Snoring Scholar.