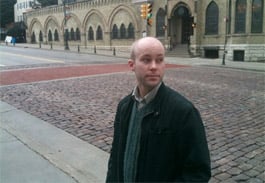 Matt Swaim is the producer of the Son Rise Morning Show on EWTN radio and the author of the wonderful new book The Eucharist and the Rosary: Mystery, Meditation, Power, Prayer

. A convert to the Catholic church in 2005, he and his wife Colleen live in Cincinnati, OH with two chickens and an English bulldog.
[podcast]http://media.libsyn.com/media/catholicmoments/cm147.mp3[/podcast]
How often have you meditated upon your wishes for a priest at the end of his life? In honor of Monsignor Collins and all deceased priests, Deacon Tom has prepared this reflection on "What Happens When a Priest Dies".

In this week's Mary Moment, Sarah Reinhard examines the first joyful mystery, the Annunciation, as a Yes Factor we can all use in our lives. Special thanks to Susan Bailey, who graciously agreed to let us use her Ave Maria music.

Why do we go to mass? To GET something, or to GIVE something? In this week's teen moment, Avery (www.livewtl.com) shares a reflection on going to mass with the right mindset.

This episode of Catholic Moments is sponsored by CatholicMatch.com, the Leading Catholic Singles Community. Share your feedback at 206-339-9272, comment here on the blog or email lisa@catholicmom.com.
About the Author