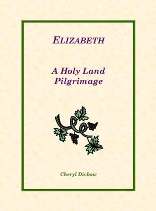 Today, we are happy to share the next chapter in our online novel, Elizabeth: A Holy Land Pilgrimage by Cheryl Dickow.
Elizabeth: A Holy Land Pilgrimage was a true labor of love for author Cheryl Dickow whose own passions for the Holy Land and the Jewish roots of the Catholic faith are almost unquenchable. Elizabeth is the first work published by Bezalel Books which Cheryl established in late 2006; it centers on a woman whose life is at a crossroads and her realization that the only way to get back on track is to get to the roots of her faith—in the Holy Land—if it isn't too late. Since the release of Elizabeth, Bezalel Books has published 40 additional titles that are perfect for the Catholic home, school or parish. Elizabeth is available in paperback or in Kindle format. Cheryl is also the author of the recent non-fiction book Our Jewish Roots: A Catholic Woman's Guide to Fulfillment Today by Connecting with Her Past.
Chapter Five
Say not to your neighbor, "Go, and come again, tomorrow I will give," when you can give at once.
Proverbs 3:28
The aroma of chicken soup and gefilte fish filled the small, orderly Goldfarb apartment. If ever there was an image rendered in any of Beth's books about cozy rooms filled with just enough knick-knacks to say "home" but not too much to appear cluttered, this room was it. It had one loveseat sized couch that was a beautiful, muted blend of flowers on vines. The over-stuffed cushions begged you to recline and rest your weary frame. Beth was immediately taken by its size as it could easily fit two but would never fit three. In front of it sat two delicately embroidered footstools, one for each of the couch's occupants. The footstool's pattern complimented the flowery couch with its subtle colors of rich, dark green, equally deep gold, and a reddish-burgundy that reminded Elizabeth of Luke's favorite cabernet wine.
On each side of the couch was an end table. While both were made of a cherry colored wood, one was round and the other square. The round end table had a few beautifully framed pictures of people smiling, celebrating birthdays, and enjoying the sites of Israel. The square table had its own shelf underneath the top glass portion. The bottom shelf was filled with magazines and a bowl of candy. Making a sort of "L" shape in the room was a chair next to the square shaped end table. Both the occupant sitting on one end of the couch and whomever might be enjoying the extra large chair would have shared the light from the large gold and ceramic lamp that sat upon the square end table, its fringed shade adding a certain elegance to the setting. The back of the couch was against a fairly large picture window which was covered in a sheer panel with heavier drapes pulled off to each side. The window was slightly opened and the thin, almost translucent drape covering it moved gently with the incoming breeze. Each soft billow seemed to let in a fragment of traffic noise from the street below. The view was ever so slightly obscured, allowing the Goldfarbs to enjoy seeing their city while keeping their city from seeing them.
Just as the back of the couch was against a window, the remaining part of the "L" shape of the furniture, the chair, was against a wall that must have been one of the two bedrooms in the apartment. Opposite the chair, at the other end of the couch, was a small, round dining table. It was the same cherry colored wood that went so well with the colors of the couch, footstools, and chair. The tiny kitchen was opposite the table where Mrs. Goldfarb could cook and glance across her neatly decorated room and enjoy both any company she might have or look out the window.
When Mrs. Goldfarb appeared she was wearing an apron that reminded Beth of her own grandmother's cooking attire. Beth fondly recalled how her grandmother kept an apron on hand and never, ever cooked without slipping it over her head and then tying it behind her waist which increased in size, just as Beth's was currently doing. Mrs. Goldfarb smiled at Beth and said, "Please, please, come in, sit down. Please!"
In life Beth came across many people who extended invitations with little or no real expectation that they should be accepted. Mrs. Goldfarb was not one of those people and Elizabeth happily accepted the gracious invitation. It also helped that Mrs. Goldfarb clearly had some command of the English language and Beth was too tired to try her hand at piecing a sentence together. "Thank you," was Beth's simple reply as she followed both Mr. and Mrs. Goldfarb into their apartment. Mr. Goldfarb motioned towards the chair and Beth sat down, exhaustion creeping into her bones.
"So, how was your flight?" Mr. Goldfarb inquired.
Nodding her head to indicate her positive response, Beth said, "Good. Very good." She didn't know how much to say for fear of disrupting the delicate conversation that had begun. She would take her cue from the Goldfarbs and hope that they understood she was trying to be a gracious guest.
"We've made the trip several times." Mrs. Goldfarb offered. The "r's" in the word trip sort of rolling elegantly off her tongue.
"Do you have relatives in the states or do you vacation there?" Beth wondered out loud.
"Bot, really." Mr. Goldfarb, dropping the 'h' from the word 'both,' joined the conversation. Mrs. Goldfarb had made a quick trip to the kitchen and was walking back with a tray of cheese, flat bread, a few pieces of smoked salmon, and quite a few black olives. The food looked delicious. Mr. Goldfarb went on to tell Beth about his brother who moved to New York many years ago and was a successful grocer. It was his only brother and that made visiting very important to both men. Mrs. Goldfarb, it turned out, also had a brother living in the United States. He, however, lived in California.
When they were younger, Mrs. Goldfarb confessed, they could take traveling across America and spending time with each brother for a week or so. Age, unfortunately, had taken that from them and their trips had to have a single goal in mind. Spring was when they spent time with Mr. Goldfarb's brother and fall was when they visited Mrs. Goldfarb's brother. Throughout their discourse, each taking a turn to add to the story of their trips, Beth could feel herself relaxing more than she had in years. In the Goldfarb apartment she felt as if she were safely wrapped in a cocoon meant to rejuvenate her mind and body. Between the wonderful aromas wafting from the kitchen to their beautiful use of the English language, Beth was enthralled.
"Mrs. Goldfarb, what smells so heavenly?" Beth inquired.
"Tsk. Tsk. Please, do not call me Mrs. Goldfarb! Please call me Ayala. And it is challah for today's Sabbath meal. We hope you will join us. We thought you would enjoy this light snack and would want to settle into your apartment across the hall, maybe take a small nap and then come back. Our children will be here tonight and they would love to make your acquaintance."
"Mrs. Goldfarb, I mean Ayala, I could not intrude on your family's Sabbath celebration!"
"You do not understand. For us to share our Sabbath dinner with you is a mitzvot." Ayala Goldfarb could see that this dear sweet American girl did not understand and went on to explain. "A mitzvot is a good deed and it would please God if we shared our Sabbath meal with a stranger in a strange land. We were once ourselves strangers in a strange land. Please, allow us to do a mitzvot that would be pleasing to God. Have Sabbath dinner with us."
Beth knew she could not deny Ayala this chance to do a 'mitzvot' and said, "Well, then, that sounds like a wonderful plan. If you will give me the keys, I will go across the hall and get myself settled, relax a bit, and then join you and your family later this afternoon."
"Perfect. This is good," was Meir Goldfarb's hearty reply.
Standing up, Beth realized how very weary she actually was as it didn't seem her legs had enough strength to walk her across the hall. "Toda," Beth said as she left.
Smiling, Meir and Ayala responded, "You're velcome." Beth loved the way their w's sounded like v's and their r's took on a life of their own. She walked across the hall, looked back as she turned the key, smiled at the wonderful angels that had come into her life, and opened the door. As she stepped over the threshold, Beth heard the Goldfarb's door close and then she closed and locked her own. She turned and looked into an apartment that was almost a mirror image of theirs, without the mouth-watering smells. Beth liked what she saw and rolled her suitcase down the narrow hall to the bedroom. First she peeked in on the room on her right, the room that shared a wall with the living room. It seemed to be set up as a guest bedroom with a twin bed, a desk and chair, a chest of drawers, and a small valet on which to hang clothes. It was a fairly small room but served its purpose. The second room that Beth looked into was the larger bedroom and the room that Beth would use. It had a queen size bed, a vanity chair placed at a small Queen Anne style dressing table, a larger chest of drawers than in the first room, and a taller, thin dresser.
Wheeling her suitcase off to the side, Beth pulled back the curtains. The window overlooked a picturesque garden and Beth was quite grateful. She had heard that the city streets, while enjoyable during the waking hours, could be a real nuisance while one tried to sleep. That was probably her only real priority when the traveler's agent was making inquiries for her. Beth insisted on a room that would allow her to actually sleep! Beth walked around opening the dresser drawers and was pleasantly surprised at the drawer liners that were in place. They had the soft sweet smell of lavender and Beth selected the three largest drawers to use during her stay. She knew if she wasn't careful, she would end up leaving half her belongings in Israel and decided to confine her use to these three drawers plus the drawer of the dressing table.
Once again a severe feeling of fatigue engulfed Beth and she decided to shower before she began to unpack. She laid her suitcase flat on the floor and unzipped it. She sifted through her neatly folded clothes to find her loungewear and toothbrush. She then left the room and went to the end of the hall where the bathroom was located. It actually ran the entire length of the second bedroom which accounted for her bedroom being a good five feet longer than the first one she looked into. It was a very nice size room with an interesting shower rod. The rod had two bars. One, on the inside, which held the shower curtain on its rings. The other, on the outside, had clips from which you could hang things to dry. Beth remembered being told that there was a washer in a closet in the bathroom and opened a door to see that it was indeed there.
The bathroom was spotless and Beth was quite pleased. She also saw a small bucket of cleaning items in the bathroom closet and, on a shelf, spotted some rags. On a higher shelf were three large white towels and two hand towels. There was no washcloth but Beth had never been a washcloth user. She opened a new box of soap and undressed. She put her clothes in a small hamper that was under the sink and turned on the water. Taking a shower anywhere other than home was always an adjustment and this was no different.
Her own shower had a forceful spray that Beth thoroughly enjoyed. It always seemed to wash the knots in her neck completely away. This shower was more like a mist and Beth wondered if she would actually be able to wash her hair. There didn't seem to be enough water pressure. She reached her hand in and within a minute the temperature felt right. She stepped in and felt a bit off balance. She looked around and steadied herself, knowing that the heat of the shower, combined with the exhaustion and time differences, was making her a bit lightheaded. She finished her shower and stepped out onto a thick cotton rug, dried herself, and put on her loungewear.
She stopped in front of her bedroom door deciding if she should succumb to her exhaustion or push herself a few more hours. Exhaustion won out and she turned into her bedroom. Pulling back the thin comforter, Beth noticed a robe hanging on the back of the door. It had a welcoming note indicating that it was a present from the apartment owners. Beth lifted it off the hook and laid it across the pillow. She didn't want her wet hair to ruin the pillow. Lying on her back, Beth placed her wet head on the robe, pulled a light sheet over her, and fell fast asleep.
Join us next week for the next chapter of Elizabeth: A Holy Land Pilgrimage by Cheryl Dickow. Can't wait for more? Check out Elizabeth: A Holy Land Pilgrimage at Amazon!
About the Author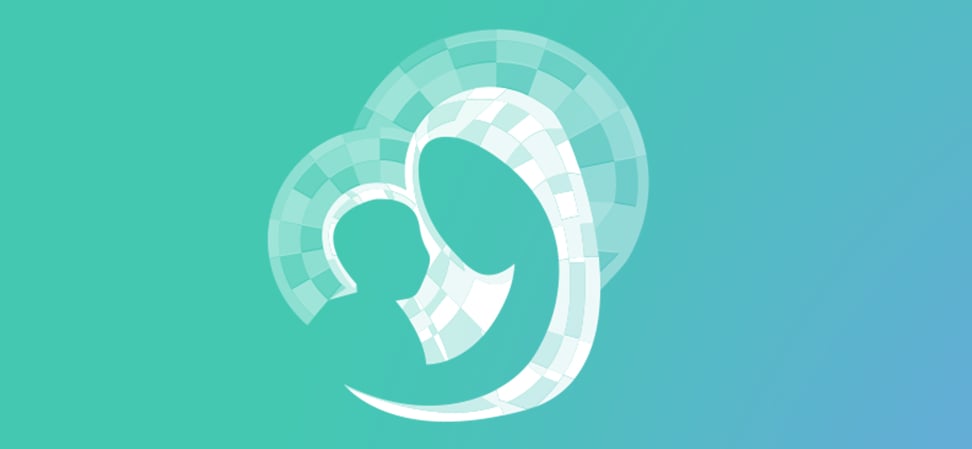 We welcome guest contributors who graciously volunteer their writing for our readers. Please support our guest writers by visiting their sites, purchasing their work, and leaving comments to thank them for sharing their gifts here on CatholicMom.com. To inquire about serving as a guest contributor, contact editor@CatholicMom.com.