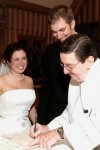 Hello dear Moms and any other friends dropping by. Welcome to the Catholic Mom columnist portion of this wonderful website. Welcome to a column about perseverance wrapped in a layer of the challenges rearing family in these times, and of staying married.
I love spending time around young people these days. I love to work with pre-marriage situations and I like doing the weddings. I even like the mother of the bride and all that that's supposed to bring about. I like it when I get to talk with young couples who want to have their children baptized. What an opportunity to share about the beauty of being a practicing member of the faith, and about passing that practice on to the young gifts that God has given them to watch over.
My love for young people spills over into young families. For example there is a family in our community with five girls under ten. I baptized the youngest and we have watched over and fussed about the girls a little bit. Just recently, the mother told us she was going to home school their three older girls -- while trying to keep the other two very young girls content and occupied. My wife Dee and I volunteered to watch the second youngest -- her name is Clara and she can be a handful! We know that she can be outspoken and a little disobedient at times. But under it all she is such a loving and sweet girl.
What happened when we had Clara out and away from her mom and siblings was sort of eye-opening. Completed unsolicited, Clara said "I love you" a couple times. We started by taking her to a local place for a donut and a drink. A little later, there was a drop in comment like "I hate you." If you looked quickly, you could see that the 'I hate' words were really said to see if we were really paying attention to her -- and this was pretty quickly followed by "I love you and I'm so glad we are together today."
What I was relearning was what some parents struggle with: not every child is cut from the same mold. Yes, they are all from your seed. But one can be born with genes that drive the child to excel. Another is born with the need to have precise schedule and order. No strange babysitters or foreign houses for these children.
And another is born with a need for continuing, almost consuming amounts of reinforcement.
Okay -- I'm almost two thirds into this article and I'm still struggling with what I concluded the other day, and about it's importance for moms and dads. Couples often have times... days without end of disillusionment, internal anger, frustration. I know this will sound terrible -- but I'll bet that in tiredness, some parents might secretly harbor a few hours of the desire to treat their circumstances like we might treat a dog adopted from the humane society. Take it back and end the disappointment and frustration and feeling that none of it is right. Is it a matter of toughing it out or is there some magic to this reality?
I invite you to turn to the U. S. Conference of Catholic Bishops website www.foryourmarriage.org. The sharing they provide to us about marriage also speaks to these children issues. On the bishop's site, three things are said to be present in couples who persevere through difficult times.
The first is the ability to hope. Hope in marriage is about believing in a shared but unseen future. Hope is more than optimism. Hope in a child's graduation ceremony and you with tears running down your cheeks. "We did it. We made it. It wasn't always like it seemed ten years ago." As St. Paul said in the eighth chapter to the Romans: "For in hope we were saved. Now hope that sees for itself is not hope. For who hopes for what one sees? But if we hope for what we do not see, we wait with endurance."
Continuing with thoughts from the U. S. Conference of Bishops, the second key to perseverance is the ability of both spouses to sacrifice for a better future. One of the couples may have the patience to give all that extra attention to that one child with extra needs and demands. Knowing that it won't go on forever -- one of the parents needs to go with what's needed now. But for this to work, you need the third leg of the stool: perseverance. The third characteristic of persevering couples is faith—in themselves, in one another and in God. Sometimes, a visit with a priest or a deacon or a trusted friend ... or visiting a Morning Mass without the children -- these are the actions that can provide another few days of balance and internal composition. Even when we have only a tiny bit of faith in ourselves or in God, prayer can sustain us.
We have a grandson that is in second grade but he remains a very dependent 'mamma's boy.' What is strange is that he is a notable achiever in any sports he participates in. He's a champ. Yet, he can and will cry if his mom is out of town on a business trip. No amount of reinforcement or words suggesting he 'grow up' will do anything to change where he is now in his journey. I suspect he won't be this way when he is a junior or senior in high school :-). But he has to be accepted for where he is today. And it causes some issues with those who are in his immediate family. Such is life. Such is the human condition. It's not all that stranger than having a three year old child say to me, "I hate you. Do you love me?"
Blessings.
Deacon Tom

Copyright 2010 Deacon Tom Fox
About the Author

Deacon Tom Fox and his wife Dee are co-hosts of the CATHOLIC VITAMINS Podcast for over 6 1/2 years. Tom has also been a member of the Catholic Mom columnists team for eight years, and was a regular contributor to the Catholic Moments Podcast for three years. Most recently, Deacon Tom has been leading a project to bring Catholic radio to the north central Arizona community where he and Dee reside. Blessings!