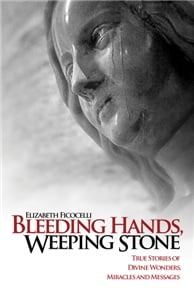 I want to congratulate my friend and our CatholicMom.com contributor Elizabeth Ficocelli on the release of yet another wonderful new book! Elizabeth's latest is Bleeding Hands, Weeping Stone: True Stories of Divine Wonders, Miracles and Messages

and it is being met with wonderful reviews. Here is some basic information on Bleeding Hands, Weeping Stone.
Product Description
Miracles are real! And the history of the Church, from ancient times to the modern day, is full of them. God in His mercy has not only given us the revealed truths of Scripture and Tradition, but in all times and places has exercised his power on earth in extraordinary ways: to teach, correct, warn, and inspire His people according to the needs of the age. In Bleeding Hands, Weeping Stone, popular Catholic author and speaker Elizabeth Ficocelli reveals history's most magnificent miracles. Some of them are quiet and simple, some of them are dramatic bordering on outrageous but all of them are signs of God's loving, providential hand at work in the world, continually inflaming our hearts to greater faith and more ardent love. In brisk, easy-to-read accounts, perfect for bedtime or the break room, Bleeding Hands, Weeping Stone relates the amazing (but true) stories of: -The woman who stole a Host from church and hid it at home, only to find that it had turned to real human flesh. -The apparition of the Blessed Virgin Mary that put an end to human sacrifice in Mexico and the miraculous image she left for us there. -The pious farm girl who prayed to share in Christ's Passion, and received miraculous wounds on her head, hands, feet, and side. For twelve years until her death she lived on nothing but the Eucharist. -The arrogant knight who demanded the largest Host at Communion and was swallowed up by the stone floor of the church! (You can still see the holes today.) -Saints who could levitate, glow with inner light, or appear in two places at once, and whose bodies did not decompose even hundreds of years after death. -And many more miracles, from the obscure and near-forgotten to the most significant apparitions and prophecies of our faith. You're sure to enjoy reading and sharing these stories of God's miraculous workings in history. But Bleeding Hands, Weeping Stone does more than tell stories: it explains why God performs miracles, and what our disposition should be towards them. So let these pages deepen your faith in God's ever-present love and care.
Bleeding Hands, Weeping Stone: True Stories of Divine Wonders, Miracles, and Messages, introduces its readers to phenomena such as
Eucharistic Miracles
The Stigmata
Incorrupt Bodies
Amazing Abilities of Saints

Apparitions
Weeping Statues and Icons
About the Author
A convert to the Catholic faith, Elizabeth Ficocelli has written copiously about the Catholic Faith for both young people and adults. She, her husband, and their four children currently reside in Ohio.
Reviews:
"Bleeding Hands, Weeping Stone is a fun read, as Ficocelli canvasses Christian history for weird, surprising, and hard-to-believe supernatural events, including bilocation, luminosity, levitation, the odor of sanctity, incorruption, and apparitions. The Church, and the faith of the people, grow through such heavenly works." Brian Welter, Catholic San Francisco
"This book is very inspiring and a worthy teaching tool about the Catholic faith." Br. Benet Exton, O.S.B., St. Gregory's University, Catholic Exchange.com
Order Bleeding Hands, Weeping Stone: True Stories of Divine Wonders, Miracles and Messages

and support CatholicMom.com with your purchase.
About the Author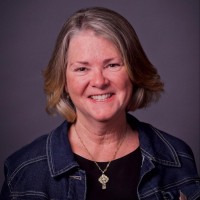 Lisa M. Hendey is the founder of CatholicMom.com, a bestselling author and an international speaker. A frequent radio and television guest, Hendey travels internationally giving workshops on faith, family, and communications. Visit Lisa at LisaHendey.com or on social media @LisaHendey for information on her speaking schedule or to invite her to visit your group, parish, school or organization. Visit Lisa's author page on Amazon.com.