Reflection on Today's Daily Readings by Fr. Bertrand Buby, SM

Today's Readings


Scripture: Friday, Sept.17th. Lectionary # 447. I Cor.15:12-20. Psalm
17:1.6-7.8.15. Luke 8:1-3:
This short pericope from Luke is an excellent sequel to what we read and
meditated upon yesterday in the hospitality offered by the unnamed woman
who washed Jesus' feet and dried them with her hair. Today women are
featured in the background theme so familiar to us in Luke. He likes
dinners as we have seen, but today we learn about his fondness for
journey-making with Jesus. Soon we will begin the long journey narrative
in Luke from chapter 9:51 up to Luke 19:44 where the strewing of palms in
front of Jesus occurs as he enters the holy city of Jerusalem on a donkey.
That long stretch of narratives from Luke is called the "journey narrative"
and it has as its purpose to show us the cost of our discipleship while on
the journey with Jesus. The learning of what discipleship is all about
occurs here in the narrative, but today's short passage also foreshadows
the longer journey we are to take with Jesus as we meditate and learn from
the Gospel of Luke about ourselves as disciples.
Jesus is journeying thorugh the towns and villages preaching and
proclaiming the good news of the kingdom of God. The twelve, later to be
called apostles, are following him and then we learn from Luke that there
are some women who also join the journey of discipleship. They are named!
Mary of Magdala, Joanna, and Susanna. They not only follow Jesus but offer
him nourishment and help from their own means and possessions. They assist
him. We have seen how Peter's mother-in-law, once healed, got up and
ministered to Jesus. This action and the following of these women is
sacramental for they are encountering the Lord Jesus in what they do and
how they follow him.
These women will demonstrate greater courage and fidelity than the Twelve
who already have been named. They will continue to the end of the journey
and be present on Calvary as Jesus dies on the Cross and will be the first
to go to the tomb to honor Jesus and to continue the kindness of burial
ritual. Mary of Magdalene will become the first to announce Jesus'
resurrection. We can be rather certain that Joanna and Susanna were either
near Jesus as he died or watched from the distance controlled by the Roman
soldiers.
We will hear of the hospitality offered by two other sisters, Mary and
Martha and how their home became an oasis for Jesus when he needed to get
away and just be with friends. The lessons keep popping up from the texts
as we learn about these women in Luke's Gospel. All of these women were
united to Jesus and followed him. They knew his mother and how she, too,
would be standing at the foot of the Cross while her son's heart was broken
and pierced just as hers was spiritually. We can learn much about
discipleship by paying attention to the women who were on the journey with
Jesus. Amen.
About the Author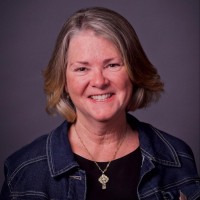 Lisa M. Hendey is the founder of CatholicMom.com, a bestselling author and an international speaker. A frequent radio and television guest, Hendey travels internationally giving workshops on faith, family, and communications. Visit Lisa at LisaHendey.com or on social media @LisaHendey for information on her speaking schedule or to invite her to visit your group, parish, school or organization. Visit Lisa's author page on Amazon.com.