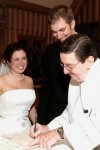 Recent days after Masses, I've been taking Holy Communion to a man who is apparently dying from the spread of cancer in his body. While I'm there, and at other times, I'm praying for his healing. Yet I acknowledge that his situation is pretty bleak.
Well -- we are all dying, aren't we? A former pastor used to say that one out of every one of us is terminal. We do a lot to not think of such matters - but the priest is right. And so, while I pray for the man I'm visiting each day, I am praying for God's miraculous release from this fellow's 'sentence.'
And then I come upon a quote from a priest that I really care for and believe in a great deal. He's Father Michael Scanlan, TOR from Franciscan University. In his book LET THE FIRE FALL, (Franciscan University Press), Fr. Francis writes these words,
"Before you pray for healing, pray for faith. Pray for a charismatic faith, a faith that is infused and certain. Pray for a certain knowledge of what the Lord wants to do in any situation involving healing. When a person who is sick or crippled or dying stands before you and asks for prayer, you pray first in faith and ask the Lord what he wants to do."
The difference jumps out at me. I'm praying for healing as I walk into this man's home, when what I ought to be doing is praying, "God, share with me your will for this man. What is your perfect plan for him?"
That's a significant difference. In the first case, I'm telling the Lord... or at least begging for God to reach out, right there, right then and to start the curing process for this fellow. What I really need is to be on my knees asking for God's will to be manifest in the fellow's life, and that I may know it and pray for this to happen. Hello, Tom. I mean I've been praying the words, "Thy will be done...." since I was a whippersnapper. And yet I'm going around filling in the blanks of what God ought to be doing.
This theme - these thoughts are mirrored in a popular book now in its 22nd printing. It's called HEALING, and it was written by Francis MacNutt, Ph.D. (Ave Maria Press). In his writing, Dr. MacNutt says that there comes a time in the lives of people, e.g. the elderly when it is time to die. When we come upon someone in the late years of their life and they are suffering from a terminal disease, we should pray for the light whether to ask God to take away he sickness, or whether we should pray for a happy death.
In that same book, MacNutt shared the experience of Agnes Sanford when she prayed for her late-aged husband. She prayed for guidance and she asked, in prayer, "Lord, how long does he have." And the answer came to her: "He has three years." And so Ted, her husband did last three more years, and then suffered a massive stroke. Sanford didn't pray then for his healing because she knew it would mean more suffering and agony. She prayed for God's will to be done.
As I approach the end of the column and I think about a purpose for these words, I have come to these thoughts. In all things, praise God. Let us strive to remember the words from Job that if we accept good things from God, should we not also accept the bad?
Next -- to enter any area of illness or apparent death with an openness, asking God for knowledge of His will. And from whatever is placed (firmly) on our heart, to move forward in prayer for that intention.
Finally - over the years, I've written and preached about intercessory prayer. I believe in it. I believe many of us are called to be intercessors for others. And when we are dealing with children, young adults, young marriages, middle age illness and such -- I firmly believe we can stand boldly before God's throne and beg His mercy in these situations. Even if we have previously prayed to know His will and it doesn't look promising for a young person or a couple -- I am confident that God welcomes intercessors as part of His plans for the Kingdom. Yet some illness may serve a higher purpose -- to us unknown. And so again, God's will be done. Amen. And Amen.
Closing note: From time to time, I get prayer requests ranging from marital issues, to troubles with children, etc. It is an honor to participate in these matters at a distance. Please send an email (ask@deacontomonline.com) or call our Catholic Vitamins feedback line (206-350-3789) if you have need for prayer help. And rest assured, these matters are treated with respect and confidentiality.


Copyright 2010 Deacon Tom Fox
About the Author

Deacon Tom Fox and his wife Dee are co-hosts of the CATHOLIC VITAMINS Podcast for over 6 1/2 years. Tom has also been a member of the Catholic Mom columnists team for eight years, and was a regular contributor to the Catholic Moments Podcast for three years. Most recently, Deacon Tom has been leading a project to bring Catholic radio to the north central Arizona community where he and Dee reside. Blessings!