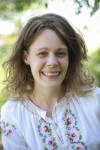 He came into my office "just to look at the picture" (not actually a picture) of the crucifix, and then he sat down and talked about how he hasn't been to church in a while. He told me about the death of his religious grandma, how he really should change some things in his life.
We were total strangers. He was doing some work in the building and found himself drawn in by the large crucifix above my desk.
The reason that particular crucifix was hanging above my desk was because of my own attraction to it. Jesus seems so gentle in it. There's something in the way his head is draped to the side, in the settling of his body, and in the blood dripping out of the pierce in his side that reminds me of how much I am loved and of what love really means.
My confessor has given me the penance, quite a few times, of praying before a crucifix. When he first assigned it to me, I was a little unsure. How was that supposed to work? Would I just look at it and apologize? What would I say?
I waited until I was at church, during my hour of Eucharistic Adoration, by myself. Looking up to the crucifix above the altar, I found, suddenly, that I didn't need words. There was emotion welling up in me, and I knew, somehow, that he understood. He seemed to nod, to pull me into his embrace, to caress me with his wounded hands.
As we approach Advent and then, joyously, Christmas, I find myself looking at that crucifix with new eyes. Was he really once a baby? Did his mother really stand beneath him and watch him die? What were the moments between – and after – like?
My prayer, this Advent season, is that I continue to be drawn to the crucifix and experience the grace of the love I see stretching out to me from it.
Copyright 2010 Sarah Reinhard
About the Author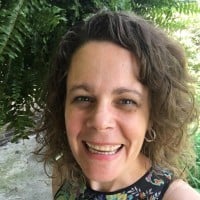 When she's not chasing kids, chugging coffee, or juggling work, Sarah Reinhard's usually trying to stay up read just one…more…chapter. She writes and works in the midst of rural farm life with little ones underfoot. She is part of the team for the award-winning Catholic Mom's Prayer Companion, as well as the author of a number of books. You can join her for a weekday take on Catholic life by subscribing to Three Shots and follow her writing at Snoring Scholar.