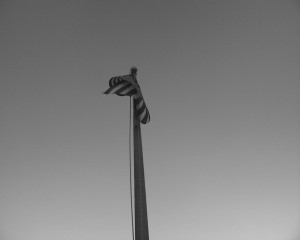 It holds all the symbolism of our entire country right there on that pole.
It holds the hopes and dreams of our children.
It holds the value of freedom.
It holds the integrity of a nation that was discovered, fought for, divided and united to be the greatest country in the world.
It holds the tears of many mothers and the pride of millions of fathers.
It holds a tradition of honesty and loyalty that is difficult to find in these times.
It holds a people together and it holds the respect of a nation
And
Yet it would be nothing if it did not hold the memory of every man and woman, who has courageously, fought, battled and died for it in its stripes.
It is the strongest symbol and the most powerful sign of a nation filled with people who gave their lives for our freedom.
Thank you: Every man and woman that has put on a uniform to uphold what that symbol represents.
Thank you: Every family that has had to pay the ultimate sacrifice for my children's future.
Thank You: Every military person and veteran that has given my child the opportunity to hold this symbol in his hands and heart as a part of his life today.
Copyright 2010 Lori Hadorn-Disselkamp
About the Author

Lori Hadorn-Disselkamp - mom of 4 teens/wife for 20+ years. Lori has been writing at her own website Faith Filled Mom. She writes about the journey of faith we live daily and the ability to recognize God. She is a retreat director at Sacred Heart Academy HS. She just earned her MA in Pastoral Ministry as well as a certification in spiritual direction.