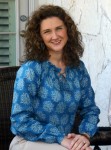 Rushing to leave the house to pick up my youngest from preschool, I ran out into the garage and pulled my house door shut behind me. Right as the door went "click"; I realized I'd left my keys on the kitchen counter. Oops. We do not have a hidden key and have never gotten around to giving one to a neighbor.
Thankfully, I did have my phone with me, so I made a couple of calls. My mom agreed to pick up Birdie and then come unlock my house. As I hung up I suddenly realized I had an hour to kill with nothing in particular to do. It was a strange feeling to suddenly have nowhere to go, no one with me and nothing to accomplish at the moment. Remembering the magazines I keep in the car for carpool, I took them around to my front porch. In the three years we've lived in this house, I have never once sat in my big wicker chairs decorating our wraparound porch. So, I sat, read my magazine and discovered the chairs are very comfortable as well as good looking.
As I sat there, I realized what a beautiful day it was; nice and cool with a clear blue sky. My thoughts kept coming back to the idea that I really needed this break, to take a time out and do nothing. Even though I had my iPhone on me with all its glory and connectivity, I didn't use it. Instead, I just sat and enjoyed doing nothing. Just flipped absentmindedly through my magazines while watching the cars drive by the house.
In that hour, I realized this "break" was necessary in my life. It was rejuvenating and calming to be still and silent. A smile came across my face as I realized this was God's way of telling me to enjoy life and remind me that I do have time to be quiet and still.
When I saw my mom's minivan come around the corner, a part of me was sad. Even though I knew she brought me lunch and my precious daughter, I really didn't want to go inside and leave that moment.
God, in his infinite wisdom, found a way to speak to me in a manner I would hear clearly and understand. I'll admit that it's been a few weeks since I locked myself out and I haven't been back to my porch to sit, but I am making much more of an effort to be still and quiet and thank the Lord for all his blessings in my life every day.
Copyright 2010 Lisa Jones
About the Author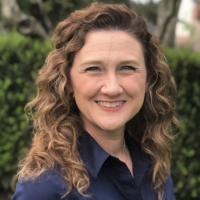 Lisa Henley Jones is a wife, mom, native Texan, and parish communications director. She enjoys reading, walking, going on date nights, and cheering on her kids in their activities. As a social media consultant, Lisa teaches Catholic parishes to engage, inspire, and evangelize on social media. Find her blog at Of Sound Mind & Spirit and her social media course at Parish Social Media.