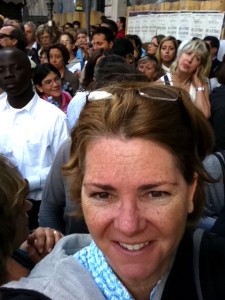 I am sorry for the delay in posting this column on the Beatification of Blessed John Paul II, but the internet connection here in the Vatican and Rome has been sketchy, and honestly I've just been going non-stop for the past 48 hours. My time here has contained so many "pinch me, I'm dreaming" moments that I may miss a few, but I thought it would be fun to share a few of them with you. For more, be sure to visit my Facebook and Twitter Feeds.
I landed in Rome at 8:35 am on Sunday morning, the day of the Beatification. Wisely, I followed the advice of my friends Lisa Wheeler and Donna-Marie Cooper O'Boyle and planned for to have a private driver waiting for me at the airport. He drove me straight to my hotel, even making it past the Polizia patrol places with an Italian message that contained the words "Importante Americana Tourista" (or something like that, in Italian, of course). That should have alerted me to the way that this trip would be -- surreal, amazing, surprising, and filled with twists and turns.
After being dropped at the hotel (which is incredible by the way!), I literally dropped my bags, washed my face, brushed my teeth and RAN towards the Vatican. My first stop was at a gateway to the Vatican just down the street from our hotel. A barricade separated me and my fellow latecomers from St. Peters - we could see the action getting ready to happen, but there was no way that the military and patrols guarding the barricade were going to let us past their wall.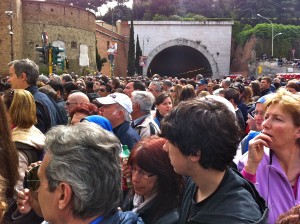 I prepared myself to be resigned, knowing I'd arrived late and being ok with enjoying just being in the vicinity of such wondrous events.
But after a few minutes, I noticed a steady stream of pilgrims departing and walking through a tunnel. Keep in mind I had no map, and no awareness of my surroundings, I hadn't slept in hours, and was wearing the clothes I'd been in for about 26 hours. I decided to go with the flow, following the crowd through the tunnel that ultimately led me towards the Tiber and into another vantage point to try to enter the Via della Conziliazione, the road that connects to St. Peters. I joined several thousand tardy pilgrims, those without tickets but with a fervent desire to be present for this historic moment. I can't ever remember being in such a crowd (worse even than Trafalgar Square on New Year's Eve) -- if I hadn't been so inspired, I likely might have been terrified about the potential for trampling. Packed in with African seminarians, habited nuns, and some pretty feisty Italian grandmas, I could not actually see the Beatification event but could clearly hear the audio being piped towards the faithful.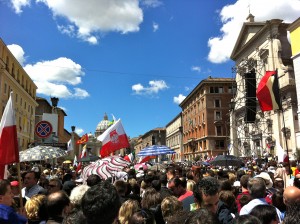 I don't know how long the Beatification mass lasted. I don't know what amazing symbolism played out, or what was even said during the homily. Those of you who watched at home on EWTN likely have a much better take on the event - you heard the color commentary and watched the liturgy unfold in high definition. What I witnessed was the faith of the people, the love they had for this man -- this saint -- and the emotion they felt at the moment of the Beatification. Literally pressed against one another, when the time came to exchange the sign of peace our greetings were exchanged in a multitude of languages, but with a conviction that we are one, holy, catholic and apostolic. Had Blessed John Paul II been at an event like this, I tend to think he might have preferred my vantage point in the "cheap seats" to those who held VIP passes to the front row. My fellow pilgrims, old and young, white and black, cradle Catholics and fervent converts, came together in our discomfort to celebrate the life of a man who changed not only our lives, but also our Church, but also our world.
I have more stories to tell, but it is after 1:00 am here in Rome and I have a special Mass tomorrow at 7 am at St. Peters, so I'll be back tomorrow with more stories. I can't wait to share the rest of this amazing journey with you!
About the Author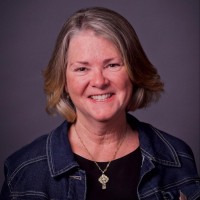 Lisa M. Hendey is the founder of CatholicMom.com, a bestselling author and an international speaker. A frequent radio and television guest, Hendey travels internationally giving workshops on faith, family, and communications. Visit Lisa at LisaHendey.com or on social media @LisaHendey for information on her speaking schedule or to invite her to visit your group, parish, school or organization. Visit Lisa's author page on Amazon.com.