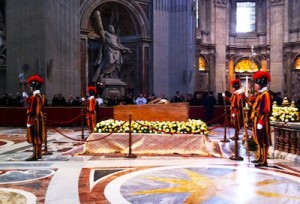 Continuing on with sharing a few of the events of my journey to Rome with you, I next want to unfold for you the story of my attendance at Monday's Mass of Thanksgiving for the newly beatified Blessed John Paul II.
My day started off like a dream, when my good friend and fellow Catholic blogger Brandon Vogt shared the ticket he wouldn't be using for the Mass due to his alternative plans. Before I mention the Mass, let me just say that Brandon is simply one of the kindest, most sincere young men I've met in a long time. I'll share some time soon on the amazing book project he has put together, but simply let me say now that Brandon is someone to watch. More importantly he's taught me countless lessons this week on being a person of substance and sincere service.
With Brandon's "special ticket", I was granted access to a special seating area adjacent to the altar. I found myself surrounded by diplomats, high ranking church officials and other very important looking people. It took me half an hour to get over the feeling that an usher wasn't going to walk up to me and tell me there had been a seating mistake.
The lovely Mass of Thanksgiving was celebrated by Vatican Secretary of State Cardinal Tarcisio Bertone. Cardinal gave a moving homily paying tribute to Blessed John Paul II, including these comments which greatly touched me:
We thank the Lord for having given us a Pope who was able to give the Catholic Church not only a universal projection and a moral authority at the world level, but also, especially with the celebration of the Great Jubilee of 2000, a more spiritual, a more biblical vision more centered on the Word of God. A Church that was able to renew herself, to get a "new evangelization" under way, to intensify ecumenical and interreligious relations, and to rediscover the paths of a fruitful dialogue with new generations. Read full homily here.
Truthfully, it was that call to the new evangelization that moved so many of us -- myself included -- into the current fervor we feel for sharing our faith. My work with CatholicMom.com, my writing, and my speaking are all my own personal, and very humble, responses to this invitation from a shepherd (and saint in the making) who Cardinal Bertone called a, "man of faith and of prayer, pastor and witness, guide in the passage between two millennia."
After the Mass of Thanksgiving, those seated in my area were offered the opportunity to venerate the relics of Blessed John Paul II. We entered St. Peter's, filing past that simple pine casket I remember so vividly from his funeral. As we slowly walked past, I carried your intentions to him and actually knelt between two priests who spontaneously dropped and began praying the Rosary before his casket.
We were quickly moved along, but not before I had the momentous opportunity to reverence this man who changed my life and changed our world. I was suddenly overcome with tears of grace and thanksgiving, realizing that although I'd been in the "cheap seats" for the Beatification, God (and Brandon!) had given me the opportunity of a lifetime to pay my respects in such an unforgettable fashion.
Those tears, the first of many I've shed this week, were shared by quite a few of my fellow pilgrims. So many of us have been changed and called by the man we will eventually call "St. John Paul II". Though the vast majority of us never knew him personally, we each came to pay our tribute and to celebrate this moment in the context of our own response to his call to the new evangelization. The spirit with which he lived his life and the legacy he has left for our families and our Church will continue to inspire.
In the comment space below, I invite you to share your personal words of thanksgiving to Blessed John Paul II and will share a few of my favorite photos from the Mass of Thanksgiving. You can view all of my photos from this event here on my Facebook page.
Tomorrow: my recap of the Vatican Blogger Meeting
About the Author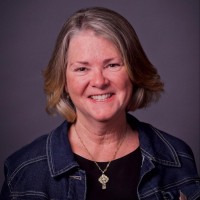 Lisa M. Hendey is the founder of CatholicMom.com, a bestselling author and an international speaker. A frequent radio and television guest, Hendey travels internationally giving workshops on faith, family, and communications. Visit Lisa at LisaHendey.com or on social media @LisaHendey for information on her speaking schedule or to invite her to visit your group, parish, school or organization. Visit Lisa's author page on Amazon.com.