Buildings are by no means the only indicators of God's presence. Undoubtedly God exists both within and outside the confines of a building. But it's hard to argue the power of a church building as evidence of God and His people, especially when in unfamiliar terrain. The crosses alone leap out like a hot-pink neon sign, as if to say, "You are in friendly territory."
Last week, my sister and I ventured to the Deep South to take in a couple family events. In our brief five-day stay, we witnessed many signs of God's presence through the landscape and in the surrounding buildings. Though our hope was to take in Mass at St. Rose de Lima parish in Bay Saint Louis, MS, a church that boasts a phenomenal and spirit-filled choir, we found it closed due to renovations. Our intent on worshiping during our Southern adventure led us instead to Our Lady of the Gulf Catholic Church.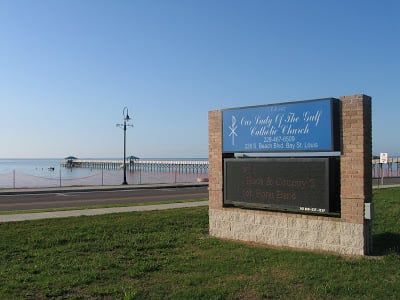 You'll notice this church is right near the water; in other words, several years back during a storm called Katrina, it would have been — and was — in harm's way. The old OLG parish was wiped out. This is the new church erected in its stead.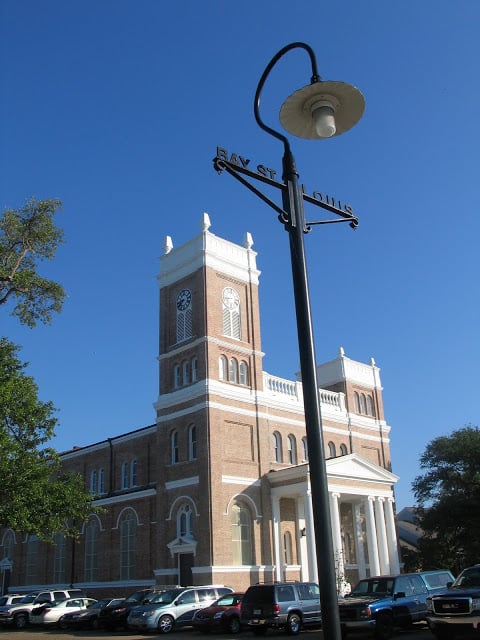 One can read a lot into this, all the work that went into replacing a smashed-up church with a newer version. Why go through the bother unless there's good reason to do so? Obviously, there was good reason. Such is the power of the need within the human heart to worship our Creator.
On the front church grounds sits a statue of an angel who commemorates those who helped in the re-building efforts, and a reflection/dedication by OLG's pastor.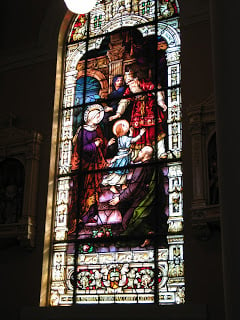 I enjoyed looking around on the inside as well.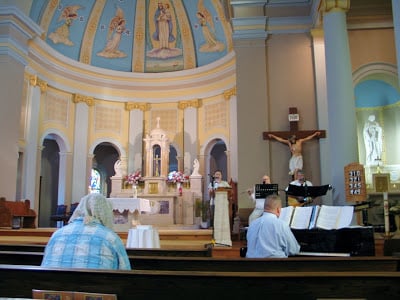 But my favorite of all interior fixtures was…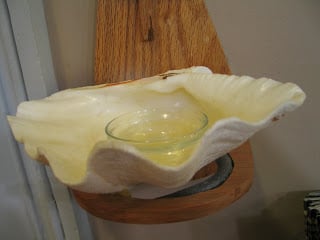 You just don't see holy-water fonts like that in North Dakota.
The last time we were in the area, some thirty years ago, I'm almost certain we attended Mass at the Cathedral-Basilica of St. Louis, the oldest Catholic cathedral in continual use in the United States.
It was good to be back, surrounding carriages and all, even though we saw it only from the outside this time around.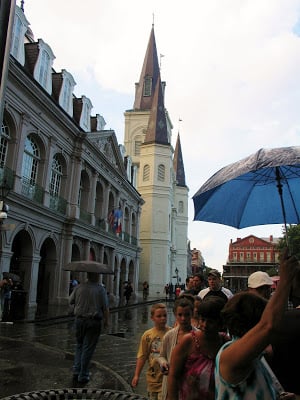 It was exciting to get closer to the cathedral as we wove our way through the French Quarter, through artists, mimes and psychics who had to pack up their work as the rain began to fall.
The really close-up view was rather awe-inspiring.
But then, a treat I hadn't expected: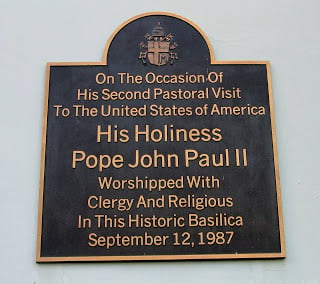 Even the artists who see it every day are inspired by the cathedral: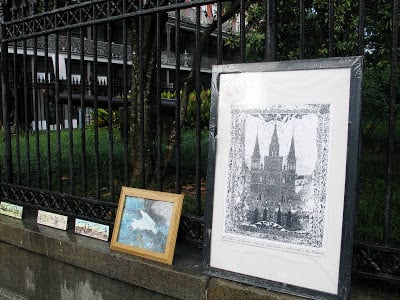 After the rain, the grounds in front of the cathedral looked extra vibrant, as did the little cat who no doubt enjoyed his bath.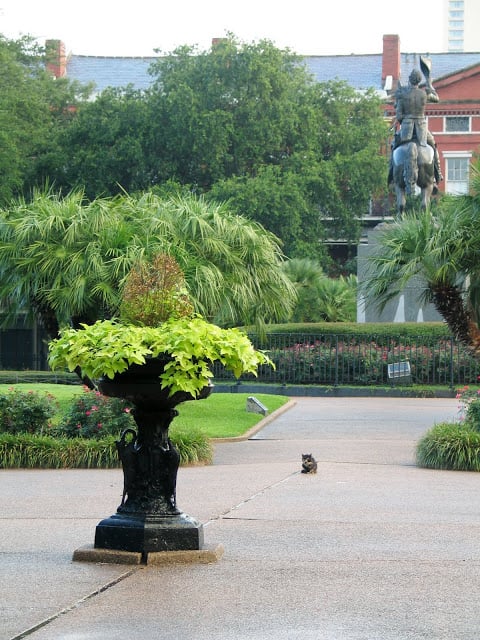 In our last hour of our stroll through New Orleans, we came up this statue, which seems to include the three iconic personalities on which the city was founded.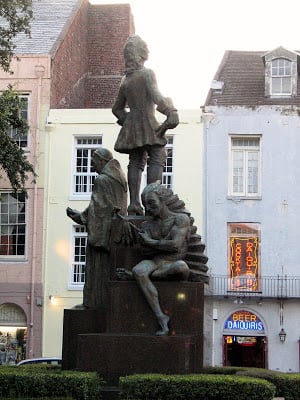 I didn't see a sign nearby explaining it, but the first piece/person of it I came upon was the image of a friar, or perhaps a Jesuit priest. Sis Camille offered to take a photo of me next to what she called "the padre." I happily obliged: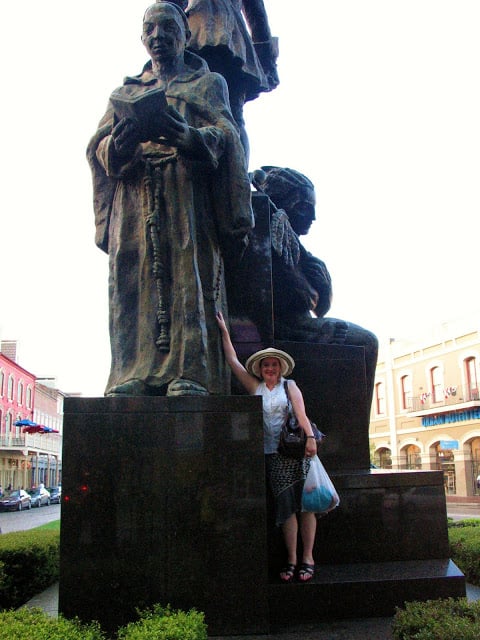 Tying it all together was my cousin Patrick's stories.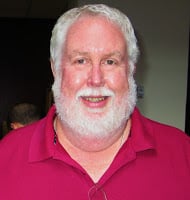 Especially those of Great-Grandpa Dietrich, who in his youngest years left his Lutheran faith to become Catholic, and in doing so, was banned from his family by his father.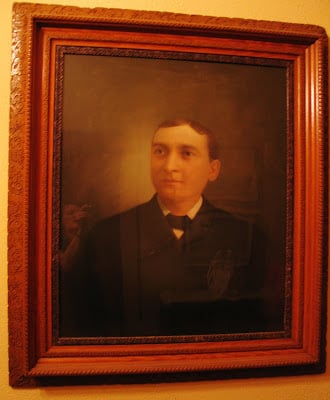 Having no other recourse, he left on an adventure of his own, much of it by boat traveling down the Missouri, and ended up at the riverbanks near Bismarck. Later, he was offered a chance to travel with Custer to fight in what would become known as the Battle of Little Bighorn. For obvious reasons, I'm mighty glad he stayed home to enjoy a month with his new bride instead. As Patrick, Camille and I talked about Grandpa Joe D., and the choices he faced, both in his faith and in the potential battle he narrowly missed, we realized that if not for these two decisions, none of the fifty-plus family members gathered together that evening would exist.
Faith can compel us to make brave decisions — ones we might not have made otherwise. And it can change the course of a family's history, as it did mine (thank God).
One of my very favorite God moments of all during our time in the South, though, was when the rain started coming down in the French Quarter. Initially, everyone scattered, artists and tourists all, but eventually, one lone lady from a group of librarians in town for a conference went out into the middle of the square and started whooping and dancing, and soon enough, others, including a drummer, joined her, and a raw rendition of "When the Saints Go Marching In" ensued. Before long, there was a large group of people singing and dancing in the rain — many of them unknown to the other. It was a blessed moment and, perhaps, the greatest evidence of all that God didn't skitter away at the airport, but accompanied me on each moment of my Southern adventure.
Q4U: Where has God followed you to lately?
Copyright 2011 Roxane Salonen
About the Author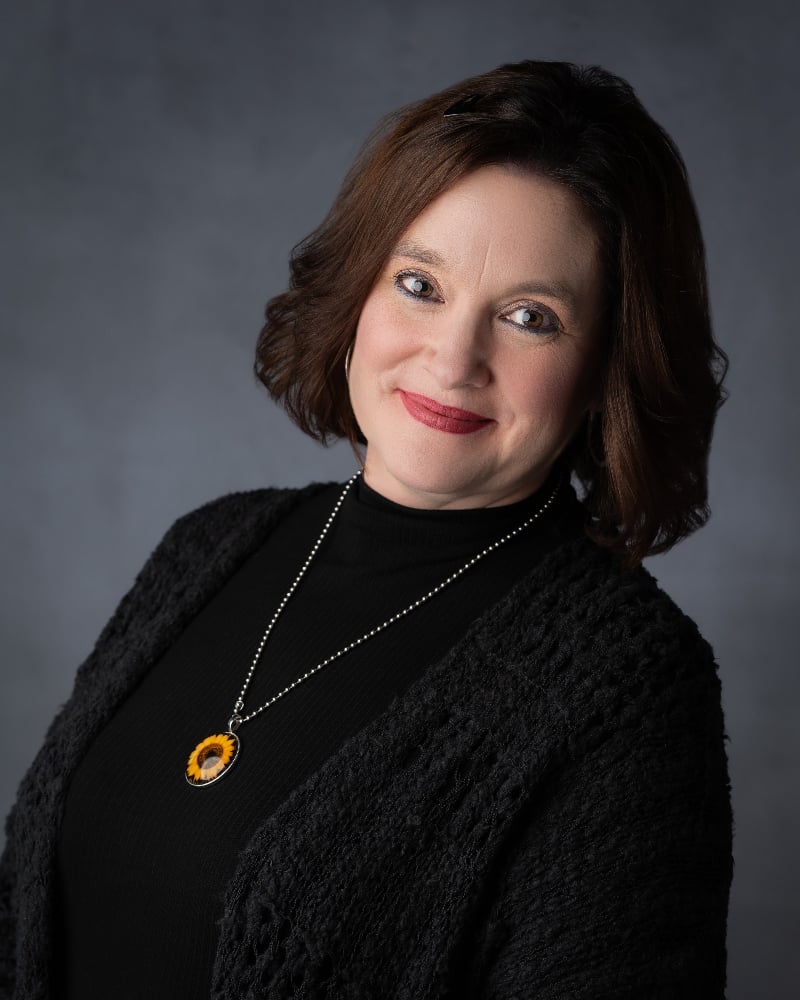 Roxane B. Salonen, a wife and mother of five from Fargo, North Dakota, is an award-winning children's author and freelance writer, Catholic radio host and speaker, and co-author of the forthcoming 'What Would Monica Do?' (Ascension Press, Summer 2022). Roxane also writes a regular diocesan column, "Sidewalk Stories," about her encounters at her state's only abortion facility. Her work can be found at RoxaneSalonen.com