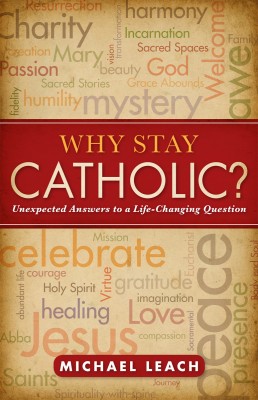 Some days, it feels like most of the "Catholic" news that crosses my desk is difficult at best and often downright discouraging. And yet, as a lifelong Catholic and a mom doing my best each day to pass along my love for my faith to my sons, I persist in loving our Church. I love her teachings -- passed to us by Jesus Christ -- her holy priests and sisters, her traditions, and most of all the gift of the Eucharist. This often means that I find myself in the position of defending Her to my friends and family who either aren't Catholic, or who perhaps have decided to seek other faith homes.
When the new book Why Stay Catholic: Unexpected Answers to a Life-Changing Question hit my desk, I was immediately intrigued. Let me admit up front that I am a major Mike Leach fan. His book I Like Being Catholic, co-authored with the truly amazing Therese Borchard, remains a personal favorite of mine. Add to this the incredible body of work Mike had done in Catholic publishing and you'll see why I was so thrilled to have the chance to interview him and learn a bit more about his life, his faith and his writing. Some day, when and if I ever grow up, I would like to write with a tiny fraction of the skill and emotion of Mike Leach. Let me say up front that Why Stay Catholic is not a work of apologetics in the sense that many will expect. It's also likely that you would answer the all important question "Why stay Catholic?" perhaps differently than Mike has. Personally, what I loved most about reading this book is that it gave me pause to stop and answer the question for myself, to linger a bit about the ideas, people and places that keep me so in love with our Church.
I invite you to find a comfy chair and a cup of coffee, to enjoy my recent conversation with Mike Leach, to check out Why Stay Catholic for yourself and to put some thought and prayer into why YOU stay Catholic.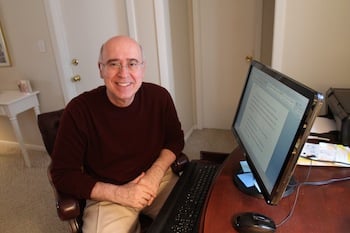 Q: Mike, it's such an honor to share your life and your work with our CatholicMom.com readers. Would you please briefly introduce yourself and your family to those who may not know you?
Lisa, it's an honor to be introduced to your readers. Vickie and I met at Your Father's Mustache, a sing-along place in Greenwich Village 42 years ago. Now we live in Greenwich, Connecticut where we raised our two sons, Chris and Jeff. Chris is a phys ed teacher who loves working with kids in a tough neighborhood near Yankee Stadium. Jeff is a go-getter who is doing marvelous things I don't understand with Deloitte and Touche in Atlanta. Both kids have huge hearts, always did. Jeff's wife Jill has beautiful twins just under her heart, a boy and a girl, who will make their grand entrance in August. We will fly to Atlanta as much as possible and fly the kids here and spoil them to death.
Vickie retired a few years ago as assistant principal of Stamford High School, even though she was only 60. Vickie could never give anything less than her best to her kids and their families and so when she began to forget and was diagnosed with Alzheimer's she knew it was time for a new direction. To this day when we go to the mall or the show or to ShopRite, kids or their parents run up to her and hug her and say, "Miss Leach, Miss Leach, how are you doing! We love you, Miss Leach!"
I semi-retired as publisher of Orbis Books soon after Vickie retired even though I was only 65. I could have gone on longer but the only important thing was for us to have good days together for as long as we lived. I always enjoyed being an editor and a publisher. I loved the people I worked with, my authors, and all the readers we published for. I started out at as an editor at the Seabury Press, became president of the new Continuum Publishing Corporation in 1979, then of the Crossroad/Continuum Publishing Group, and headed Orbis Books as its director and publisher in 1997 because they really wanted me to. Orbis had its first profitable year in 30 years the second year I was there and remains what it was long before I got there: one of the most appreciated Catholic publishers in the world. In 2007 the Catholic Book Publishers Association honored me with a Lifetime Achievement Award and I mention that here only because, well, I am really proud of that. Now I work part-time at home acquiring and editing books for Orbis, writing my own stuff, and, yes, having good days with the beautiful girl from Your Father's Mustache.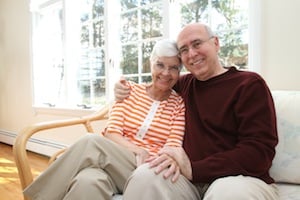 I work at my desk in the family room and Vickie is close by on the sofa watching Regis and Rachel and the girls from The View. I join her a lot and we talk back to the TV. Barbara Walters is our favorite though Elizabeth is growing on me because she gets picked on by Joy and I love underdogs. Around noon we take a leisurely walk, either in our neighborhood or along Long Island Sound or to a new place we've never been that we call "Virgin Territory." Sometimes we'll go to a matinee at Lowe's Cineplex. Twelve big screens with stadium seating. When you're retired or semi-retired like we are, there is nothing more relaxing than sitting together at a good movie with hardly anyone else there, eating hot buttered popcorn and sharing a 12-ounce Diet Coke. I'll tell Vickie when the story line changes and she'll say, "Shut up. I'm liking this." See? Our life hasn't changed a bit.
Q: I was entranced with Why Stay Catholic? from my first look at the book, largely because of the authenticity with which you address so many topics. Could you give our readers and overview of the book? And why this book, at this time in our Church's history?
Ten years ago I was lucky enough to write a surprise bestseller with my friend Therese Borchard called I Like Being Catholic. My friends at Loyola Press pursued me to write a book called "101 Reasons To Be Catholic." I told them I could only think of three. They kept asking. When I chatted with some of my authors I'd ask them, "What are the Catholic ideas that mean the most to you in your daily life?" Most of them could think of only two, some one. I kid you not. The idea started to haunt me. Meanwhile the scandals in the church kept burning up the wires and I saw that "ex-Catholic" was the fastest growing religion in America. That's when it all came together. I not only like being Catholic, it's part of my DNA, but I wouldn't want to be anything else. I started writing and whammo: 25 Catholic ideas that nobody ever talks about, even from the pulpit, came to me. I couldn't stop writing. I wrote personal stories about 15 people I know who express those ideas in their lives and inspire me and others. Then I said, why not write about ten Catholic organizations that manifest those values around the world. That would make a tidy 50 chapters. The book that came out is upbeat and positive and has gotten an enthusiastic response. So now Loyola has me writing a blog called whystaycatholic.com with three new posts a week on all kinds of good stuff that may have been neglected or ignored. Mikey likes it.
Q: I love the format of the book, which looks at the Ideas, the People and the Places that have helped you remain committed to our Church. How did you go about selecting the people and places you highlighted?
Thirteen of the fifteen people are good friends. I never met Dorothy Day or Thea Bowman but have edited books about them and feel like I know them. Toni Bosco is a friend of 30 years who lost her son to a murderer but through prayer found a way to forgive him and is now a leading proponent against the death penalty. How could I write about forgiveness, an essential Catholic value, without writing about Toni? Ray Lucker was a bishop who drove his old car hundreds of miles a month to visit his flock in the huge prairie diocese of New Ulm, Minnesota, and was the first bishop to hire lay people as administrators and give women not only a voice but power in the church. How could I not write about Ray when I talked about the meaning of church? Fr. Tom Kaminski, a classmate in the seminary, was a parish priest for 42 years who never did anything bad and never did anything grand and served without desire for reward and left his parish only when he was dying of cancer. Who ever heard of Tom Kaminski or ever would? Somebody had to write about these good guys and that's why I chose Tom -- people calls priests Father when they're around but does anyone bother to call them up when they're gone? Tom died three days before the book came out but he had read the chapter earlier and was pleased and I am grateful for that. Sr. Miriam Therese Winter, a wonderful author and friend, lived with the sick and poor on three continents and has a heart that pumps nothing but love. All the people are like that.
The places I chose were obvious but they are organizations that we never see written about in newspapers or highlighted on television: Catholic Relief Services, Catholic Charities, Catholic hospitals, schools, and so forth. These institutions not only serve Catholics, they've been serving the United States without seeking anything in return since the beginning of our country. When you uncover that, you discover miracles of grace.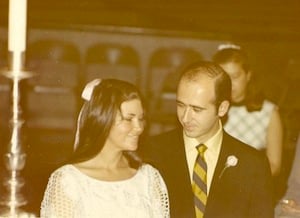 Q: I was very touched by the People section of the book and greatly appreciated your perspectives on so many Catholics I have known and respected. Please share a bit on writing about your lovely wife Vickie, our mutual friend Therese Borchard and noted author Father Andrew Greeley.
Vickie, as I guess I've hinted, is wonderful. She has taught me how to be grateful. She fell on a glass Easter bunny when she was two and it blinded and disfigured her eye. Some kids made fun of her and she had to be the monster in games. She was smart and funny and became class president in high school but in her heart she only wanted to look like everyone else. Or if that wasn't possible, to find her prince and have babies and live in a house with a white picket fence. After we married, her bad eye got sick and threatened the sight in her good eyes. It had to be removed. We didn't have much money but were led to a Park Avenue surgeon, and after talking with Vickie, he said, "You deserve to look like everybody else." He did the operation without charging us. He then led us to a master craftsman of artificial eyes, and soon both of Vickie's dreams came true. We never got a house with a white picket fence but did have babies and make a home. I cannot tell you how many times she has said over the years, "Thank you, God!" It is her mantra. When she was diagnosed with Alzheimer's we both went through a period of anger and disbelief but Vickie's gratitude never diminished, not a bit. She would say, "How can I not be grateful? I've had two miracles in my life. Most people don't have one." We don't make a federal case out of it. We don't talk about it or not talk about it. She knows who I am and who our kids are. We live on her clock, moment by moment, and don't dwell on the past because it's fading away or worry about the future because it is unthinkable. We appreciate the good that is and we laugh a lot. When we take a ride -- Vickie loves car rides -- she looks at the sky and says, "This is the day the Lord has made! Let us rejoice and be glad!" Even if it's raining. She can't remember the first part sometimes, so I start her off. If she forgets it all, that will be alright too. I'll say it and she'll feel it. Information goes in and out but I think emotional and spiritual memory stays. We have a sign on our refrigerator: "A friend knows the song in my heart and sings it to me when my memory fails." I like to think that song is forever, even without the words.
Therese Borchard is my buddy, my best friend, even though she's young enough to be our daughter, and in some ways is the daughter we never had. Therese has suffered from depression for most of her life, sometimes terrifyingly so, and has grown into a wounded healer. Throughout her ups and downs she has been a source of sunshine and joy to everyone who knows her. And now through her website, beyondblue.com, she shares the spiritual wisdom and psychological insights she's gained over the years. Therese's Catholicism is a big part of her healing, and you can read about it in her book Beyond Blue. To paraphrase something Gayle Sayers said of Brian Piccolo, "I love Therese Borchard, and want you to love her too!"
Andrew Greeley was already a famous Catholic writer when I was in the seminary and when he read something I wrote in a literary magazine Fr. Greeley wrote to me and encouraged me to continue writing! When I went to him as a young priest and told him I wanted to leave and get married and asked him if he'd write a letter of introduction to his publishers in New York, he did, even though he offered to find me a psychiatrist first (I found my own seven years later). Andy wrote books for me my whole career as an editor and publisher, like The Great Mysteries, that were among the best I ever did and the best he ever wrote. He is one of the kindest men I've ever known. He was getting out of a taxi a couple of years ago and his coat caught in the door and he cracked his skull on the pavement and will probably never write another book. Andrew Greeley is one of the great Catholic minds of the latter 20th century, but I will always remember him as one of the great Catholic hearts.
Q: The Places section of the book highlights some amazing Catholic institutions. Share briefly about how these organizations have impacted you personally and helped deepen your commitment to the Church.
When I was a young priest I worked for Catholic Charities at Maryville Academy, a home for dependent children. I was living in the midst of a miracle of how the world could really be if people were really interested in being loving. The kids, the nuns, the lay people who worked there, all of them knew that the love you live is the love you give. They were interested in making life better for the kids, and the kids made life better for them, even though the circumstances were so often sad or tragic. There was a hint of Eden there, that place or consciousness we all come from but have forgotten. The same can be said for what goes on in Catholic hospitals or in Catholic abbeys where nuns or monks try to be still and let God be God through them to others. Catholic organizations are more than meet the eye. They are places where God reveals himself.
Q: These are often controversial times in our Church and I sometimes feel that many of the attacks on Catholicism come from within, as a divide seems to be growing philosophically in some corners of the Church. How do you hope your book might stem a bit of the division we see between Catholics themselves? Is there hope that we can work out some of the vitriol that now exists?
That's one reason I wrote the book. I knew not many people would read it -- that's just the way it is -- but if I could do just a little to change the content of what we talk about -- to go from talking about structures to talking about God -- and do it in a tone that is upbeat, positive, and enthusiastic, well, that would be a good thing. We live in a dualistic world -- that's the result of our leaving Eden and being interested not in our nature which is spiritual blessedness but rather in "good and bad" -- you know, black and white, rich and poor, war and peace, liberal and conservative, Democrat and Republican, Red Sox and Yankee, crazy stuff like that which isn't Real but obsesses us and makes us argue and tortures us to death. Why Stay Catholic? is about the Good stuff, what Chardin called "the chosen part" of things, what Hopkins saw as "the dearest freshness deep down things." It's about the stuff that lasts because it's spiritual. When is the last time we heard a sermon on how nothing can separate us from the love of God, not death, not sin, not anything (Romans 8:38-39)? It comes up in the readings ten times a year. It's the only answer to division.
Q: For we parents of teens, the future of our Church, what advice would you give to those who want to pass along their love of our faith to their families?
Don't worry about it. Don't try. Have a peaceful home. Be cheerful and grateful. That's all we can do. And it's everything.
Q: What was your favorite experience in the writing of this book? What comes next for you?
I'm a vain son of a.... When a good sentence or paragraph appears on my screen, I am so delighted. I know the good ones don't really come from me, but for a moment I think, "Oh, what a good boy am I!"anyway. Then I realize, uh oh, this can lead to nothing but trouble, and I thank God for the inspiration. I really wanted this book to be helpful so I didn't fantasize, as I did on my other books, about how it would be received or how many it would sell, and those obstacles to awareness weren't there for almost all of the writing process and the words came out faster and better than before. That was my favorite experience.
I'd like to take the ideas in Why Stay Catholic? to another level and write a book that shows how the most fundamental idea is our oneness with God and each other. In truth we never left Eden and are one with God and each other, just like every sunbeam is one with the sun and every other sunbeam, and nothing can change that, not even our sins. In truth there is only Light. That's basic Catholicism but we don't even talk about it, let alone explore where it really leads: back to Eden.
If people keep on liking my blog, whystaycatholic.com, and join the family of cool people who make intelligent and loving comments on it, I'd like to continue that too.
Order Why Stay Catholic: Unexpected Answers to a Life-Changing Question at Amazon and support CatholicMom.com with your purchase.
About the Author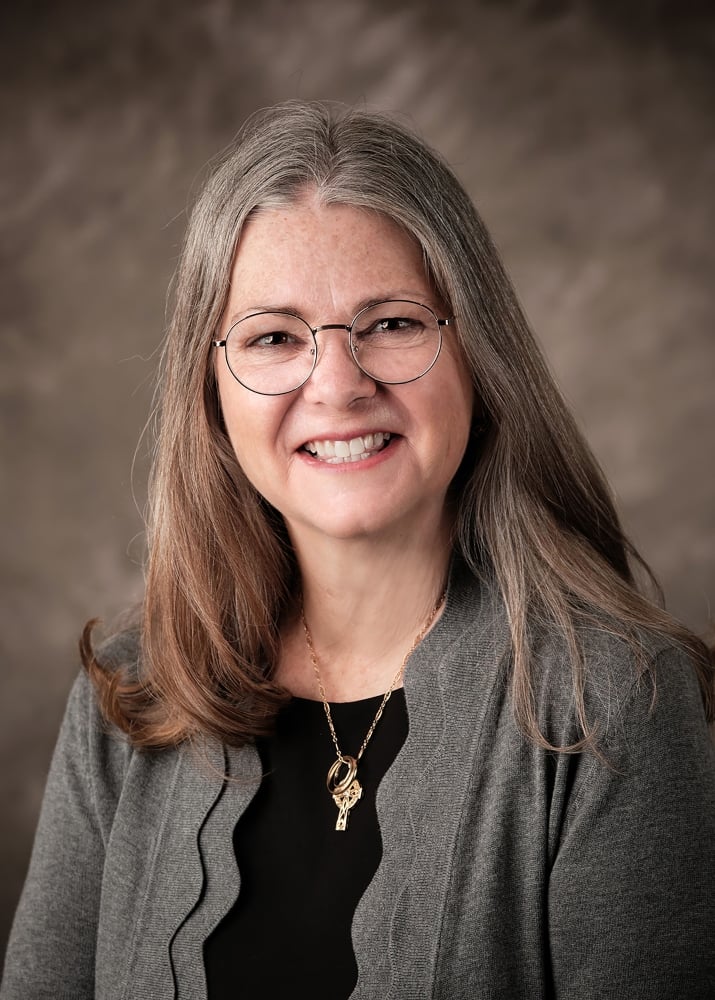 Lisa M. Hendey is the founder of CatholicMom.com, a bestselling author and an international speaker. A frequent radio and television guest, Hendey travels internationally giving workshops on faith, family, and communications. Visit Lisa at LisaHendey.com or on social media @LisaHendey for information on her speaking schedule or to invite her to visit your group, parish, school or organization. Visit Lisa's author page on Amazon.com.