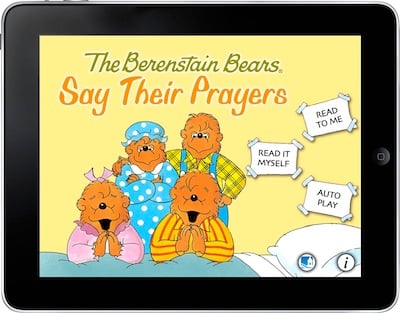 When I found out about the opportunity to review the new Berenstain Bear apps from Oceanhouse Media, I admit I almost broke my keyboard with my YES reply. For one thing, my kids LOVE the Berenstain Bears. For another, we've had some great success with reading using my iPad, and I was curious.
I didn't quite envision what would happen.
First, my six-year-old logged quite a few hours reading them all the first time. Second, my three-year-old claimed my iPad and read them all twice. Then they sat together and reread them.
I love that my kids are reading during the hottest part of our summer so far. I'm swallowing the selfish part of me that wants to be the one reading on my iPad, because I've been able to get some other work done while they're busy reading.
Lest you think I handed over the review of these apps to my children without checking them out first, I want to set you straight. I did spend an entire evening delighting in these books—because, despite using my iPad for them, they are books.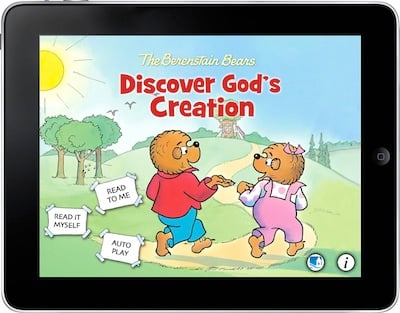 These apps tap into the best part of what technology offers and what we love about the Berenstain Bears. We can turn the page and choose from three different interfaces: Read to Me, Read it Myself, or Auto Play.
The illustrations match what we have in the old battered books that should be on our bookshelves but are, instead, slipped in the cushions of the couch and lugged around in various bags and buckets. I have drawn the line and told the girls that they CANNOT do that with my iPad. I'm a bit worried, though. We really like these new titles and the accompanying apps.
The stories have a Christian theme, and I like that. It's not so over-the-top that my six-year-old, who seems to have antennae for this sort of thing, has rejected them; she's reread them just as enthusiastically as the three-year-old.
The narrator isn't so irritating that you don't want to keep hearing it and the "click on pictures" feature is sort of neat.
These books aren't so interactive that it's overwhelming, and yet they tap into the ability of the technology to make reading interactive.
Does it replace a good book? I don't know. My kids didn't use these instead of the usual reading we do; they put it in where they would have been playing games on my iPad or watching TV. In that respect, I give these a hearty Mom's Thumbs Up and recommend them to each of you.
Be sure to visit the Berenstain Bear app website for more information about titles and availability and visit and "like" the official The Berenstain Bears Facebook page to follow their adventures.
Oceanhouse Media has generously offered giveaways of each of the following titles. We have FIVE of each to give away:
- The Berenstain Bears Say Their Prayers
- The Berenstain Bears Go to Sunday School
- The Berenstain Bears Discover God's Creation
- The Berenstain Bears Love Thy Neighbors
Leave a comment by Friday, July 22 at Midnight PST to be entered. One comment per person, please.
Copyright 2011 Sarah Reinhard
About the Author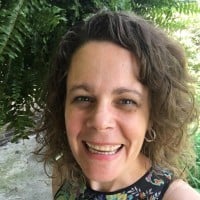 When she's not chasing kids, chugging coffee, or juggling work, Sarah Reinhard's usually trying to stay up read just one…more…chapter. She writes and works in the midst of rural farm life with little ones underfoot. She is part of the team for the award-winning Catholic Mom's Prayer Companion, as well as the author of a number of books. You can join her for a weekday take on Catholic life by subscribing to Three Shots and follow her writing at Snoring Scholar.