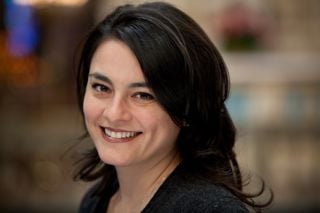 Friends who know me well know that I have the travel bug, and in recent years the work I'm doing has afforded me the opportunity to explore so many wonderful parts of our country. So when I had the recent chance to interview Diana Von Glahn, know to many as "The Faithful Traveler", I jumped at the chance! Together with her husband David, Diana created an amazing series looking at the art, architecture, history, and doctrine behind the many shrines and places of pilgrimage throughout the United States.
Diana takes an upbeat, fresh and indeed faith-filled look at many of the important religious sites around the country. What she and David have created is more than simply a video series - it's a true invitation for our families to dive in and begin exploring these gems of our faith. The show's first season aired on EWTN, but I'd like to recommend that every family invest in purchasing the DVD of the entire first season, which takes us to amazing gems and is great family entertainment. I thank Diana Von Glahn for giving us this gift and hope you enjoy my conversation with her!
Q: Please introduce yourself and your husband to our readers.
My name is Diana von Glahn. My husband, David, and I produce The Faithful Traveler, a Catholic travel show that debuted on EWTN in March 2010, and which is still on air (check the EWTN website for local times). I am a native San Diegan. David is a native New Yorker. We live in the Philadelphia suburbs. We were married on the Feast of Our Lady of Guadalupe in 2003, as a nod to my Mexican heritage and my love of Our Lady. I am a cradle Catholic. David converted to the faith shortly before our marriage.
Q: Diana, I love traveling and am curious to know a bit about your background.
I grew up in San Diego and have slowly made my way across country through school and work. I went to Pepperdine in Malibu to get my English BA, then went to the University of Notre Dame to get my law degree. I lived in London for a year while at ND, and it opened my eyes to the wide world. In my travels, I always make a beeline to Catholic churches, as they are the one familiar thing in unfamiliar lands. No matter where you are, or what language is being spoken, you always know what's going on at Mass. :) I practiced law for a year in San Diego before quitting to work in publishing. I moved to NYC at that point, and that's where I met David.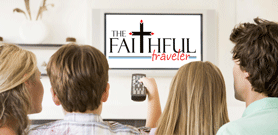 Q. How does a lawyer becomes the host of a travel series? Can you share your path to what you are currently doing with your work?
Ha. I suppose the two have little in common, although my legal background did help whenever I had to deal with legal issues like permissions, licenses, copyright and trademarks. Essentially, I suppose one could say I am just a flibbertigibbet. I get bored very quickly with things, and move on to new endeavors. I love change. I love learning. So, while I had a great desire to practice law when I entered law school, by the time I was practicing, I knew enough about the legal profession to know that it was NOT for me. I moved on to publishing because I've always loved books and words, and it seemed a natural fit. My love of church history, architecture, and travel inspired me to create a television show that I wanted to watch, but which was nonexistent. So I just created it myself.
David and I fully financed the production of The Faithful Traveler by working full-time jobs, which we still currently hold. I am a legal editor (I edit legal books) and he works for a nonprofit doing marketing and new product development. So, we are busy bees.
Q: Your series focuses on faith oriented sites and shares them with viewers in such a lovely and approachable way!
Thanks! It's easy to do when you are showing such amazing locations. We have to give thanks to God for all of the amazing artists who created these churches and spiritual sites, as well as for the people who helped their creation by funding the project.
Q:How did you come to be focused on sharing these inspirational types of sites as opposed to a more general travel format?
I never had any dream of being on television. I am a horrible actress, so I never thought that television would be in my future. But, I love watching good TV. And the fact is, there isn't much good TV out there anymore. It's depressing, to be quite honest. There is such potential for the medium, such an opportunity to teach and inspire, and yet it's being wasted with each new reality show that is thought up.
When David and I were planning our honeymoon to Paris and the Loire Valley, I wanted to include both religious and historic sites in our trip. As I did my online research and watched a LOT of the Travel channel, I realized that there really wasn't a lot of info out there about religious sites. We started joking that, wouldn't it be cool if there was a TV show, like those by Rick Steves or--my favorite--Samantha Brown, that was fun, and lively, but which explored Catholic sites, and which taught people about what they were seeing in a way that wasn't dismissive of our faith (as many television programs are). We played around with our camera during our honeymoon, and when we got home, we were somehow motivated to create a pilot for the show. Neither of us had any background in television production. I was an English major-attorney-editor and David did marketing, although he DID study film production in undergrad at Syracuse. But the medium has changed so much in those years--from film to digital--that we had to learn everything from the ground up. David focused on the equipment, and I focused on pre and post production. In the end, I did all the research and writing for the show, David was the camera/lighting/sound man, I was host, and then I edited the shows using Apple's Final Cut Studio.
Q: How can viewers see your programming or own it for themselves?
It's currently airing on EWTN, although people will have to check EWTN's website for the times. It changes.
The best way is to buy our DVD set of the entire first season. That way, you can watch it whenever you want! The 2-DVD set includes all 13 episodes, as originally edited. The shows that air on EWTN have been cut for time. People can buy it for $24.95 plus shipping from our website at www.thefaithfultraveler.com.
Q: As a frequent traveler, I would love to know some of your tips and tricks for keeping traveling fun and enjoyable in an era of delays, security alerts and missed connections.
Ha. That's a hefty question. Well, first, I recommend you research where you're going. There's nothing worse than going somewhere, not knowing what you're looking at, and then either missing something or later finding out that you could have seen something had you know it was there. Nowadays, online research makes it all very easy and inexpensive.
With regards to the frustrations inherent in travel, how you deal with that all has to do with your attitude, I think. Whenever I go anywhere, I always think about how fortunate we are to have such an efficient and safe way to go long distances in such a short time and for such little cost. I think about St Elizabeth Ann Seton's story, for instance, and how she and her husband took a 3-month boat trip to Italy for his health. By the time they got there, they were quarantined, and he DIED!! And then she had to stay in Italy for months afterward before she could a boat to take her home! Talk about horror stories! Meanwhile, I could go to Italy tomorrow if I really needed to, and NOT die on the way! Thank God!
I was recently full-body-x-rayed on my way to Atlanta, and I was so busy keeping an eye on my equipment I didn't worry about what the TSA agents were seeing. I don't know. I am cognizant of the scary things that have happened since Sept 11th, and I am grateful to be able to continue to travel. I lived in NYC on 9/11. David was supposed to fly to CA that day, but he didn't, thank God. I smelled the burning, I lost a friend. I lived in the aftermath and dealt with survivor guilt. So, while some aspects of travel today can be annoying, I keep it in perspective.
Plus, it is all an opportunity to offer it up. I try to focus on the positive--I am going somewhere!--than on the negative.
Q: Not every family can afford to take big family vacations -- what are some of your strategies for enjoying sites in and around your own community?
That is right, and that's one of the reasons why we created The Faithful Traveler, and decided to focus on sites in the USA. People would be amazed to know about some of the gorgeous Catholic shrines and places of pilgrimage we have here in this country. I am blessed, because the Philadelphia area has FIVE shrines! So I can go to any of them whenever I feel like it. But whenever I go anywhere, whether it be to visit family or for work, I always try to check out the local Catholic sites. Recently I was in Atlanta for work. I asked people on Facebook for some recommendations of places to visit, and they recommended the Trappist Monastery of the Holy Spirit in Conyers, GA! I was blessed to finish my work early and I got to spend the day at this amazing monastery!
If you're going somewhere, check out local Catholic places online or on Google Maps. There's a map on our website where we try to put up links to sites we know about. Sometimes, they're just a short drive away. And if you can't travel, you can always visit these places from the comfort of your own home by watching our DVD!
Of course, I always remind people that Jesus is as close as your nearest Catholic Church. He is THERE, in the Tabernacle. Go to Adoration. Visit Him in the Holy Eucharist.
Q: How can the exploration of these special places encourage and nourish us in our faith?
Wow. Let me count the ways!
First of all, when you learn about the people or devotions behind these locations, you grow in the knowledge of your faith. So, for instance, we visit Old St Patrick's Cathedral, now Basilica, in NYC. We talk about the people who built it, the saints whose lives were touched by it, the immigrants. Learning about early Catholic history in NYC gives you an appreciation for the building, and it makes you realize how BLESSED we are to be able to go to Mass without someone trying to burn down our church. Or you go to the Shrine of St Katharine Drexel, and learn about this truly selfless woman who gave her entire life and fortune to educate society's undesirables. The lives of saints always show us paths to God, and how we might devote ourselves to Him.
Second, I believe very strongly that beauty, especially sacred art, raises our hearts and minds to God. When I walk into an amazing church like the Cathedral Basilica of the Sacred Heart in Newark or like St Patrick's Cathedral in NYC, I am brought to TEARS by the beauty. The statues of Christ and his saints, the beautiful stained glass windows that tell stories of those who gave their lives for him. These artistic renditions of holy lives make me so grateful for the artists.
Third, visiting these locations inspires us to be better Catholics. I always said that my one goal was to bring people to these places, and once they are there, God can do the rest. God touches our hearts when and how He wishes.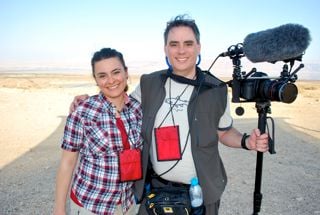 Q: What's next for The Faithful Traveler?
We were blessed with the opportunity to film the Archdiocese of Philadelphia's Pilgrimage to the Holy Land this past March. Select International Tours sponsored our trip, and Cardinal Justin Rigali led more than 150 pilgrims on this whirlwind tour of Israel. It was amazing. I never thought I'd ever go to Israel. Now, I have to edit the episodes, which EWTN has said they'd air. I'm hoping to finish them sometime this year. But I have more than 200 hours of footage to review, so it's going to take me a while.
After that, to be quite honest, I don't know. Unless something miraculous happens, we won't be filming future seasons of The Faithful Traveler. EWTN can't help us with the fund, and with the time required to travel and edit a second season farther away from home, we wouldn't be able to continue to work full-time and produce the show. So, basically, without funds, the show's over. It's sad, to be honest. I'm still struggling with my feelings of disappointment and I'm asking God every day to help me understand. But in the end, I will always be proud of what created--with His help, of course. I hope our 13 episodes of The Faithful Traveler do inspire people to visit local shrines and to learn as much as they can about the people behind them.
Q: Are there any additional comments you'd like to share with our readers?
I believe that Catholics should make a stronger effort to support the work of Catholic artists.
Some time ago, there was a blog post by Rebecca Teti at Faith and Family Live--where you blog. Here's the link: http://www.faithandfamilylive.com/blog/big_love_v_ewtn
The post was pointing to another blog post by Barb Nicolosi, a Catholic screenwriter and supporter of Christians in the arts. Barb said:
"The saddest realities to look at are not Hustler magazine and Big Love. Much more tragic is what you find on EWTN and CBN, because these things are devoid of creativity and devoid of respect for the audience. They are banal. They may be produced with the best of intentions, but they have no sense of the appropriateness of the art form, of using the medium to its full potential."
As I scrolled down through the comments, I was dismayed by the amount of people who said they no longer watched EWTN because of its dry programming. And I've heard this a lot over the years. To be quite honest, I agree with them. EWTN doesn't have high production values, but that is simply because they can't afford them. They don't have commercials. They are 100% funded by donations. But EWTN has a global reach that is unparalleled by any other network, I'd argue, in the world. We've got people throughout Europe watching our show. Every day, I am amazed when someone from a foreign land searches for "The Faithful Traveler" online, and I know this is because they must have seen it on EWTN in their country! People from the Philippines, Brazil, Australia, Kenya, New Zealand, Hong Kong, Israel, and throughout Western and Eastern Europe!
When we were deciding where to pitch our show, EWTN was pretty much the only contender in that their core values were similar to ours, and their reach was massive. And while we knew a lot of people weren't watching because the programming needed to be improved, we thought we'd HELP improve the network with our own show. I saw this as being more like Saints Francis of Assisi and Teresa of Avila by promoting change from within as opposed to being like Martin Luther and throwing out the baby with the bathwater to start something new.
Unfortunately, in the end, we were unsuccessful.
But this experience has given me the conviction that if we Catholics complain about the lack of good television, music, books, movies, or other art out there, we must do something to help change that. I think we have a responsibility to support the work of Catholic artists. I decided to create my own television show. Not everyone can do that. But everyone can donate--even a LITTLE something--to help a radio station or television network improve their broadcasts. Buy a CD, DVD or book. Go to a concert. Watch a television show.
This weekend, the Harry Potter movie broke all sorts of records with the amount of money it pulled in. But the studio would never have created even a second Harry Potter movie if the first movie wasn't profitable. The publisher would never have published a second book if the first book wasn't profitable. And how did they make a profit? Because people--people like you and me--spent our money to buy the book or go see the movie.
Are we doing the same for Catholic art?
There are Catholic artists everywhere who can't pay their bills or continue working in their artistic medium because no one is buying their CDs or DVDs or donating to Catholic radio stations or television networks. As I made the point in my comment to the blog I mentioned earlier, I think it is US, the laypeople, who have a responsibility to become the new patrons of the arts, and to support the work and efforts of Catholic artists. Because without our support, without our money, they won't be able to create. And we will be left with art that offends us, that teaches incorrect things about our faith, or that teaches that our faith is a myth, like so many of the television programs do.
No one commented on my comment at Faith and Family Live. I don't even know if anyone saw the post. Few follow the link from the page. And that's sort of the sad thing about good Catholic art. It's OUT THERE. But unless people know about it, and support it, it won't be out there for long.
The Faithful Traveler Mash-Up from The Faithful Traveler on Vimeo.
About the Author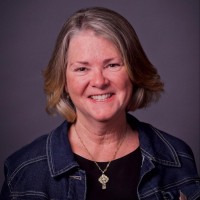 Lisa M. Hendey is the founder of CatholicMom.com, a bestselling author and an international speaker. A frequent radio and television guest, Hendey travels internationally giving workshops on faith, family, and communications. Visit Lisa at LisaHendey.com or on social media @LisaHendey for information on her speaking schedule or to invite her to visit your group, parish, school or organization. Visit Lisa's author page on Amazon.com.