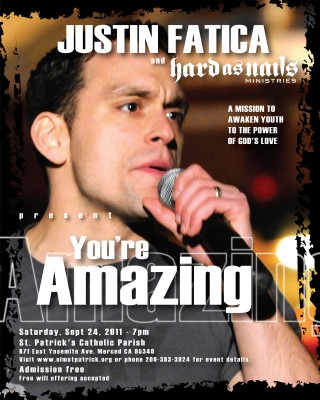 Teens and young adults of the Central Valley are in for a powerful awakening.
The nation has been captivated by his fire. It is said that his ways are unconventional and that his faith inspires greatness. His speaking style is described as powerful, intensely dynamic, "in your face" and tenderhearted. His name is Justin Fatica and no matter who you are or where you are, what you're going through or where you've been, Justin wants you to know that YOU'RE AMAZING!
Who Is Justin Fatica?
Justin is an internationally renowned Catholic/Christian youth evangelist on a mission to encourage, uplift, and lead teens and young adults to the love and hope of Jesus Christ. He has touched the hearts of more than 250,000 people at his events in the last ten years. He has positively transformed the lives of young people as a teacher, high school campus minister, author and co-founder/director of the nationally acclaimed Hard as Nails Ministry.
Justin's life, work and ministry have been featured on HBO, EWTN, TBN, Good Morning America, ABC Nightline, in the New York Times and many other media outlets. His books include Hard As Nails (Doubleday, 2009) and Win It All (Ave Maria Press, 2010).
About Hard As Nails Ministry
This ministry is one of the fastest growing movements of its kind in the world!
Hard as Nails Ministry (HANM) is a Catholic/Christian organization founded in 2002.
HANM assist schools, churches, and other organizations in their efforts to introduce people to Jesus, develop an individual relationship with Christ, and cultivate local communities. HANM is unabashedly Catholic, but seeks to awaken all youth (suburban, rural and inner city) to the power of God's love and communicate Christ to a hurting MTV, video game generation regardless of denomination.
"All faiths, all people…we are all God's children."
You're Amazing
"You're Amazing" is anticipated to be the largest ecumenical teen and young adult event of the year in the Central Valley drawing young people from San Francisco to Fresno. This admission-free event is open to teens and young adults of all faiths age 13 (7th grade) through college.
Visit www.olmstpatrick.org or phone 209-383-3924 for event details and to learn more about Justin Fatica and Hard as Nails Ministries.
Saturday, Sept 24, 2011 - 7PM
St. Patrick's Catholic Church
671 E. Yosemite Ave
Merced, CA 95340
Copyright 2011 Brian Kravec
About the Author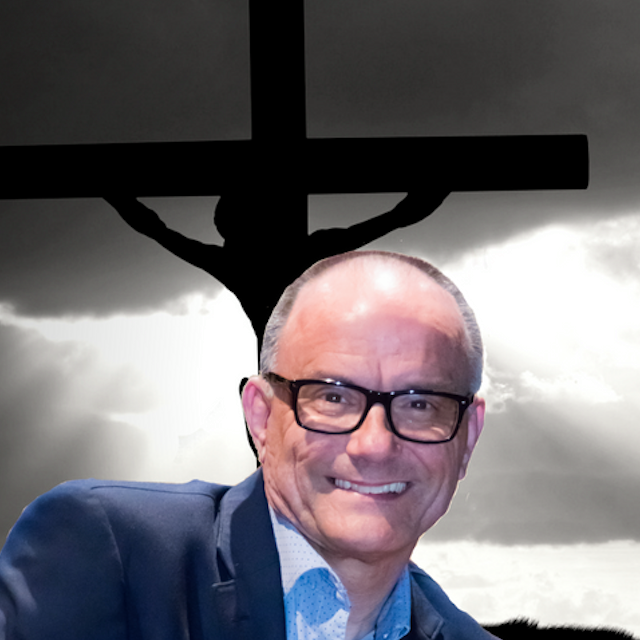 Brian is a cradle Catholic, husband and father. He's the Co-Founder and Executive Director of Possibility Productions, a 501(c)(3) faith event evangelization apostolate in service of the Body of Christ. Brian has proudly served the Roman Catholic Diocese of Fresno on the Board of Directors for KNXT Catholic Television, is the Steward of St. Patrick's Faith Event Ministry for his local parish and a 4th degree member of the Knights of Columbus. Brian and his wife are consecrated members of the Militia Immaculata. For information on the MI and Total Consecration visit Consecration.com.