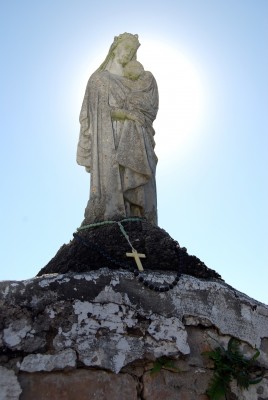 I love Momma Mary.
Oh, yeah, I know she's got many more formal titles: the Blessed Virgin Mary, the Theotokos or the Mother of God, Our Lady of Fatima, Our Lady of Guadalupe, the Ark of the Covenant, and every amazing title we find in the Litany of Loreto handed down from the sixteenth century.
Over several decades, my relationship with her progressed in friendship and familial love. I've grown from being a casual observer to a daughter. For me, Mary has changed from being a distant biblical character, to my prayer partner, friend, sister, and mother.
I am a devotee of the rosary, and my fellow rosary chicks with whom I pray know I often call her Momma Mary. I also favor familiar nicknames that reflect her motherhood toward me.
Mom's the word, you could say… Or rather M.O.M.S. is an acronym – an easy shorthand – for the personal litany of how Mary mothers me.
Mary is the Mother of Many Sinners. (M.O.M.S.) But she doesn't want us to stay that way. She wants to bring us to Jesus. In fact, in some of his last words from the Cross, Jesus made her the mother to all of us, in the order of grace, when he gave her to John, the beloved disciple... "Behold your mother." (John 19: 27.)
Every disciple must struggle against sin. In Scripture we see that Mary was a mother to all the disciples in the Upper Room on the day of Pentecost. Each one was a sinner who came to love her Son. And the Holy Spirit instilled his fire in each one on that day. Pentecost reflected the kind of woman Mary always was -- filled with grace, and ready to share it.
Going all the way back to the stable of Bethlehem we see Mary's maternal heart in action. Mary and Jesus were the only non-sinners in the room, but she welcomed each imperfect visitor who drew near to her most precious Son, from the rich and famous Magi, to the most humble shepherd from the backcountry.
Every Scriptural depiction of Mary shows her love and concern for others… folks who were sinners like me who wanted to come closer to Jesus. Mary doesn't condone our sin, but she doesn't judge it either. She leaves that to Jesus' mercy. That is why she is known as "a refuge for sinners." She just invites us to be with her and then reminds us to "do whatever He tells you." (Luke 2:5.)
Mary is also the Mother of Many Saints (M.O.M.S.). And this really is heart of what she longs for each of her many children.
St Louis de Montfort taught that Mary is the molder of saints, who were once sinners.
I say the saints are molded in Mary. There is a vast difference between carving a statue by blows of hammer and chisel and making a statue by using a mold. Sculptors and statue makers work hard and need plenty of time to make statues by the first method. But the second method does not involve much work and takes very little time. St. Augustine, speaking to our Blessed Lady says, "You are worthy to be called the mold of God." Mary is a mold capable of forming people into the image of the God-man. Anyone who is cast into this divine mold is quickly shaped and molded into Jesus and Jesus into him. At little cost and in a very short time he will become Christ-like since he is cast into the very same mold that fashioned a God-man.
... [They] have discovered the beautiful mold of Mary where Jesus was so divinely and so naturally formed. They do not rely on their own skill but on the perfection of the mold. They cast themselves and lose themselves in Mary where they become true models of her Son.
Besides St Louis, there have been countless saintly disciples devoted to Mary. St. Dominic, St. Alphonse Liguori, St. Thomas Aquinas, St Catherine of Siena, St. John Vianney, and St. Bernadette were all sold out for Mary. Even modern saints like St. Maximilian Kolbe, St. Padre Pio, and Blesseds Teresa of Calcutta and John Paul II were Marian-devoted. That's a good enough short list for me.
Mary is the Mother of my Merciful Savior (M.O.M.S). Mercy has done more for me than I can fully explain here. Through Mary, the whole world was able to receive Jesus, and the new life that comes through his unfathomable and deep mercy. Thanks to Jesus, we have also been given a most merciful mother. I need both.
Mary is the Mother of My Sanity, and the Mother of My Sorrows. (More M.O.M.S.) She keeps me steady as well as she keeps my deepest confidences. She comforts me when I'm afflicted and afflicts me when I get too comfortable. Like a good Momma, she has seen me through broken dreams and broken relationships, not to mention births, deaths, cancer, other health crises, moves, menopause, and job loss. She was also the one who cheered me through good times, successful ventures, and all the average days in between.
Mary is the Mother of My Seriousness and the Mother of My Silliness. Being Mary's child means she "gets" me. There's a deep seriousness to my character, but a joyful child just below its surface. I'm a mixed bag and she knows it. Mary's mothering of me through her many virtues has done more to help understand, balance, and alleviate the ups and downs of my soul, my temperament, and my mistakes, than any self-help text, or therapist ever could.
Mary mothers all of me, not just the spiritual parts. And for that you could call her the Mother of My Sanctity. For when it comes to the call to holiness in my life, if there is anything that dimly reflects Jesus and all that is Good, she helped to give it shape. Like St. Louis said, I do not have to rely on my own skill, but only on the perfections of my molder, my mentor, my Mother.
Here are two simple prayers to ask for Mary's intercession that I use: Mary, help me to love Jesus like you did. And, Mary, be a mother to me now.
Mom's the word I want to use most to describe Mary.
Happy Feast of the Assumption of the Blessed Virgin Mary on August 15th, and Happy Feast of the Queenship of Mary on August 22nd!
Copyright 2011 Pat Gohn
About the Author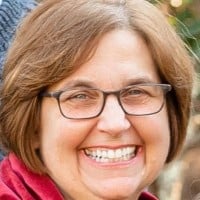 Pat Gohn is a married empty-nester with three adult children and four grandchildren. An author, catechist, speaker, and host of the Among Women podcast since 2009, her books include the award-winning Blessed, Beautiful, and Bodacious: Celebrating the Gift of Catholic Womanhood, and All In: Why Belonging to the Catholic Church Matters. She works in Catholic publishing as an editor. Visit PatGohn.net