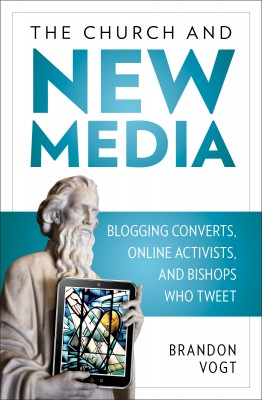 I chide myself now for not recognizing that on August 23, 2010 I received an email from a visionary. In truth, I received hundreds of emails that day and the one from Brandon Vogt enthusiastically inviting me to be a part of a book project he envisioned felt like just another item on my "to do" list. Because I love and respect Brandon and because of the friendship we've built in the past year, I know he won't mind me sharing with you that my first reaction was, "Who is this guy and how does he possibly think he's going to get Archbishop Timothy Dolan, Father Robert Barron and Mark Shea to collaborate on a project?!" His proposal listed a topic that interested me a great deal -- Catholic New Media -- and read like a "who's who" of Catholic authors... big names, big ideas, major enthusiasm.
After a few conversations with the other authors involved on the project, with Brandon Vogt himself and with the amazing Bert Ghezzi of Our Sunday Visitor, I decided to humbly accept Brandon's invitation to be a part of his project. From those initial conversations and emails, Brandon's spirit was infectious and his passion for the subject -- but more importantly for our Church -- was a blazing light that drew me in, humbled me, and got me revved up about The Church and New Media.
Imagine my great joy when several months later, Brandon Vogt and I found ourselves together with some amazing writers, sharing Lisa (The Maximus Group) Wheeler's amazing Italian villa in Rome for the Vatican Bloggers Meeting. Brandon was the gentleman who took the couch/bed and barely slept for the days we were in Rome, providing amazing coverage for the OSV blog and his own Thin Veil readers. Even before the launch of The Church and New Media, I was already so impressed by Brandon's work ethic, his openness, and his innovative ideas. After Rome and as the project began to really come together, Brandon kept all of us contributors posted about the big news items of the project, a dedicated website at http://churchandnewmedia.com/ and most importantly the fact 100% of the royalties from the book would go toward establishing school computer labs throughout the Archdiocese of Mombasa, Kenya and towards providing computer literacy education for the children of the diocese.
A little over a year after that first email from Brandon Vogt, I was amazed to hold the final version of The Church and New Media: Blogging Converts, Online Activists, and Bishops Who Tweet in my hands. Since it's difficult for me to write an objective review about a book to which I had the great honor and privilege of being a contributor, let me simply say to you this: you need this book, your pastor needs this book, the staff at your parish needs this book, and most importantly our Church needs Brandon's book. If you have qualms about buying multiple copies of the book to give out to my prescribed list of recipients, remember that when you buy the book you do double the good by enlightening others about the role of new media in our Church and by helping to bring digital tools and knowledge to some amazingly deserving students in Kenya.
I'm pleased to share my recent interview Brandon Vogt and thank him for the gifts of The Church and New Media, his vision and love for our Church, and especially his friendship.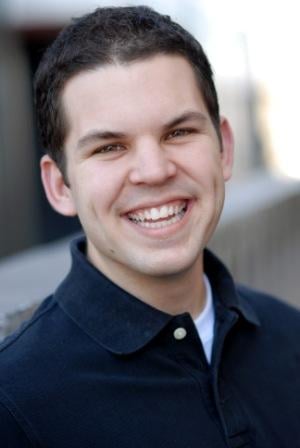 Q: Brandon, congratulations on the release of The Church and New Media, and thank you again for the gift of allowing me to be a part of this project. Would you kindly begin by introducing yourself and your family to our readers?
First, thanks for inviting me to do an interview--you know the pleasure's all mine. Now to the introduction: my name is Brandon Vogt, and I'm a 25-year old husband, amateur dad, novice writer, armchair theologian, recovering bibliophile, daytime engineer, and new media connoisseur. And it's been four minutes since I last checked Facebook.
Q: I'd love to know a bit more about your background and how a geeky convert becomes a bestselling Catholic author? What steps brought you to this point in your faith life?
It's been a ride, that's for sure. After being raised in a Protestant home, I had a profound conversion in a Methodist campus ministry about five years ago. I was blown away by Jesus and enchanted by following his way of life. But just two years later, I found myself kneeling in front a bishop as he crossed chrism oil on my head, confirming me into the Catholic Church.
Since then, I've married, had two kids, been invited to the Vatican to dialogue about new media, and put together a book endorsed and composed by cardinals, archbishops, priests, and many personal heroes. To say it's been a wild, crazy ride so far would be an epic understatement. Every day I ask myself, "God, how in the world did I end up here?!"
I've written an in-depth account of my journey to Catholicism, but I'll also be appearing on Marcus Grodi's "The Journey Home" on Monday, September 26. Tune in to EWTN at 8pm ET for a deeper look at my story.
Q: For our readers who haven't yet seen the book, could you please give us a brief overview of The Church and New Media?
The Church and New Media was written for people of all backgrounds--moms, administrators, priests, tech-enthusiasts, new media novices, old people, young people, and more--who want to understand and use new media to serve the Church. In specific we show how new media can be used to evangelize, to form the faithful, to build community, and to change the world. Twelve different contributors--including you, Lisa!--share a chapter on their area of expertise while the book is peppered with quotes from other innovators and Church documents. When you finish this book, you'll know how to use new media both effectively and faithfully.
Q: What made you conceive of this project and were you confident from the start that the pieces would fall into place?
The book really bloomed from a convergence of three things. First, as a heavy social media user, I recognized that we're in the midst of the greatest communication shift since the printing press. These new media tools are no mere fad or trend but are already deeply embedded in the ways we communicate. Second, I saw a number of individual Catholics, groups, and apostolates who were already using new media well. They understood the power of these tools and were beginning to harness it. Third, I realized that the Church as a whole--especially her institutional arm--was a good 2-3 years behind most Protestant communities in using new media and a good half-decade behind the secular world. So the book was written to help Catholics in the second group assist those in the third group to engage the digital revolution.
When planning out the book, I didn't think any single person could fully wrap their minds around the digital world--especially me--so I knew the book deserved to be covered from multiple angles; it had to be more symphony than solo if it was to sing. So I made a list of potential contributors, but to be safe I also had a few back-up candidates for each chapter. To my great surprise, though, every single person I invited to participate gave me an enthusiastic yes--even Cardinal Sean O'Malley and Archbishop Timothy Dolan!
All of the contributors, including you, are great heroes of mine. So writing the book was like inviting the Olympic Dream Team to shoot hoops at your house and one day, after a knock on your door, seeing Michael Jordan, Larry Bird, and Magic Johnson ready to go. It was an unbelievable honor to team with so many brilliant, talented, insightful heroes.
Q: What are some of the unique challenges and pleasures of compiling a book like this?
Well, as you know, creating a book with one contributor is difficult enough. But when you add on twelve chapter writers, two bishop contributors, thirty sidebar interviews, Vatican reviewers, and the whole panoply of contacts at Our Sunday Visitor, this book was a real logistical challenge. I'd say in all there were more than fifty people directly involved with this book. Though I didn't explicitly thank Google in the Acknowledgement section, I don't see how I could've kept track of emails, notes, tasks, and to-do items without GMail.
But there were huge upsides, too. I only wrote about 40% of the book's content--the Introduction, the Conclusion, and the sidebars--which meant I had the pleasure of reading, editing, and massaging the other 60%. That was sheer delight. Each person brought unique insights to the table and so reading each contribution was like opening a chest of gold.
Q: How do you feel about the current state of New Media use in our Church and about the vision for the use of this tool in the future?
I think right now our Church is taking her first hesitant steps onto the digital continent. Or to use another metaphor, she's just begun to scale the Areopagus (Acts 17:16-34). It's a long way to the top, further still to enter the conversation at the summit, but we're moving in the right direction. In my interactions with Catholics across the country, the biggest thing holding people back from new media is fear--fear of the unknown, fear of detraction, and fear of losing control of their message. That's why I'm convinced that what Catholics need most is not practical training in these tools, though that's a definite need, but encouragement and boldness. Pope Benedict XVI is providing that through his World Communications Day messages and by his own example ('tweeting' from the papal iPad may have seemed silly to some, but it spoke volumes to the world.) It's up to us to follow the lead of our Peter and to similarly "cast wide our nets" (Luke 5:4). If our 84-year old pontiff can tweet, we have no excuse.
Q: What are you hearing from readers and Church leaders who have had a chance to enjoy the book?
It's hard to answer this humbly. But I'll say that everything I've heard has been overwhelmingly positive--just read some of the endorsements or early reviews. Also, I can't tell you how pleased I am with Our Sunday Visitor's commitment and excitement not only for the book but for its message. They've sent a gratis copy of the book to every active bishop in the country and plan to do the same with every diocesan communications director. If a main goal of the book was to bring the Church to the digital world--especially her institutional arm--I can't think of any better news than that.
Q: Please share about your amazing decision to donate all of the royalties for this book to charity? How has this blessed you personally and what has it done for the selected charity?
Early on when I began structuring the book, I was praying about it and asking God to give me some guidance (that, by the way, if you're serious, can be a very dangerous request.) To my surprise one of the first things I heard in prayer was "Give away the royalties. I gave you a good job, you don't need the money, so give it away." I tried to rationalize keeping the royalties--"oh, but God, think of how many theology books I could buy, or the graduate classes I could take, all of which would lead me closer to you!". But I knew what God desired.
Yet then I had the problem of figuring out where to give the money, so I prayed about it some more. At that time my prayers of discernment often took the form of the question, "how can God tell a great story through this?" That might not make immediate sense--I explain it more here--but suffice it to say that I realized it wouldn't be a great story to say "author gives royalties to the poor." That's a good story, but not a great one. A great story, I realized, demanded that where the royalties went matter just as much as giving them away.
I called some friends I knew who worked with Catholic Relief Services (CRS) and we eventually found the perfect project--a new computer lab in the Archdiocese of Mombasa, Kenya. The royalties would provide computers and monitors for a small lab in addition to a computer literacy instructor. As soon as I saw the idea, I knew it was perfect--it was a great story. Through this connection, The Church and New Media would become the ticket to the digital continent for young people halfway across the world. Also seeing the Catholic social principle of solidarity at play, I felt this was precisely where God was leading things.
Today the computer lab is already up and running and there are pictures at the Church and New Media website. Readers can also make additional donations to the project through CRS at http://donate.crs.org/computerskenya.
Q: I'm curious to know what comes next for you personally and professionally after this amazing ride -- any plans for a follow up book?
I don't have any plans yet for a follow-up book on new media, though I am giving alot of talks around the country on the topic.
I do have a number of other projects spinning around, though. I'm currently working on another book about one of the dirtiest phrases within the Church: "social justice". As an evangelical Christian I was incredibly devoted to justice and compassion ministry. In fact this love helped bridge my journey to Catholicism. Catholic social teaching was a primary lure that drew me into the Church. But I've discovered that the whole idea of social justice has generally been hijacked and misinterpreted among Catholics. So in this book, I reclaim the phrase.
But the book won't just be theoretical; it will show as much as tell. Through the lives of the saints readers will learn how to authentically live out the social teachings of the Church. Many Catholics have come across principles like "solidarity" and "the life and dignity of the humane person" and wonder, "how do I live that out in my day-to-day life?" The saints provide an imitable answer. To those wondering how they can "change the world", if only their small corner, Katherine Drexel, Mother Teresa, John Paul II, Francis of Assisi, Pier Giorgio Frassati, Dorothy Day, and many more show us the way.
Q: Brandon, thank you for your time, the generosity with which you share your talents and spirit, and for the gift of your friendship! Are there any closing thoughts you'd like to share with our readers?
You're welcome! Thank you for those very same things!
One thought I'd like to share is an old one--2,000 years old--though it's one we still need to hear: "Do not be afraid!"
Jesus spoke these words to his disciples time and again. The tomb-sitting angel delivered them to St. Mary Magdalen. And John Paul II roared them to the world. But when it comes to new media, the Church needs to hear them afresh.
Don't be afraid to try new technology.
Don't be afraid to listen more than talk.
Don't be afraid to open up a conversation with the world.
If the Church is to be effective in the digital age, all of us Catholics need to mimic the boldness and panache of Jesus, Peter, Paul, Francis Xavier, Fulton Sheen, and John Paul II. Only then can we "set sail on the digital sea, facing into the deep with the same passion that has governed the ship of the Church for two thousand years" (Pope Benedict XVI).
Brandon Vogt is a Catholic writer and speaker who blogs at www.ThinVeil.net. He is also the author of The Church and New Media: Blogging Converts, Online Activists, and Bishops Who Tweet (Our Sunday Visitor). You can learn more about the book at www.churchandnewmedia.com where you'll find a list of contributors, endorsements, and many special resources. You can also download a free excerpt from the book and purchase it in paperback or eBook form.
Order The Church and New Media and support CatholicMom.com with your purchase:
About the Author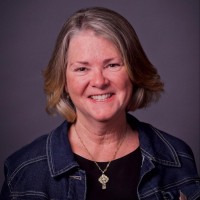 Lisa M. Hendey is the founder of CatholicMom.com, a bestselling author and an international speaker. A frequent radio and television guest, Hendey travels internationally giving workshops on faith, family, and communications. Visit Lisa at LisaHendey.com or on social media @LisaHendey for information on her speaking schedule or to invite her to visit your group, parish, school or organization. Visit Lisa's author page on Amazon.com.