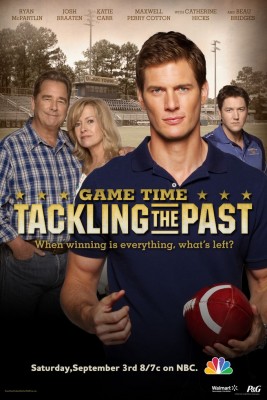 Moms around the country shouldn't have any problem getting their husbands and sons to tune in to this week's latest installment of Walmart and P&G's "Family Movie Night" series of films. You're definitely going to want to gather around the television as a team for Game Time: Tackling the Past on Saturday, September 3 at 8/7c on NBC.
I had the extraordinary good fortune to see an advance screener of the movie, which features a great cast of characters including Beau Bridges, Catherine Hicks, Ryan McPartlin, and Josh Braaten as the very close, but also very fractured Walker family. Here's a brief synopsis of the story:
Pro football star Jake Walker is just one season away from setting an all-time receiving record that will guarantee him a spot in the Hall of Fame. But when he gets news that his father has suffered a serious heart attack, Jake leaves training camp and returns to Riverton, the small hometown he's avoided for nearly 15 years. Past memories of glory and regret resurface as Jake is forced to reconnect with the family and community he abandoned in pursuit of his career. A call from his agent delivers another crushing blow – Jake's contract is not being renewed. Stripped from the thing he cares about most, the real Jake begins to emerge from behind his armor to see that life is more than the accumulation of personal stats. But when he's offered a lucrative new contract with another team, he must decide whether to go back to the career he thought he loved, or stay in Riverton and embrace the people who have always been there for him.
The football "hook" of this film will make it very attractive to the male viewers in your home, but the truth is that this movie is so packed with goodness that it will be a pleaser for everyone. While football serves as an underpinning for the action, the real drama in this film revolves around the broken family relationships that have settled in and taken deep root. At its core, Game Time is a film about finding redemption, making hard choices, and figuring out what is really most important in life.
Many of the film's greatest lines are delivered by Beau Bridges, the father of the Walker family who is facing a fight for his life, and by Catherine Hicks as Anna Walker, the heart and soul of the family who carefully but definitively helps to put all of the broken pieces back together. There are too many great "one liners" in the film to share here, but these two truly stood out to me:
"You can't live a perfect day without doing one thing for someone else."

"It's one thing to look like a good man and another thing to be one."
At the core of Game Time: Tackling the Past are the same struggles that many families face: sibling rivalry, lost love, blind ambition, misguided priorities, and a lack of communication. Without giving away too much of the wonderful plot, I do want to say that the Walker family -- perhaps looking like the successful, perfect family to outside perspectives -- has a great deal of pain to resolve. The good news for us viewers is that these lessons play out in a story that is fast paced, filled with action, portrayed by talented and likable actors and even highlighted by fun moments (think of me when you watch the dancing scene!) and some very good football scenes.
I urge you to take time this weekend to enjoy Game Time: Tackling the Past with your family and then to spend some time on Sunday discussing the important themes broached by the movie: the true meaning of success (happiness), what it really means to be a part of a team (or a family), and how it's never to late to make the decision to do the right thing.
Learn more about Game Time: Tackling the Past here and tune in Saturday, September 3 at 8/7c on NBC.
About the Author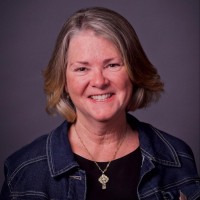 Lisa M. Hendey is the founder of CatholicMom.com, a bestselling author and an international speaker. A frequent radio and television guest, Hendey travels internationally giving workshops on faith, family, and communications. Visit Lisa at LisaHendey.com or on social media @LisaHendey for information on her speaking schedule or to invite her to visit your group, parish, school or organization. Visit Lisa's author page on Amazon.com.