Today is Day 4 of our Marian Novena of Giveaways.
Be sure to enter your name in the comments for a chance to win one of today's great prizes!
Let's bring our vocations to God and ask for the intercession of the Blessed Mother as we celebrate her birth.
Vouchsafe that I may praise thee, O sacred Virgin;
give me strength against thine enemies,
and against the enemy of the whole human race.
Give me strength humbly to pray to thee.
Give me strength to praise thee in prayer with all my powers,
through the merits of thy most sacred nativity,
which for the entire Christian world was
a birth of joy, the hope and solace of its life.
When thou wast born, O most holy Virgin,
then was the world made light.
Happy is thy stock, holy thy root,
and blessed thy fruit, for thou alone as a virgin,
filled with the Holy Spirit,
didst merit to conceive thy God,
as a virgin to bear Thy God,
as a virgin to bring Him forth,
and after His birth to remain a virgin.
Have mercy therefore upon me a sinner,
and give me aid, O Lady, so that just as thy nativity,
glorious from the seed of Abraham,
sprung from the tribe of Juda,
illustrious from the stock of David,
didst announce joy to the entire world,
so may it fill me with true joy and cleanse me from every sin.
(mention your intentions)
Pray for me, O Virgin most prudent, that the gladsome joys of thy most helpful nativity may put a cloak over all my sins.
O holy Mother of God, flowering as the lily,
pray to thy sweet Son for me, a wretched sinner. Amen.
This novena was written by St. Anselm and is usually prayed for the nine days before the Nativity of Mary. [Source: Fish Eaters Forum]
Donna Piscitelli and her husband Steve have four children, ten grandchildren and a yellow lab. As members of St. Louis Parish in Alexandria, VA, they are active in the master catechist program through the Diocese of Arlington. In addition to these books, Donna is working on a scripturally based workbook to draw closer to the Lord. Donna also works as a school adminstrator for Fairfax County Public Schools.
Rosemarie Gortler and her husband Fred have five children and eighteen grandchildren. Rosemarie is an RN and a licensed professional counselor. She is active in her parish of St. Jude in Fredericksburg, VA. She is a Eucharistic minister and a member of the Secular Franciscans.
Rosemarie and Donna began writing together in 1999. Their first goal was to write little books for their grandchildren to learn and share our beautiful faith. All of their books carry the Imprimatur of the Bishop of the Arlington Diocese. Obtaining this Imprimatur was important to them for each of these books, for we are both dedicated to spreading the faith truthfully.
Leave a comment today and you will be entered to win one of these great books:
Little Acts of Grace
Why do we genuflect upon entering a church? Why do we make the sign of the cross These are the little things that mean a lot to God. They're our way of showing how much we love God, and they're easy to do. This is a wonderful way to introduce children to Catholic customs. It's written in a bright, cheerful style that children will love, and is a perfect book to help children prepare for how to behave at Mass.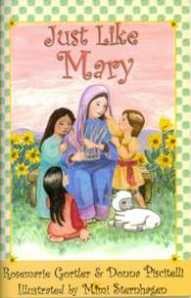 Just Like Mary
From her Immaculate Conception to her Assumption, here is the story of Mary told in a way that will charm and delight your children. As they get to know Mary, children will also learn what they can do to imitate Mary, and what important lessons Mary's life has for us.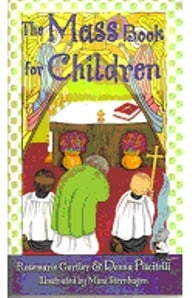 The Mass Book for Children
Here's a delightful way to introduce children to Jesus in the Eucharist. With its captivating writing style and charming art, The Mass Book for Children not only teaches young children the parts of the Mass but also shows them why joining in the joyful gathering is an experience of love. The Mass Book for Children is perfect for children preparing for the sacrament of First Holy Communion.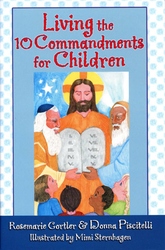 Living the 10 Commandments for Children
Understanding the Ten Commandments and applying them to our daily lives is an essential part of living a Christian life. Yet here is an excellent way to help your second grader understand the Ten Commandments as they prepare for the Sacrament of Reconciliation. Children will appreciate the clear and understandable applications of these ancient laws to their everyday lives. Second place winner of the 2008 Catholic Book Association Award for the United States and Canada.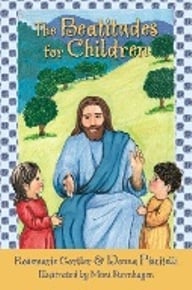 The Beatitudes for Children
The Beatitudes, part of Jesus' Sermon on the Mount, are very difficult for adults and children to understand. By examining them as the "how" to live the commandments, the authors strive to put these beautiful lessons into language children (and adults) can understand. Written for children in grades 5 and above, this book is a perfect companion guide for children preparing for Confirmation.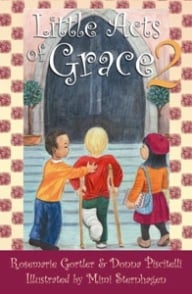 Little Acts of Grace 2
Just as we teach our children how to be kind and loving towards their friend, this little book teaches how we can be loving toward our best friend, Jesus. Every little act of love toward Jesus helps your child grow to be a better person and a better friend. But most of all, they let Jesus know how much we love Him.
Leave a comment by MIDNIGHT PST and we'll enter you to win one of these great Marian books! One entry per person, please.
Remember to join us tomorrow and for the rest of our Marian Novena of Giveaways!
Editor's Note: Thank you for your support of our special Novena and for your participation in all of the contests! We had a terrific response and appreciate your visits to the donors' websites. I would like to give a huge vote of thanks to Sarah Reinhard for organizing this colossal effort. Winners will be notified via email this week. Thanks to all who participated! LMH
About the Author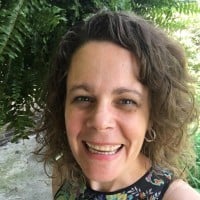 When she's not chasing kids, chugging coffee, or juggling work, Sarah Reinhard's usually trying to stay up read just one…more…chapter. She writes and works in the midst of rural farm life with little ones underfoot. She is part of the team for the award-winning Catholic Mom's Prayer Companion, as well as the author of a number of books. You can join her for a weekday take on Catholic life by subscribing to Three Shots and follow her writing at Snoring Scholar.