Today is Day 8 of our Marian Novena of Giveaways.
Be sure to enter your name in the comments for a chance to win one of today's great prizes!
Let's bring our vocations to God and ask for the intercession of the Blessed Mother as we celebrate her birth.
Vouchsafe that I may praise thee, O sacred Virgin;
give me strength against thine enemies,
and against the enemy of the whole human race.
Give me strength humbly to pray to thee.
Give me strength to praise thee in prayer with all my powers,
through the merits of thy most sacred nativity,
which for the entire Christian world was
a birth of joy, the hope and solace of its life.
When thou wast born, O most holy Virgin,
then was the world made light.
Happy is thy stock, holy thy root,
and blessed thy fruit, for thou alone as a virgin,
filled with the Holy Spirit,
didst merit to conceive thy God,
as a virgin to bear Thy God,
as a virgin to bring Him forth,
and after His birth to remain a virgin.
Have mercy therefore upon me a sinner,
and give me aid, O Lady, so that just as thy nativity,
glorious from the seed of Abraham,
sprung from the tribe of Juda,
illustrious from the stock of David,
didst announce joy to the entire world,
so may it fill me with true joy and cleanse me from every sin.
(mention your intentions)
Pray for me, O Virgin most prudent, that the gladsome joys of thy most helpful nativity may put a cloak over all my sins.
O holy Mother of God, flowering as the lily,
pray to thy sweet Son for me, a wretched sinner. Amen.
This novena was written by St. Anselm and is usually prayed for the nine days before the Nativity of Mary. [Source: Fish Eaters Forum]
The sweetest joys in life are born from the fruits of sorrow. Let me introduce myself. I'm Melissa Woods and I have two beautiful daughters Madeline and Mary. Tragedy struck our family several years ago and the sudden loss of my husband forced me to take a closer look at our lives and the impact of the loss both spiritually and financially. My Catholic faith sustained me and gave me the courage to move forward. Facing the challenges ever present in today's society as a single mom, I have realized that divine grace is the only way to describe the guidance, inspiration and encouragement I have received from God and continue to pray for, each and every day.
In 2006 I began creating and offering for sale spiritually-based jewelry and gifts. Full of Grace, Divine Designs offers an exclusive line of handcrafted fine jewelry. The "enduring beauty" of rare European antique medals is the inspiration behind the collection. Each piece of jewelry in the collection is a sentimental journal intended to restore beauty to old holy medals, crosses and crucifixes. The holy medals are designed with a mixture of new and old elements, semi-precious stones, sterling silver, gold-filled and fresh water pearls to enliven once loved and cherished religious medals. Each piece is unique creating heirloom quality artistic jewelry.
Leave a comment today and you will be entered to win one of these great items from Full of Grace, Divine Designs: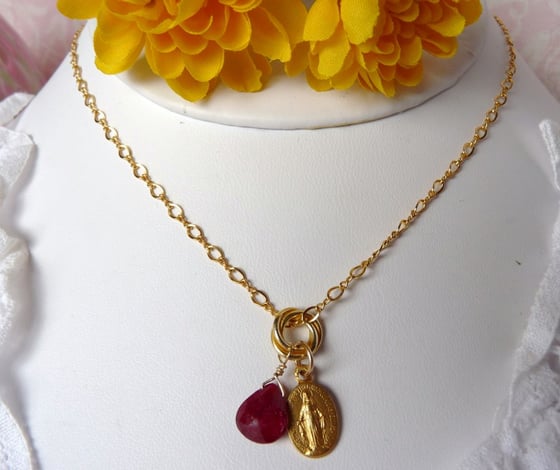 Andrea Necklace
This is a beautiful, antique Miraculous medal adorned with a ruby red teardrop on a 16-inch gold-filled chain.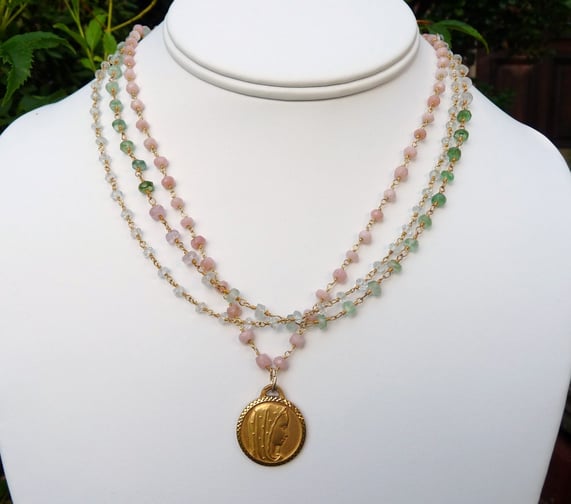 Josephine Necklace
The three strands of petite semi-precious stone link chains create an exceptional setting for the gold toned antique holy medal of the Virgin Mary. The pink opal, moonstone and rainbow flourite semi-precious stone strands are delicately combined for a one of a kind necklace that measures 16 inches and extends to 18 inches.
Leave a comment by MIDNIGHT PST and we'll enter you to win one of these great Marian prizes! One entry per person, please.
Remember to join us tomorrow and for the rest of our Marian Novena of Giveaways!
Editor's Note: Thank you for your support of our special Novena and for your participation in all of the contests! We had a terrific response and appreciate your visits to the donors' websites. I would like to give a huge vote of thanks to Sarah Reinhard for organizing this colossal effort. Winners will be notified via email this week. Thanks to all who participated! LMH
About the Author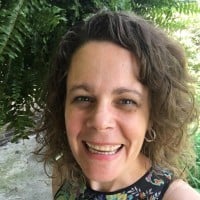 When she's not chasing kids, chugging coffee, or juggling work, Sarah Reinhard's usually trying to stay up read just one…more…chapter. She writes and works in the midst of rural farm life with little ones underfoot. She is part of the team for the award-winning Catholic Mom's Prayer Companion, as well as the author of a number of books. You can join her for a weekday take on Catholic life by subscribing to Three Shots and follow her writing at Snoring Scholar.