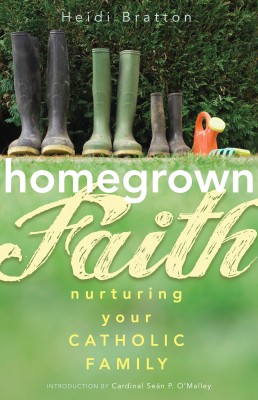 One of the best things about editing a website like CatholicMom.com is having a front row seat for the best writing on the blogosphere. This certainly holds true for me whenever I am sharing contributions from my friend and fellow CatholicMom.com contributor Heidi Bratton. From the moment Heidi and I first interacted, her work has felt like a hug from a girlfriend to me -- a wise, sweet, understanding companion who shares her soul with you, holds your hand in the tough times and celebrates with you at just the right time.
So I was absolutely thrilled to have the opportunity to endorse Heidi's latest book, Homegrown Faith: Nurturing Your Catholic Family. The words I wrote then after that first "sneak peek" at Heidi's book hold true now as I share this book with friends and family:
"Like your mom's best recipes, Heidi Bratton's Homegrown Faith is the ideal tool to help any home create the perfect blend of faith, family and fun. Take Heidi's wisdom, her wonderful personal reflections, and her terrific ideas for bringing the faith to life in your home, blend in your own unique mix of characters and life circumstances and you'll have the blueprint for a liturgical year filled with precious memories and new traditions."
Today I invite you to get to know Heidi a little better and to check out Homegrown Faith for yourself. Enjoy!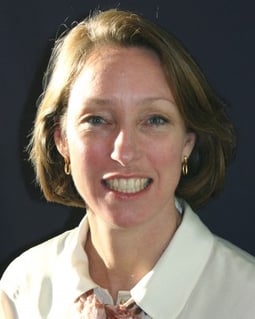 Q: Heidi, we are so blessed to count you as a member of the CatholicMom.com family and I want to personally congratulate you on the publication of your wonderful new book, Homegrown Faith: Nurturing Your Catholic Family. Would you please begin by telling our readers a bit about yourself and your family?
Lisa, it is a great privilege to contribute to a resource that is as inspirational as CatholicMom.com. Thank you for welcoming my writing on your website!
A basic introduction of "me" would be that I am a cradle-turned-committed Catholic wife and mother of six children who has recently relocated from Cape Cod, MA, to Ann Arbor, MI; from the land of clam bakes to the land of fish fries! My husband, John, and I have been married for 23 years during which time we have seen a lot of change: four cross-country moves to eight different homes, more than a dozen jobs between the two of us, four years in graduate school (in your home state of California, but for him, not me), over 20 published books (for me, not him), six children spread over 18 years (for both of us), and lots of camping, hiking and general outdoor fun (for everybody!). So much change means that I can't always clearly explain "who I am," but if you see a mom in a Red Sox baseball hat with a large camera hanging around her neck, cheering on the sidelines of a high school soccer game in Michigan in between dashing to the porta-potty with her toddler, at the same time that she is texting with a college kid on a cell phone that's about to lose its charge, yup, that would be me!
Currently two of our six children are away at college, one is enrolled in a Catholic high school, two are being home schooled for 8th and 12th grades, and then there is our precious pre-schooler, who I am pretty sure God awarded to me later in life just to keep me on my toes!
A tidbit about me that few people know is that while I worked as a photojournalist in my teens and consider much of the publishing work I do today to be a kind of photojournalism, I actually have my bachelor's degree in Physical Geography and Water Resources. This confounds people sometimes, but it makes perfect sense to me that a photojournalist would be interested in the travel aspects of geography and other means of visual communication such as how to create and use maps.
Q: Homegrown Faith is not your first book by any means, but it is a bit of a departure from your recent books. Please tell us about this book -- what we'll find in the pages of Homegrown Faith and what prompted you to write the book.
Lisa, my greatest, personal passion is to share my love of Jesus and of the Catholic Church with my family and other families. I feel exceptionally privileged to be able to do this through the use of a few of my other great passions, namely photography, writing, and speaking.
I have published two kinds of book; books for which I use photographs to communicate spiritual truth, and books for which I use words to create emotional word pictures to communicate spiritual truth. Fifteen of my published books are of the first kind; photo-illustrated, Christian board books for 0-5 year olds. I loved writing and photo-illustrating these books because it was pure photojournalism; taking simply worded stories or lessons from the Bible and bringing them to life for very young children through powerful black and white photographs. My first eight board books comprise the Walking with God series and were the prototype for the next four board books, the Celebrate series, which came out about 18 months ago.
My newest book, Homegrown Faith: Nurturing Your Catholic Family is my second trade book. This, along with my first trade book, Making Peace with Motherhood and Creating a Better You, are both the second kind of book I have published; books that use words to create images that show God's love. Making Peace is about spiritually adjusting to being a mom and is intentionally an ecumenical book. It sprang from the speaking I was doing about 10 or 12 years ago to interdenominational women's groups like Hearts at Home, and MOPS, International. Homegrown Faith, on the other hand, is intentionally Catholic because about six years ago I felt God calling me to be more openly and distinctly Catholic in my public ministry.
In 2005, I answered God's call to be more distinctly Catholic by volunteering to write a weekly, family life column for The Anchor newspaper, which is a publication of the Diocese of Fall River, MA. My goal with the column was and is to encourage Catholic parents to take the seeds of faith planted in our hearts and minds at church on Sunday and nurture them at home all week long. So the title of the column, which also became the title of my second trade book, Homegrown Faith, originates from this idea of learning to cultivate at home the graces and blessings we receive at mass. The column and book title also came from the fact that I adore homegrown produce, but that's another whole story that readers will hear about in Homegrown Faith.
Q: How do you hope moms will use the book to support themselves in their daily walk with God?
The two things that I hope readers will gain from reading Homegrown Faith are practical encouragement and personal spiritual growth. There are lots of entertaining stories in the book about my personal mishaps, my questions for God, and even a few of my practical successes. I routinely write about both my ups and downs so that readers might be encouraged and able to say, "Oh, praise God, I'm not the only Catholic mom who isn't perfect!" I want readers to be able to jump right into the ordinariness of my life, not so much to see how chaotic I am one minute and how clever I might be the next, but to really be able to see and grasp the biggest picture of life which is that our extraordinary God loves each of us no matter what.
Each of the 52 stories in Homegrown Faith begins a week's worth of devotional exercises, so in many of the stories I also suggest some practical things a reader might do that week to open themselves up more fully to the love of our extraordinary God. I think of these practical ideas as simple ways that readers can water and fertilize their faith at home, which will in turn help them water and fertilize the faith of their family, too. Four questions for reflection follow each story; these are meant to help readers to dig even deeper into the spiritual theme of the story or to be enriched even more by a particular scripture verse. (Because moms are the busiest beings on the planet, I have included only five instead of seven days worth of devotional material for every week of the year. That way moms can have weekends off, too!)
The questions for reflection can be used in many different forums: in personal, daily prayer, for conversation prompts with family members, and as discussion questions for a Bible study or mom's group. The questions are intentionally short, so that, again, even the busiest mom won't miss out due to lack of time.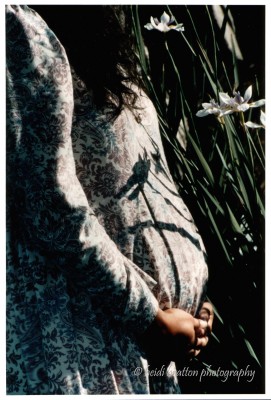 Q: What are some of the challenges and rewards of writing a devotional book? How did your own personal prayer and study style impact your writing?
I am a lover of seasonal living. By this I mean I love living in tune with nature and the Liturgical Calendar of the Catholic Church. It's hard to look back and pinpoint when I first started tuning my life to these annual cycles, because they are as natural to me as breathing, but I can't imagine celebrating Christmas without Advent. I depend on Lent to prepare my heart for Holy Week and then Easter, and every year I like to refresh my faith life by learning a new devotion or just something new about the Church during Ordinary Time.
When it came to thinking about an organizational scheme for Homegrown Faith, it just seemed obvious to me to have one devotion for each week of the year, and to group them into four sections that would mirror the seasons of nature and the Liturgical Calendar. The four sections are as follows:
1. Feasting on Faith at Home: Reflections for Advent, Christmas and Ordinary Time in Winter;
2. Planting Seeds of Faith at Home: Reflections for Lent and Easter;
3. Tending to the Faith at Home: Reflections for Ordinary Time in Summer;
4. Harvesting Faith at Home: Reflections for Ordinary Time in Autumn.
The book begins with the first Sunday of Advent, because that is the first Sunday of the Liturgical Calendar, but readers can begin reading with whatever devotional suits their fancy and can start the book in the middle and cycle back to the beginning when Advent rolls around.
Q: What are a few of your favorite reflections in the book?
That's really a toughie. I guess a few of my favorite reflections by name are Peace like a Cookie, Unwrapping the Gift of Jesus, and the series of four reflections on my mission trip to Honduras. But I also love the lessons I learned in The Parable of the Angry Sower, The Lord of the Unexpected, Childhood as a Mosaic, and Take Small Bites and Keep on Chewing. Oh, and Like a Mighty Wind which goes into what life was like back when my husband and I were still dating. A little romance, you know!
Q: I know that as a writer, some days it can be challenging to write on personal and prayer topics when you are feeling perhaps challenged in your own personal prayer life. How did the writing and path to publication of this book impact upon your own personal spiritual life?
As I mentioned earlier, it is always my goal to write as I live. I am very much still in the trenches of motherhood and totally relying on God's grace in this parenting journey, but I think that admitting this fact and that I don't have all the answers, only a few good insights born of some true struggles, can be even more encouraging to readers than trying to falsely package myself as Dr. Expert Parent. If by sharing both my struggles and insights in writing I am able to show others how to have hope in the one true God who did give us the unchanging answer to every problem (Jesus), then I can be grateful when things are going well and when they are quite challenging. Approaching my writing ministry with transparent humility and liberal doses of humor has been really liberating for me, and I hope it is for my readers, too.
The hands-down, biggest challenge for me in publishing, however, has always been finding the time to write. And then trying to carve even more time out of our eight-person schedule to polish and submit something to publishing houses, that's really, really challenging on days when carpools also have to be driven, infants nursed, home school lessons taught, laundry done, and really, what's with having to cook three, nutritionally balanced meals every day?! I mean, phew, thank goodness for random acts of stress relief like going to McDonald's for some greasy fries and hamburgers now and again!
Fortunately for me most women can relate to being time starved, so perhaps my biggest challenge becomes my biggest asset in that readers know I'm not just sitting in an Ivory Tower somewhere, waxing nostalgic on how motherhood ought to be or used to be. I'm right there in the trenches of mothering with my readers, learning, growing, and sharing what I know.
I do love what author Danielle Bean said in her foreword for Homegrown Faith, "This book doesn't set up unrealistic expectations. It only gently offers support, inspiration and encouragement to Catholic women as they seek to build the kingdom of God, beginning with their own domestic churches." I am blessed to have so many wonderful endorsers like Cardinal Sean O'Malley, Bishop George Coleman, and author Kimberly Hahn, and they each picked up on the idea that this book is less of a plan of how to create picture perfect kids than it is a "peek" into how God works in and through ordinary family life. In your endorsement, Lisa, I love how you compared Homegrown Faith to "your mother's best recipes" calling it "an ideal tool to help any home create the perfect blend of faith, family, and fun."
Q: How do you hope that moms who read this book on their own or share it with friends will benefit from their time spent in the word and with your book?
I'm really glad you asked this question. Including quotes from the Bible in all my writing is really important to me. When I started studying the Word of God regularly my relationship with Jesus went from the equivalent of Tang instant breakfast drink to that of fresh-squeezed, Florida orange juice, and I want that experience for all women (and men). For this reason every story in Homegrown Faith contains at least one quote from scripture, and I hope and pray that reading my book will serve as a wake-up call to those who may never have heard or believed in their heart of hearts the truth that God loves them deeply and truly.
Whether a mom reads my book on her own or in a group, I believe God will speak to her, His beloved child, though the Holy Scripture I have included in the book. I might have something funny or wise or even insightful to share to get a mom started in the right direction, but God's words in the Bible are life-giving, and without parallel in their ability to speak the love we really need to hear.
Q: What advice would you give to any woman who feels like she is too busy, too distracted or too tired for prayer and devotional time?
Boy, do I understand that woman, because she is me! Very purposefully, I crafted to book to NOT be overwhelming. Each of the 52 very short chapters can be read in less than five minutes. Each of the four, very brief questions for reflection that follow can be completed in about five to ten minutes. This format gives even the busiest reader a year's worth of spiritually enriching material (one chapter a week) that can be read in increments of 5 to 10 minutes a day while waiting in the car for a sports game to end or in the few minutes a mom has before making breakfast or in whatever little window of time she has to open up to God and be spiritually fed by Him through what I've written. Don't be overwhelmed, there is no way to fail when we seek more of God.
Q: Heidi, thank you again for sharing your gifts with us and for this wonderful book, Homegrown Faith: Nurturing Your Catholic Family. Are there any closing thoughts or comments you would like to share with our readers?
I'd like to express gratitude to you, Lisa, and to other editors who have been so supportive of my work. Just the other day a caller on a radio show pointed out to me that reading Homegrown Faith: Nurturing Your Catholic Family and discussing the questions for reflection with her husband was a non-threatening, low-pressure way for them to deepen their personal relationships with God and to grow together spiritually, as well as to pick up a new idea or two about effectively passing the Catholic faith on to their children. I did not write the book with her first two ideas in mind, so it was a fresh reminder that the Catholic life is meant to be lived in community, everyone from the new convert to the seasoned veteran supporting each other, celebrating each other, and encouraging each other to know, live, and grow in the love of God.
In some ways the experience of publishing and sharing Homegrown Faith: Nurturing Your Catholic Family, has been like that of writing a thank you note to God for his faithfulness to me, and to all who have supported me and who, by their life's example, have helped me grow in my own faith. I feel very blessed to be able to pass on to readers the blessings I have received and some of the collective wisdom, too.
About the Author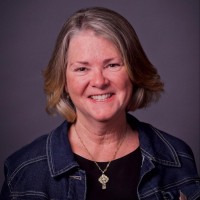 Lisa M. Hendey is the founder of CatholicMom.com, a bestselling author and an international speaker. A frequent radio and television guest, Hendey travels internationally giving workshops on faith, family, and communications. Visit Lisa at LisaHendey.com or on social media @LisaHendey for information on her speaking schedule or to invite her to visit your group, parish, school or organization. Visit Lisa's author page on Amazon.com.