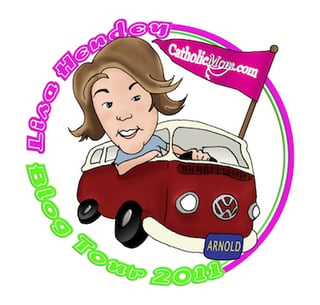 Editor's Note: I'm indebted to my friends at Ave Maria Press for their wonderful support in helping me to "launch" my new book, A Book of Saints for Catholic Moms. During the weeks ahead, I'll be "touring" cyberspace spreading the good news about the Communion of Saints and sharing about this book. If you'd like to participate in hosting a stop along the blog tour, please email me -- I promise to be a good houseguest! Thanks to all who have supported A Book of Saints for Catholic Moms. Your kindness and encouragement mean the world to me! Lisa
Lisa Hendey, entrepreneur, founder of CatholicMom.com, and sought-after new media expert, will begin her blog tour on Tuesday, October 18, as part of the launch of her newest book, A Book of Saints for Catholic Moms.
While this book tour exists in the blogosphere, Hendey's family owns a real-life Volkswagen bus, and we wanted to include him in the festivities. He is named Arnold, after his original owner.
Hendey's fans and friends are invited to follow her virtual travels as she is interviewed, reviewed, and offers guest posts on several popular blogs. Her schedule will be updated as posts are confirmed, and currently includes: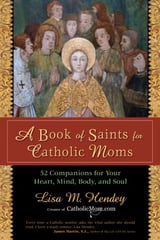 Catholic News Agency & Catholic Womanhood
Catholic Vitamins Podcast with Deacon Tom and Dee Fox
Plot Line and Sinker by Ellen Gable Hrkach
Blossoming Joy by Melody Lyons - Review
Mother's Musings by Julie Filby - Review and Interview
Christopher Closeup with Tony Rossi - 2:30 pm ET on Relevant Radio and 7:00 pm ET on Sirius XM's The Catholic Channel - Podcast Interview
iPadre Catholic Podcast with Fr. Jay Finelli -Podcast Interview
Simplemama - Review by Erika Higgins
KateWicker.com by Kate Wicker
Catholic Herald - Review by Elizabeth Foss
View from the Domestic Church by Donna-Marie Cooper O'Boyle
Call to Holiness by John Clem - Review and Interview
In the Heart of My Home by Elizabeth Foss - Review
The Good Catholic Life by the Archdiocese of Boston 1060 AM - Recording
Catholic San Francisco - Review
Faith Filled Mom by Lori Hadorn-Disselkamp - Review
Catholic Weekend podcast on SQPN with Steve Nelson, Maria Johnson, and Jeff Nielsen - Podcast Interview
Of Sound Mind and Spirit by Shelly Kelly and Lisa Jones - Review
Peace Garden Writer by Roxane Salonen - Review
SQPN.com by Maria Morera Johnson - Review
Another Cup of Coffee by Maria Morera Johnson - Review
There Will Be Bread, Parish Blog of St. Edward the Confessor, and Parish Blog of the Church of the Immaculate Conception by Fran Rossi Szpylczyn - Review,Interview, Excerpt
Random Acts of Momness by Ginny Moyer
Catholic Writers Guild blog with Larissa Hoffman and other CWG members - Review
The Practicing Catholic by Lisa Schmidt - Interview
The Thin Veil by Brandon Vogt - Review, Interview
The Catholic Post Book Group with Nancy Piccione - Interview, Review
The Anchoress by Elizabeth Scalia - Guest Blogger
Happy Catholic by Julie Davis - Review, Guest Post
Christian Mompreneur by Theresa Ceniccola
Snoring Scholar by Sarah Reinhard
Among Women by Pat Gohn - Podcast, Blog
Spiritual Woman Thoughts by Patrice Fagnant-MacArthur
Fresno Bee Faith & Values by Ron Orozco - Review
The Crescat by Katrina Fernandez
Order A Book of Saints for Catholic Moms and support CatholicMom.com with your purchase
About the Author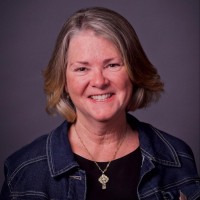 Lisa M. Hendey is the founder of CatholicMom.com, a bestselling author and an international speaker. A frequent radio and television guest, Hendey travels internationally giving workshops on faith, family, and communications. Visit Lisa at LisaHendey.com or on social media @LisaHendey for information on her speaking schedule or to invite her to visit your group, parish, school or organization. Visit Lisa's author page on Amazon.com.