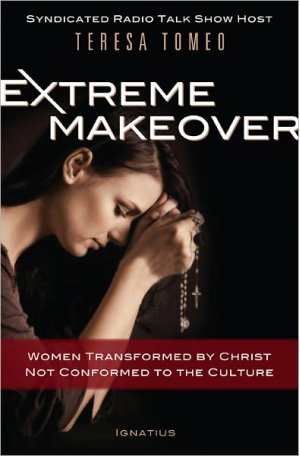 Teresa Tomeo has a past and she knows how to use it–for the glory of God's kingdom.
This popular EWTN radio and TV host was once an ambitious, feminist news broadcaster climbing to the top. But when the world let her down, a U-turn set her on a new course–one pointed in the direction of heaven.
In Tomeo's latest book, Extreme Makeover Women, Transformed by Christ, Not Conformed to the Culture (Ignatius Press), she shares how her thinking became distorted by the prevailing culture while God became little more than a good luck charm. Tomeo's professional success in the secular broadcast field came at a price. "The road on which I was traveling–this way of thinking only about me, myself, and I–helped me gain a good deal of professional success," she states, "but it would also almost cost me my marriage–and more important, my soul."
Tomeo explains her mindset: "I heard someone say once that the word ego is really an acronym for 'easing God out,' which is exactly what I was doing."
The Fruit of Desperation
The conversion process began after Tomeo lost her job just when she thought she was on the brink of great success. It was her husband Dominick who took the first step by recognizing the spiritual dysfunction in their lives and joining a Bible study. Tomeo struggled with her emotional pain for months until it finally drove her to her knees. "So one day, out of desperation, I simply looked at the crucifix hanging on our bedroom wall and asked God to take over my life," she recalls.
That began a journey deep into the heart of the Catholic Church. Her broken marriage healed as she and Dominick grew in understanding that the Church understood marriage and commitment far better than the culture did. Together, they peeled away the cultural deception and found a treasure–the truth that has always been taught by the Catholic Church.
Since that time, Tomeo has used her own story to save others from the pain that results when we fall for the lies of our culture. She hopes her book will save women, especially, from the harm that the feminist agenda has caused. "The proof is in the pudding," Tomeo states. "There have been more than fifty million abortions in the United States since the 1973 Roe v. Wade decision. Sexually transmitted diseases are at epidemic proportions, with nineteen million new STD infections each year in the country. The divorce rate in the United States is double that of other developed nations; nearly 40 percent of all children and 70 percent of African American children are born out of wedlock. With the onslaught of pornography and of sexual content in the media, women are more objectified than ever before."
Extreme Makeover
With such a heavy dose of reality, this book could have been downright depressing. Instead, Tomeo points women to a better way–to spiritual health, beauty, and holiness. She explains the "spot-on" teaching on sexual intimacy in Pope Paul VI's Humanae Vitae and the Pope John Paul II's documents on the beauty and dignity of women. She shares excerpts from the 1995 Letter to Women and the encyclical Mulieris Dignitatem, Vengelium Vitae, in which the Pope referred to the "feminine genius" and the "new feminism."
I understand where Tomeo is coming from because, like her, I grew up around Detroit around the same time. I even started out in journalism before switching majors. I know the mindset of staking new ground, changing the world, and getting to the top. I also know that for so many of us, seeking guidance from the Church was not on our radar screen. After all, the Catholic Church was so old-fashioned and stifling–or so we thought. At a time when freedom was all that mattered, we mistakenly believed the Church only wanted to take away our freedom—and thus our happiness.
Women in the 1970s and beyond bought the lie because we looked only on the surface. In her book, Tomeo takes us deep into Catholic teaching where we discover that it is the Church that loves and respects women, while the culture often hurts women by encouraging sinful choices and recasting "bad" as "good."
In Evangelium Vitae, John Paul II encouraged women "…to promote a 'new feminism' which rejects the temptation of imitating models of 'male domination' in order to acknowledge and affirm the true genius of women in every aspect of the life of society and overcome all discrimination, violence and exploitation."
Perhaps most surprising is the Letter to Women John Paul II issued in 1995 right before the United Nations Conference on Women, held in Beijing that year. "There is an urgent need to achieve real equality in every area: equal pay for equal work, protection for working mothers, fairness in career advancements, equality of spouses with regard to family rights and the recognition of everything that is part of the rights and duties of citizen in a democratic State."
John Paul II also stated in his letter that women's dignity has often been unacknowledged and their prerogatives misrepresented; they have often been relegated to the margins of society and even reduced to servitude. "This has prevented women from truly being themselves and it has resulted in a spiritual impoverishment of humanity….."
After providing us with statistics and studies on how the culture is hurting women, then lifting us up with the truth and giving us a spiritual makeover plan, the book ends with conversion stories from other women who traded darkness for light. It's exciting testimony to the power of the truth. And even if following the Catholic Church makes one countercultural, Tomeo's book brings home the message that ultimately, the truth will set us free. The message is particularly hopeful for women as she states, "There is no better place for a woman to be than in the arms of Christ within the Catholic Church." For some, this message will support the journey they are already taking. For others, it could be the impetus to set them on a better path.
Teresa Tomeo can be heard on her daily morning program Catholic Connection produced by Ave Maria Radio and syndicated through the EWTN Global Catholic Radio Network.
Order Extreme Makeover and support CatholicMom.com with your purchase
Copyright 2011 Patti Maguire Armstrong
About the Author