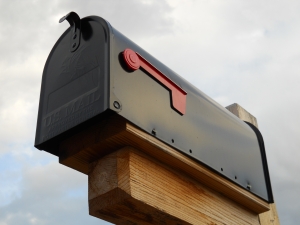 Dear Peter,
I hope your life at college is going well. Your last email and your Facebook statuses all sound pretty positive. Your departure as the youngest child off to college means that there are a few new things going on around here. So I thought I'd let you know about them before you arrive home between semesters.
After 24 years of parenting, I've gotten rid of the infamous lost sock bag. That's right. Let the purging begin. I matched what could be matched, and the rest will be recycled into grease rags for Dad's auto repair kit, dust clothes, and doggie chew toys. There are only two people here now, one guy, one gal. Finding mated sock pairs is pretty easy. But I almost caved on the whole project when I got to the bottom of the bag and found blue socks from when you were little. No lie! Blue uniform socks from grade school! *sniff* Unmatched in size, of course! But I could not throw them away. Not quite yet. I am keeping them in an undisclosed location since there is no more random sock bag.
Today I finally dropped off that clothing bag you put together for the St. Vincent de Paul collection before you left for college. I recognized those oxford shirts you wore to the prep school. I'm going to miss those. They kept your wardrobe simple.
I'm shopping for a new bathtub. Yup, we're taking the sledgehammer to the upstairs "kids bathroom." Hope it will be done by the time you get home. We'll see.
I'm still adjusting to a shorter grocery list.
I am buying more fresh fish and more wine for the menu. Things I can afford now that there's only two of us. Fresh tuna cost $17.99 a pound! No wonder I never bought it before. Dad said I better not go to the fish market too often.
I had a hankering for watermelon and had to buy one that was pre-sliced. Yuck. I disliked that someone else already sliced and wrapped up my slab of watermelon. But I'd fretted about wasting a whole one that Dad and I would not finish.
Speaking of sweet things, I was missing you today at the bakery. I saw those muffins that you liked… the kind with the mini chocolate chips? I resisted buying one, since I really only bought them for you. Had I bought one I would have eaten it. Then missed you even more. I consoled myself with an iced coffee.
There are no sugar cereals in the pantry. Today we pick from Special K, Cheerios, and Kashi. I may just run out and get some Cocoa Puffs, you know, for medicinal purposes. I think I feel a hot flash coming on.
The frig is only about half full, and I've already thrown out 2 gallons of soured milk. We just don't drink it as fast anymore around here. It really is amazing how much I associate different foods in my shopping routine with your likes and dislikes.
Am contemplating breaking out my espresso machine. Thought I'd fire it up and actually leave it out on the counter, rather than just taking it out for special occasions. There's so much extra space around here these days.
Took my walk in the cool weather we've been having. Wore my new college hoodie with your school's insignia, and my baseball cap from your high school team. Did not even realize I did that, nor that I did not "match." Yeah, I'm missing you. Dad decided to walk with me. He had on another college shirt with a different college cap on. We are walking billboards for where our money goes. But we love it, of course.
I'm having a hard time not hearing your piano playing every day. Twelve years of classical music as dinnertime preludes is a hard luxury to let go of. I have some piano playlists on my iTunes but it's not the same. I hope you find a new instructor in the fine arts department. You've got to keep up your skills to impress your mother when you get home.
The dog is sleeping more, and demanding more of my time. He is missing you making him chase tennis balls that are rocketed off the end of the bat. I throw like a girl.
Here's a crazy thing: we've got too many cars. At the moment, and this is embarrassing to admit, we have 5. And there are only two of us home! Even if I drove a different one to work every day – you know, selecting which one went best with my outfit, or some insane criteria like that-- it would still be three too many. I mean, that is if I drove to work. You know I work from home.
So my car is being sold. Dad and I will share his. Your truck will be around for Dad's little projects and for when you get home. Sis' car will stay since she'll need one to go to work once she's got the degree in her hot little hands come May. And then, there's Dad's MGB, which he informed me is not a car but "a recreational vehicle," which I always equate with those rolling campers. So, by the time you get home after this semester, it's likely we'll only have 3 cars and one recreational vehicle.
Meanwhile I spoke to the insurance carrier. You and your sister are coming off our policy for a few months. We'll save close to $2000 this year doing that. Imagine that. I might get the bathroom finished after all.
I was reading my bible the other day, during my morning devotional time, and came across a story about St. Peter. And tried to not to obsess about your departure… I'm mean, you know, letting all that mushy Mom crap weep out from the corners of my eyes. I guess that will be a hazard in my bible reading from now on… being that you've got a biblical name and all. Maybe I better stick to Paul's epistles for a few more weeks.
I really enjoyed visiting your new campus on "Parents Weekend". I hope you are working hard at your studies and meeting new people. And of course, going to church. I'm praying for you every day, even while I'm missing all the little things about you.
Have internet will travel. So said the Mom who works from a desk at home. I've taken three trips since you left -- accompanying your Father to Washington DC, Atlanta, and Denver. I think I'm finding a new rhythm reverberating off the edges of the empty nest.
Oh and guess who I saw at the pharmacy this week? Your second grade teacher! She couldn't believe you were in college already. We joked that we both looked too young for you to be this old!
Yes, the years really do fly by. And the things we miss the most are almost mundane but beautiful: the smiles, the snacks together in front of the fireplace, the play-it-again songs and games, the table talk... That's the stuff of life.
Stay true to who you are and what you value.
Text me soon. A call would be even better.
Love,
Mom
PS: Update on the Cocoa Puffs. I actually did buy some the week before you were due to come home for Thanksgiving. But I ate them. (I was a puddle one minute and a blizzard the next.) I apologize that only the Cheerios were left when you came home. Looking forward to seeing at the holidays! XO. I think the grocery story is having a sale on cereal this week.
Copyright 2011 Pat Gohn
About the Author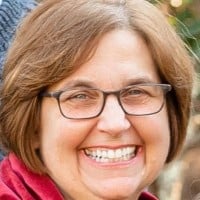 Pat Gohn is a married empty-nester with three adult children and four grandchildren. An author, catechist, speaker, and host of the Among Women podcast since 2009, her books include the award-winning Blessed, Beautiful, and Bodacious: Celebrating the Gift of Catholic Womanhood, and All In: Why Belonging to the Catholic Church Matters. She works in Catholic publishing as an editor. Visit PatGohn.net