Find the Tech Talk Tuesday archive here.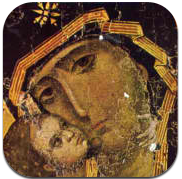 Though I am a bona fide Mary geek, I had never heard of Mary's Psalter before I downloaded Valent Richie's new app, Mary's Psalter. Downloading it and using it made me want to learn a bit more about hat Mary's Psalter is. As it turns out. St. Bonaventure wrote about it, and said:
...I send you the Psalter of this most Holy Virgin, put together and composed indeed by my feeble intelligence, but with her grace and help; by means of it you will praise with divers hymns, now her virginity and chastity, now her fecundity and sanctity, now her clemency and bounty. You will be able to salute her as full of all grace, or as filled with all knowledge, or as illumined by all understanding and wisdom. There you will bless the Fruit of her glorious womb, the members of His holy body, and the prerogatives of His soul, bestowing all sanctity. There you will invoke the aid of all the choirs of angels to praise her, and of all the multitudes of holy men, the isles of the nations, the heavens, the beauty of all luminaries and of the whole world. There you will beseech her to destroy the power of your spiritual enemies, to obtain for you pardon of all your sins, that she may render the great Judge propitious to you, that she may illumine your deathbed by her gracious presence, and obtain for you joy without end. Therefore, O dearly beloved souls, graciously receive this little gift which I offer you, and strive to draw fruit therefrom; by means of it frequently praise the Mother of God; and thus perchance she will turn to you her gracious countenance, receiving you to her love, refreshing your soul in the present, and placing upon your head a crown of precious stones in the world to come.
In fact, this app includes the full text from St. Bonaventure. It also includes all the information Bonaventure included in his writings for Mary's Psalter, with canticles in honor of Mary, a hymn modeled after the "Te Deum," and a Marian creed in the style of St. Athanasius.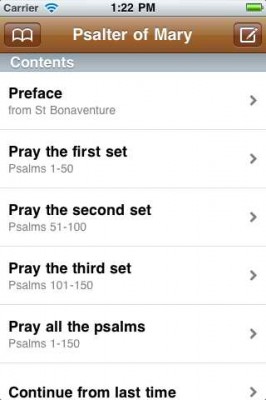 I had expected, when I saw the reference to psalms, that they would be from the Bible, perhaps with a prayer or reflection after or before. They're not the Biblical Psalms, though I'll bet you could read each Psalm and then read St. Bonaventure's. Instead, the word "psalm" here refers to a poem or song.
There are three sets of psalms, or you can pray 150 of them. There is a feature that allows you to continue from where you left off if you aren't able to sit down and do them all at once.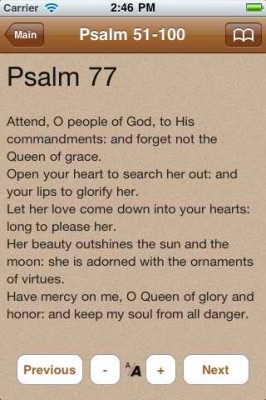 What I love about this app is that it taps me into some of the ancient tradition of our Catholic faith and especially the well of deep Marian devotion.
I'll admit, though, that at first I was a bit confused by it, but it was completely worth fighting through that to immerse myself in the prayers and psalms.
There's a lite version available for free, though I have the full version (available through iTunes for $1.99),
I plan on using Mary's Psalter as a prayer aid throughout my winter weeks, especially in January and February, when I'm most in need of light.
About the Author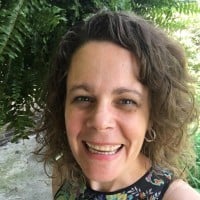 When she's not chasing kids, chugging coffee, or juggling work, Sarah Reinhard's usually trying to stay up read just one…more…chapter. She writes and works in the midst of rural farm life with little ones underfoot. She is part of the team for the award-winning Catholic Mom's Prayer Companion, as well as the author of a number of books. You can join her for a weekday take on Catholic life by subscribing to Three Shots and follow her writing at Snoring Scholar.