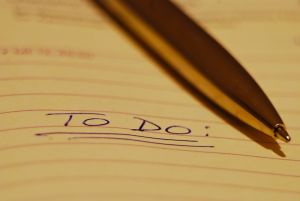 I've decided to take a different attitude on how I approach 2012.
Instead of resolving to lose these extra pounds, become better organized, exercise more, or any of the other hundreds of resolutions I have made over the last few decades...which then fall to the wayside by the end of March...I have decided to make one simple promise to myself. I will just enjoy what God has given me and give thanks to Him daily for that gift.
Too many times I feel we go through the motions of the day, doing what we need to do based on our responsibilities... never seeing what we are doing or what we have. And, in my case, it is because I am in list-checking-off-mode.
You see, I love making lists. They make me feel in control. They give me order. They give me direction. In short, I think I am addicted to the feeling I get when I see a long list of "things" I feel I need to do.
When I make a list in the morning, always with that second cup of coffee - not the first - I know the day has begun. Then I place it within sight, next to the pencil (I prefer a sharp pencil over a pen for some reason), and proceed to write down what I want to accomplish for that day. I love the feeling of crossing off an item. It is such a pat on the back, a feeling of accomplishment. Pack away decorations? Did that - so cross it off! Schedule bills to be paid? Did that - cross it off! Clean bathrooms? Done - so cross it off! Return those gifts I didn't need? Done - so cross it off!
And, if an item doesn't get done, all the better....because then I have something to add to my list for the next day! Life is good, life is orderly, and life marches on. This is what I term my "list-checking-off mode". I become so focused on the minutiae of the day, to the written words on my to-do list, I miss out on God's wonderful gift of Life! Or, in other words, I find myself more in Martha-Mode than in Mary-Mode.
So I did not make out a list of resolutions. Instead, I made a simple promise to God. I will remember each day is His gift to me. Instead of seeing piles of papers to be filed, and subsequently checked off my list, I will look at the sun beams making a pattern on my desk and know that a beautiful day is waiting me after I finish my job. Instead of checking a list to see what rooms need to be cleaned, I will thank God I have a home to clean. Instead of reading the items remaining to be done on a list, I will look at where I am and just do what needs to be done, thanking God I have the ability to do so.
In other words, in 2012 my promise to God, to myself, will be to try very hard to live in this moment. I will try remembering to lift my eyes away from the daily self-assigned tasks and see all of today's little miracles. And, if I write these little miracles down in every evening, in place of my usual morning to-do-list, how much richer will my life be January 1, 2013? Will I become more Mary-like? I guess that remains to be seen.
Copyright 2012 Carol S. Bannon
About the Author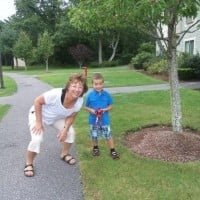 Carol Sbordon Bannon is a full-time writer with a degree in elementary education from Worcester State University. She is a substitute teacher and has been a catechist for over thirty years. In addition to A Handshake From Heaven, she is also the coauthor of Our Family's Christmas Elf. She is happily married and currently resides in Concord Township, Ohio. Visit Carol at CSBannon.Wordpress.com.