In my frequent travels during the past few years, I've learned to pack light. That means, when in doubt, take it out. The third pair of shoes, the cute but redundant khakis, an extra travel guide...just few of the extraneous items that didn't make it into the single carry on bag I'm taking with me to Israel on my nine-day journey with the Catholic Press Association.
As the world's best husband was driving me to the airport today at 4:00 AM for the first of the three flights that will whisk me half a world away, he asked if I had everything I needed. My frenetic travel schedule on three different airlines motivated me to try to fit everything in a single carry on bag and a small backpack. Knowing my ways, Greg doubted that I could possibly have all I thought I needed for such a big trip.
I assured him I was all set -- I had the most important items: my passport, my Rosary, my Bible and my iPhone. Oh yes, I've packed plenty of clothes (probably too many!), a bathing suit for a float on the Dead Sea, good walking shoes (and bandages just in case they aren't good enough), two guidebooks and my iPad. I have a scarf to cover my head, a skirt for the few semi formal engagements we my encounter, and a lot of wrinkle proof layers.
But the heaviest item in my backpack unveiled itself to me during flight number two (the one between San Francisco and New York). In actuality, it weighs less than a few ounces, but when I pulled it from my pack and began to read it en route, the enormity of this item hit me with full impact.
What is this weighty load? It's the compact prayer journal I've been compiling for the past few weeks since I learned that I would be lucky enough to take this pilgrimage to the Holy Land. As soon as the announcement was made, I began to invite my friends, family and online community to share their prayer intentions with me. It is my sincere honor to be carrying them to the many holy sites that we will visit over the next few days.
Within the pages of that small purple notebook are the heartfelt desires of friends across the world who have poured out their burdens and blessings. Reading over the notes I have been taking as the requests came in, I recognize the absolute honor I have to be a part of such a convicted faith community.
The intentions point to a few trends -- parents asking for prayers for their growing children's faith journeys, but also grown children seeking intercession for their aging parents. Desires for cures and relief from a cacophony of serious illnesses, but also notes of joyful thanksgiving for signs of healing of ills both spiritual and physical. Marriages in trouble, marriages newly begun, spouses who said goodbye to a loved one all too soon, and couples asking prayers for their best friend for life. With me I carry the names of priests, sisters, missionaries, seminarians, and those in discernment of their vocations. There are private intentions too, known only in the hearts of the requester and the God who knows each of our desires.
One of my wisest online friends, a beautiful newlywed named Angela, reminded me on Twitter a few days ago to keep my priorities in their proper perspective on this trip. In the holy places you'll be visiting, she reminded me, spend your time praying as much as possible, rather than caught up in touring and trying to catch every last photo opportunity. This -- Israel -- is the land of the Old Testament prophets, the land where an angel appeared to a Virgin, the land where a redeemer was born, died and rose again. Make the most of the chance to be renewed in mind, body and spirit as you tread this Holy Land.
As we wing our way across the country, I am only just beginning to realize the enormity of the blessing I bear within the pages of that tiny purple notebook. It will be with me across the miles, reminding me of those who have asked for intercession, and of the rest whose prayers remain in the silence of their souls.
The burden is light. The yoke is easy. The blessings are immeasurable.
The pilgrimage has begun...
Copyright 2012 Lisa M. Hendey
About the Author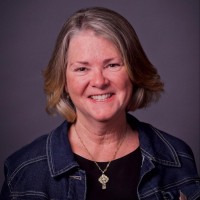 Lisa M. Hendey is the founder of CatholicMom.com, a bestselling author and an international speaker. A frequent radio and television guest, Hendey travels internationally giving workshops on faith, family, and communications. Visit Lisa at LisaHendey.com or on social media @LisaHendey for information on her speaking schedule or to invite her to visit your group, parish, school or organization. Visit Lisa's author page on Amazon.com.