On January 23, 2012, massive numbers of pro-lifers made their mark on Washington, D.C. (300,000 was one such figure mentioned).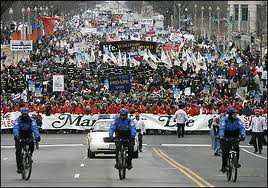 Living proof that Americans care about Life and the Dignity of Life along with the quality of life. No one is arguing that the quality of life is unimportant but it is in assuring dignity to each person's life that we receive the quality of life we appreciate today.
We stand at risk of loosing this dignity and, thus, this quality.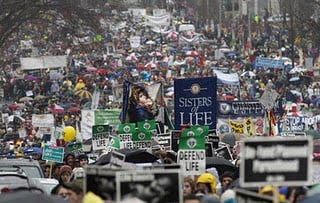 So 300,000 people marching for life is awesome.
And so is the 100plus who marched in Sulphur, Louisiana.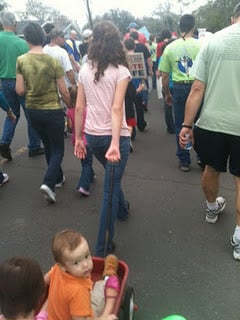 I wonder, if we tallied the numbers of each individual March for Life throughout our nation, what the numbers would show.
For 20 better years our church and KC Council has put on a Pro-Life March the third Sunday in January. Armed with a letter of approval from City Hall and swat cars to manuever busy intersections, we march.
Our little marching band has experienced just about every type of weather possible on a January day here in SW Louisiana. We have marched in sun, fog, chilling rain, breezy winds, and, as in yesterday's weather, a balmy blanket of mugginess.
Only one year we didn't march. It was January 1997, that January winter an ice storm ripped through our town, downing powerlines, closing restaurants and stores, basically shutting down our whole town. South Louisiana just isn't prepared for such things. As the wind sleeted in that afternoon, fog shuttered thick along the marshland, and rain clawed and scratched against our car windows; we stayed in the hall and recited a united rosary. That night our town sat frozen in the icy grip of January.
It was the only year we didn't march...but our family did conceive a baby. :-)
We've marched for so long even our children don't question it. They've never walked at our state capital in Baton Rouge nor at our nation's capital where I hear the marches bleed together in a living, walking rosary of people and prayers, but they have walked the local march holding onto PawPaw's hand for several years in a row. They've walked with several church parishioners who are gone now but who marched for life while they lived. The children have marched for so long it's as ritualistic as doing the stations of the cross during Lent. Often, if they aren't working, our children are there...even if it is to meet us afterwards at the hall for fellowship gumbo. ;-)
Generally it's 100-130 church parishioners who march the March on a quiet town street here in Sulphur, Louisiana. When it is a local church body on an every day road within your home town, one doesn't feel the excitement and frenzy that I imagine one feels in Washington, D.C.
We might pass a handful of cars, more at the red light below the railroad tracks. We might see teenagers stop their basketball game at the local park and walk to the edge of the concrete with curious stares. We might see a buddy or two on the golf course as we pass. Caps are lifted, hands waved, rosary continued.
In 20plus years we've never had any confrontation or ugliness. Once some men walked from their front porch to the street and asked questioned. Some of our KC members spoke to them. I'm not sure if our little pro-life march made an impact or not. Do we make a difference? Evidently my daughter wonders a bit too.
This year she quietly asked, "Why do we do this?"
It's just a quiet street in SW Louisiana with people who march.
I know she understands the fight for life we are in. She knows babies die everyday because they are unwanted. She understands large families are the canoe floating upstream in an avenue of highpowered speedboats going downstream.
She understands all this so I know exactly what she meant when she asked, "Why do we do this?"
There is no media to document us. There are no speakers to motivate us. There is no steady beat of many feet hitting to pavement to rally us. There is little traffic, no applause, no sirens. Often there is just quiet...and a rosary...and cheerful talking...and silent smiles...and laughter amongst friends.
In the face of a death sentence, we are about Life. There is no doom and gloom on this Sunday walk in January. We're about Life. We talk and laugh while skirting our walk in prayer.
So...the question was why do we?
Because each one of these marchers has looked Roe vs. Wade in the eye and defided it. They've seen it, they've experienced it, they've felt it and they chose to walk away from it and towards something better...in faith. Faith in something bigger than our human weakness. God's grace?
They do not walk blindly or unknowingly. They know what they face.
They are not hyprocrites. They are heros.
There are three families in our church parish whose daughters had babies born withanencephaly. They were all told their babies were going to die anyway. All three mothers chose to give their babies nine months of life. Where other mothers have no grave of remembrance, these mothers have a place to place flowers and thank God for the nine months of mercy they felt within their wombs.
They walk this Sunday in faith.
There is the young mother with endometriosis. She was told she'd never be able to have babies. She pushes a stroller bearing her two babies as she walkes in faith.
There are three couples who could not have their own biological children. They push strollers, pull wagons, and bear atop their shoulders the joyful yoke of another mother's burden.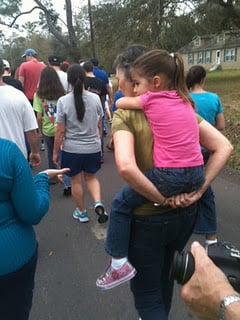 They walk in faith that another mother may hear the words of her Savior~" For my yoke is easy and my burden is light" (Matthew 11:30) and, in faith, allow them to help her carry God's grace.
There is the older mother who contemplated aborting her last child who now walks proudly, happily with that child faithfully at her side.
There are the grandparents walking who are now raising their grandchildren because of neglect by the parents, drug addictions, and wrong choices. These grandparents sacrifice the gift of self even when no one notices nor cares. They walk in faith that these very children will carry on a life of faith after they are gone.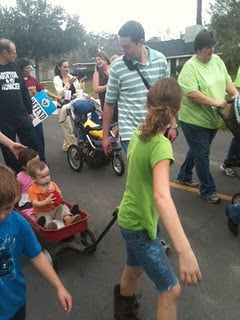 There is the family who saw a child with Down Syndrome born, suffer, and die. They know the cost of hospital neonatal and operations and hotel rooms and doctors and needles and death. They know that life cannot be bought for a price.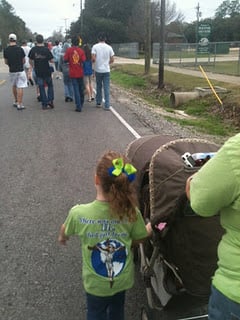 There are people marching who work in the medical profession. They know just how necessary it is to have healing hands rather than hands of destruction. As Christians, we co-create with God. Our hands are not capable of destruction.
There is a mother walking who has sought relief from depression and anxiety. She has faced a pregnancy in the middle of her illness. She walks with faith that she can help another mother and her baby.
Some walk simply because they know that child #5 is as important, as cherished, and as desirable as child #1.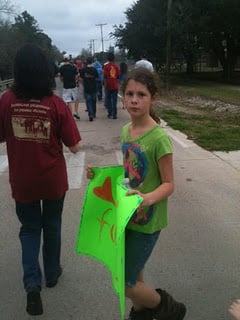 Some walk because they are grateful their parents had them in their forties. They walk because they are thankful their parents accepted God's decision to expand their household even though a new baby changed their retirement plans. They walk in faith knowing that God's plan is never finished. They walk in faith knowing that with each life God's plan is only beginning.
These are families of faith. Faith that there is a place for everyone on this planet. Faith that, just as there is room for everyone at the KC Hall and plenty of gumbo for all, there is a place for everyone at God's heavenly banquet.
Behind us vehicles carry those too elderly, too lame, or too slow to march. They are still witnesses of faith. We carry them.
There are families walking in our mist who walk for family members who cannot walk due to battles with cancer, Lou Gehrig disease, and other debilitating attacks to the body. They walk because they know how weak the body is. They know the quake of broken bodies, the heaviness of bodies burdened by disease, and the stench of bodies not fit for marching. They walk in faith anyway.
They walk because they have cared for elderly parents and know how hard it is but a vote foreuthanasia is not on their ballot.
It is not easy, often it is not easy at all. Often marchers see where they failed and where they weren't as merciful as they could have been. I've seen in in myself. Still, they continue to walk in faith that God is more merciful than we.
In a small town one does not walk to be heard, to make a statement or to get the attention of higher governing powers. It's nice when the mayor of your small town shows up to walk alongside of you.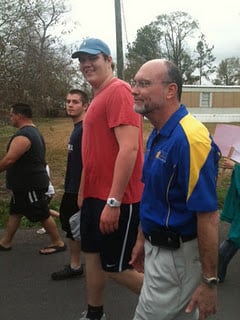 A Higher Power does sees us. He sees us march in small solidarity and often it is not to prove a point at all. It's a walk in support of one another, reminding neighbor that we (as the body of Christ) have experienced all those scenerios which this anniversary assures us is a means to end a life and yet we, going upstream, choose otherwise, and live to march the march.
The media and government would like to portray prolife walkers as uneducated, uninformed hypocrites. Nothing is further from the truth. People doubt your honesty unless they know you have walked a mile in their shoes. Suffering unites. Suffering also teaches: mercy, compassion, sympathy.
Suffering is probably the greatest teacher of all.
These walkers have walked the walk, lived the life, faced the fear. They are our role models.
I walk this march to see their faith, remember their stories and witness how they accepted God's grace, thus overcoming some of their greatest fears...and ours.
If I were to face any of the difficulties or life situations some of these marchers have faced, I would not look to Obama and his board of ethics for my strength and support. I would look to the people I know, the ones I have witnessed stand strong and true despite the Fall, the ones who walked down the street with me this past Sunday afternoon.
Death has stared them in the face and they have answered him with faith, life, and dignity.
They walk with assurance as a church body that Death need not be the final answer. They are living proof that Life is always the right answer.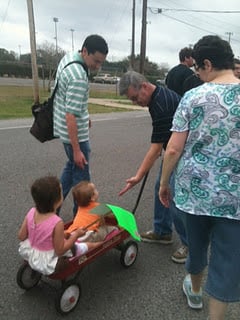 Copyright 2012 Cay Gibson
About the Author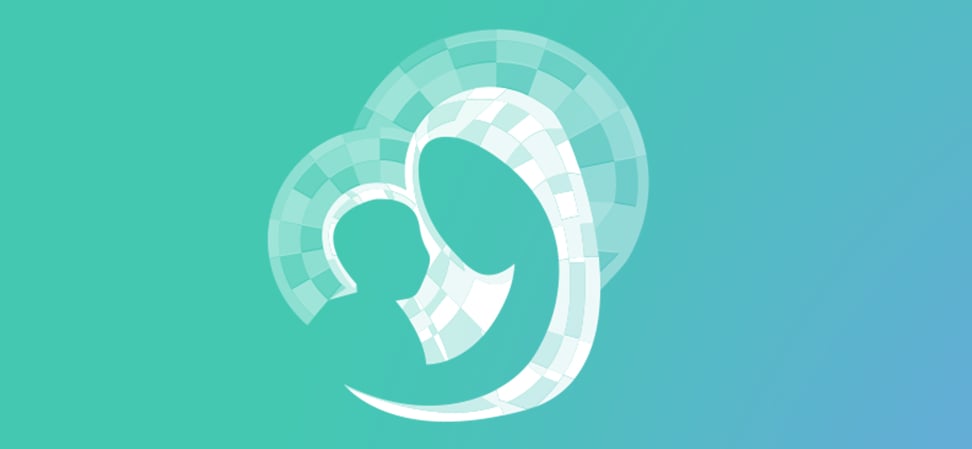 We welcome guest contributors who graciously volunteer their writing for our readers. Please support our guest writers by visiting their sites, purchasing their work, and leaving comments to thank them for sharing their gifts here on CatholicMom.com. To inquire about serving as a guest contributor, contact editor@CatholicMom.com.