Find the Tech Talk Tuesday archive here.
I've had my iPad for just over a year and I've been a bit militant about keeping myself from the game addiction I hear from many others. I don't have a tendency to really want to play games--there are too many books to read and not enough time to immerse myself in that right now, for one thing. I have been known to fall prey to a good word game here and there (I'll do a column on that sometime, I promise), but mostly, I'm not so much a game person.
My girls, though, ages seven and four, have a few screens and folders of games on my iPad. Here are a few of our favorites, and I've been known to play at least one of these at times, too.
Angry Birds Seasons

I'll admit it right here, for the world to see: I am not addicted to Angry Birds. Though it's on my iPad and all of our devices, I can't love it. I'm no good at it, and I apparently lack the ability to practice it enough to succeed. My seven-year-old and four-year-old (and my husband, for that matter), though, love Angry Birds. When my sister-in-law, who's an Angry Birds aficionado, told me that Angry Birds Seasons was a must, she did it in hearing of my seven-year-old, who was on Christmas Break at the time. It is fun...for them. There are seasonal levels, and if you're one of those "I've beaten every Angry Birds game available" people, it gives you a new way to feed your pig-killing hunger. I understand you have to wait to unlock some of the levels (we don't beat them fast enough to come up against this...yet). I can sometimes be persuaded to watch them play (who doesn't love those little birds?). For 99-cents, an app well worth the amusement.
Jumpy Horse

This was 99-cents and gets a mixed review from us. My girls initially loved it, but then it broke. Essentially, you have a horse and you can make it jump over hurdles. Maybe it sounds boring to you, but to my gang, if we aren't physically with horses, we are playing with various plastic horses or, better yet, being horses. Horse apps that are good--or even sorta good--are right up our alley. But, as I mentioned, we give this one mixed reviews. I was ready to delete it off my iPad, as a matter of fact, but then I noticed my girls playing it. So if you buy it, I don't blame you. But if you don't, I don't blame you for that, either.
My Horse

I may or may not have been caught playing this during my evening reading time. I may or may not have put off writing a column here or there to compete or to do the various duties to keep our different levels high. It may or may not have been on the bar at the bottom of my iPad so that I could access it from every single screen. We may or may not have loaded it on my husband's work iPad too, so that we could keep more than one person amused with it. It may have taken me about six weeks to get distracted from other things.
In short, My Horse is a GREAT app that's FREE, though be warned: there are ways they can get real money from you in the app, if you want a certain saddle or to move through levels faster. As total horse junkies, this app really does deliver what it says it will, and more. You have to take care of your horse before you can ride it (which is how things are in real life). You have to clean the pen, feed the horse, and do many other things. If you have an even slightly horse-crazy kid in your life (or, ahem, adult), give this app a whirl.
Your turn: What are your favorite game apps? Got any recommendations for my kids?
Copyright 2012 Sarah Reinhard
About the Author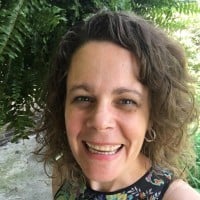 When she's not chasing kids, chugging coffee, or juggling work, Sarah Reinhard's usually trying to stay up read just one…more…chapter. She writes and works in the midst of rural farm life with little ones underfoot. She is part of the team for the award-winning Catholic Mom's Prayer Companion, as well as the author of a number of books. You can join her for a weekday take on Catholic life by subscribing to Three Shots and follow her writing at Snoring Scholar.