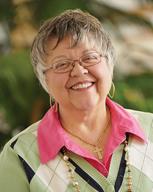 Editor's Note: Today, I am overjoyed to welcome Margaret Rose Realy as our newest contributor here at CatholicMom.com. As a poor but enthusiastic gardener, I have fallen in love with her wonderful book A Garden of Visible Prayer: Creating a Personal Sacred Space One Step at a Time and make her blog Morning Rose Prayer Gardens a regular destination. Welcome to the CatholicMom family Margaret! LMH
If I were to meet you for the first time and we were near a garden or woodland's path, I would ask you to walk with me as we got to know each other. There is something about being surrounded by greenery and the scent of life that puts people at ease. Since you cannot answer my questions about who you are, I will tell you a little bit about myself.
I am a gardener who has found a creative connection to God. I have always loved the earth and what grew from it. Not until I was older did I come to understand how near God is in a garden.
It was in the gloaming of the day, just before sunset, that God would come to the Garden of Eden and visit with Adam and Eve. It is at that time, and at dawn, that I too feel closest to God.
Those hours are transition times. With the setting sun comes the time to transition from the din of daily life and move into the slower pace of nightfall. With dawn comes the time to be lifted from sleep and carried prayerfully into the day. I am one slow to wake and many mornings have been found wandering slowly through the gardens, a rosary swinging softly from my hand and slippers wet with dew.
Gardens for me are a private endeavor with public results. It is in my solitude that I try to cooperate with God's will and create spaces for outdoor prayer. While I work I often pray that the visitors who come will find a moment of quietness, opening themselves up just enough for the Holy Sprit to enter.
Now that I am a bit older, and slower to rise from weeding, my gardens have become smaller. And I have found the gift of words. I am not a trained catechist so my words about faith are simple, often found while I sit in the Adoration Chapel. It is through these words written by a gardener that I hope to share with you the experience of outdoor prayer, of finding a way to draw closer to God in your garden.
Maybe you can share with me who you are and what you would like to know about creating gardens of visible prayer.
At times I will share with you excerpts from my current book A Garden of Visible Prayer or from my upcoming spiritual gardening books. Below is a condensed sample for April:
During the Easter season why not make some crosses and plant them in your garden, along a path, or arrange them in a container or window box with some greenery. Gather together outdoor paint, colorful string or narrow ribbons, caulk or glue, and assorted weatherproof materials like wood, shells or plastic shapes. Fasten together various sizes of cross members and decorate. Attach your cross to a slender stick for pushing into the ground.
Such a simple thing—to make a cross—yet it conveys a message so great that our world was forever changed.
Read more reflections and prayers by Margaret Rose Realy, Obl OSB, at Morning Rose Prayer Garden, on Patheos Catholic channel.
Copyright 2012 Margaret Rose Realy
About the Author